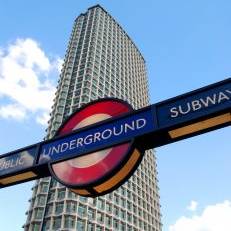 If you've been affected by today's Tube strike, you won't be able to get a refund for delayed or cancelled journeys.
Transport for London (TfL) says refunds for delayed or cancelled journeys won't be given where a delay is beyond its control, which includes strike action.
You also can't claim a refund for delayed or cancelled journeys where service changes have been advertised in advance, or because of security alerts, power outages, or bad weather.
Millions of London commuters faced slower journeys this morning after members of the RMT and TSSA unions walked out for 48 hours in protest at the planned closure of all Tube ticket offices, with the loss of 950 jobs.
Queues started building up at bus stops before dawn as commuters switched to other forms of transport.
Shashi Verma, TfL's director of customer experience, says: "As stated in our Customer Charter refund policy, we will always refund customers if their journeys are delayed by incidents that are within our control. This however does not include industrial action, which is not eligible for a refund. We are working hard to provide as much of a service as possible today to keep London moving and open for business."
What refunds are available normally?
If the cause of your delay or cancellation is TfL's fault, or disruptions weren't advertised in advance, you can claim a refund for a single delayed journey in the following circumstances.
Refunds are calculated based on the delay between you entering and exiting the relevant stations.
Tube: If you've been delayed by more than 15 minutes.
Docklands Light Railway: If you've been delayed by more than 15 minutes or couldn't complete your journey.
London Overground: If you've been delayed by more than 30 minutes.
You must make a claim within 14 days of the disruption. You'll get what you paid for your journey back, or the single pay-as-you-go fare if you used a travelcard.
With Tube and London Overground claims, you'll get a voucher which can be redeemed at Tube and Overground stations so you can buy a ticket or add it to your Oyster card.
Docklands Light Railway users are given refunds as postal orders, which can be deposited into their bank account as you would do with a cheque.
Freedom Pass and other free travel pass-holders are not entitled to refunds.
The easiest way to claim a refund is to fill in the relevant form on the TfL website. You can also check on the TfL website for alternative methods of claiming a refund.
Additional reporting by the Press Association.