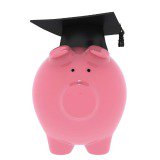 MoneySavingExpert.com is urging the Government to urgently clear up confusion after it emerged thousands of people who defer student loans taken out between 1990 and 1998 will now have this information added to their credit files. This is despite ministers promising there would be no real change for borrowers after the loans were sold to debt collector Erudio Student Loans last year.
Here is what has happened:
Erudio has written to about 45,000 people who defer repayments because they earn under £28,775 a year to say their details will now be given to credit reference agencies – a move we believe sets a dangerous precedent.
Credit agencies say there's a risk that where someone owes more cash, it can hit their ability to get future credit. Although where the loan is well-managed, it can help.
This only affects former students with loans taken out between 1990 and 1998.
Information on people who've deferred loan repayments in the past won't be passed on – it only affects people who defer them from now onwards.
Different systems apply toloans from between 1998 and 2012, and after 2012.
Many students now in Erudio's hands have complained of "sleepless nights" worrying about the threat to their credit file.
The Government insists no terms and conditions have changed, only that Erudio has adopted an approach that was open to the Student Loans Company (SLC) but not taken up.
MoneySavingExpert.com has formally complained to the Government that its response to Erudio's change is not good enough and does not go far enough to alleviate concern from those affected.
Worrying development
This is a change in policy from that of the Student Loans Company, which looked after the accounts before they were sold to Erudio last November (See the Government sells student loans MSE News story). Then, only students who defaulted on payments were reported to credit reference agencies. Nothing changes for that group, but it will for those who defer.
MoneySavingExpert.com has raised concerns about Erudio's move to the Government. We will keep you informed of its response.
Martin Lewis, creator of MoneySavingExpert.com, says: "This flies in the face of the Government's promise that there would be no real change when it sold off the student loan debts and causes far more concern than it should.
"The sale of debts was meant to be a behind-the-scenes move, but we're hearing of more difficult forms, poor communication and little response. The Government needs to address people's concerns as a matter of urgency."
'Sleepless nights' for some
Many former students on the MoneySavingExpert.com forum are worried the change could affect their ability to get credit in the future. There also seems to be confusion over which benefits are now included as income, which affects whether or not individuals can defer repayments.
Here is a selection of comments from our forum and on Twitter:
Campervanan says: "My friend has one of these loans and has been having sleepless nights worrying about the forms which he does not understand."
Calliopeviolet says: "I've got a friend in the same situation and she's so stressed out about it that she's talking about just starting to pay it back even though she is eligible to defer."
Jill18 says: "This has got me really worried and annoyed. I received my deferment forms two weeks ago but haven't decided what to do yet."
@louisefinlay3 tweets: "I am really worried about this student loan deferment application I have received from Erudio."
Is Erudio allowed to refer deferrals to credit reference agencies?
Erudio Student Loans was set up in 2013 by debt collection firm Arrow Global.
When the Government sold the loans to Erudio, it promised the existing terms and conditions would "not be affected". Both the Government and Erudio say passing information about deferrals to credit reference agencies isn't a change in the terms and conditions.
Erudio calls it an "operation practice change", while the Department for Business, Innovation and Skills says: "The terms and conditions of fixed term student loans, which are regulated under the Consumer Credit Act 1974, have not changed as a result of their sale to Erudio.
"Borrowers have the same rights and obligations as they had when their loans were managed by the Student Loans Company. Erudio have adopted a different approach to the deferment application process which does not constitute a change to terms and conditions.
"The method of the deferment process is not part of the terms and conditions of the loan. Any decision about whether or not to offer short settlement is a matter for Erudio."
The Student Loans Company also had the power to refer deferrals to credit reference agencies, but it chose not to.
Will this affect my credit rating?
Credit reference agency Experian says a significant increase in the total amount owed may be viewed negatively by lenders, which could hinder your chances of getting credit.
Experian's James Jones says: "Many scores look at how much outstanding credit people have, so a significant increase in total amount owed might be viewed as less positive.
"But as many of these loans are only something like £2,000-£5,000, perhaps that won't be a concern to most lenders."
Jones says that overall, this "should be good news for people's credit ratings".
"A well-managed loan should strengthen someone's credit history. A deferred loan would simply show loan start date, balance outstanding and no payments due," he says.
"A loan taken out 14+ years ago is likely to improve the maturity of someone's credit history, which is often a positive indicator for credit scores."
Has there been in a change in which benefits count towards income?
With pre-1998 loans, you have to declare what you earn, including certain benefits, which was the case when the SLC managed loans. This is to work out whether or not you need to be repaying the loan.
Erudio says the benefits that count towards your monthly income have not changed since it took over managing these loans, something the SLC has confirmed.
It says benefits including child tax credits and housing benefit have always counted towards a person's income when applying for a deferral. That the benefits which were previously excluded remain that way.
Why does Erudio want more information from me?
Many have reported that Erudio is asking people to provide much more personal information than the Student Loans Company did. For example you now have to say who your employer is, your national insurance number, as well as your current account details.
MoneySavingExpert.com has seen copies of the Erudio deferral form and a copy of the old Student Loans Company one and there are a lot more boxes to fill in.
When we questioned Erudio on this, it only said it wanted to ensure loan files were as "up-to-date as possible".
What Erudio says
Erudio says as long as you don't fall into default, you'll be no worse off dealing with it than the SLC.