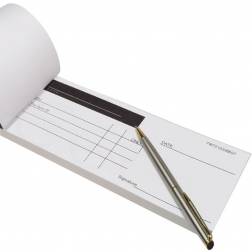 You'll soon be able to pay a cheque into your bank account simply by uploading a photo of it, under new measures confirmed by the Government.
Banks and building societies will be allowed to process a cheque without having to physically receive it, which should cut the processing time from six days to just two. (Is your account working for you? See Best Bank Accounts.)
So you'll be able to send your bank a photo of a cheque via smartphone or tablet, which it can then pass on electronically to the paying bank to check against its records.
The move will also enable smaller firms, which tend to rely more heavily on cheques, to pay them in later in the day as they won't have to rely on the bank having to physically send the cheque so it can be processed.
Paper cheques usually end up going on a journey around the country, travelling to the clearing centres of both the banks so sort codes, account numbers, and signatures can be checked for fraud and to establish there are sufficient funds.
While under the current system a cheque recipient has to be able to withdraw funds four days after paying it in, the cheque can still bounce after this period. It's only on the sixth day after payment that they can be sure the money is theirs.
In force by May 2015

The measures are in the Small Business, Enterprise and Employment Bill, which is expected to receive its second reading, where it can be debated and voted on, in due course. It's expected to become law before the next general election in May 2015.
The plans for cheque imaging were first announced in December, and Barclays has been testing technology to enable its customers to scan in cheques.
If you don't own a smartphone or tablet, you will still be able to deposit cheques at bank branches, cash machines or by post.
Cheque imaging will have big benefits
Plans to kill off cheques from 2018 were dropped two years ago after the UK Payments Council faced an outcry from small businesses, charities and pensioner lobby groups, who said the needs of millions of vulnerable people were being ignored.
Despite the increasing popularity of new technologies such as online banking and mobile payments, nearly £840 billion of cheques were processed in 2012, with sole traders and the smallest firms making over a fifth of their outgoing payments in cheques.
Payments Council chief executive Adrian Kamellard says: "The results from the Government's consultation clearly show the demand for the additional convenience of paying in cheques by image and quicker processing of cheques.
"We will support the industry to ensure that the delivery of cheque imaging is successful, accessible and timely – so that as many customers as possible, along with new and existing banks both big and small, can enjoy its benefits."