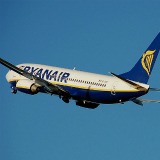 Ryanair passengers hit by a new check-in policy can now use a free app to avoid having to find an internet cafe while abroad or paying a £70 fee.
The no frills carrier came under fire in February when it reduced its check-in window from 14 days in advance of flying to just seven days (see our Budget flight fee-fighting guide to cut costs).
It meant anyone who booked a trip lasting more than a week had to find an internet cafe with a printer while abroad to check in online and print their boarding pass before flying, or face a £70 admin charge per flyer for doing it at the airport.
Now Ryanair's new app, available free from the iTunes App store and Google Play, allows passengers to check in and download boarding passes between seven days and two hours before flying.
If you do this abroad, make sure you're in a free wi-fi zone or you could return home to a big mobile roaming bill (see our Cheap Mobile Roaming guide for more info).
Rynair denies the app was relaunched in response to complaints about the reduced check-in period.
"We have been working on developing our brand new app since September 2013 as part of a wide range of significant customer improvements," a spokesperson says.
"Any minor inconvenience that may have been experienced by the limited number of customers travelling for over seven days who freely chose to wait for a cost-free allocated seat has now been eliminated as all customers can now check in and download their mobile boarding passes on our new app."
What can you do with Ryanair's app?
Rynair's app first launched in September 2012, charging £2.49.
But it says its new, free app has more features and makes it easier for customers to manage their bookings on the move.
You can do the following with the app:
Check-in and download boarding passes.
Search and book routes.
Manage bookings and add baggage.
See live flight information.
Book hotels and car hire.
Book extras such as insurance.