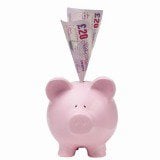 16 and 17-year-olds can save up to £19,000 tax-free this year under today's ISA revamp, meaning they could net £100s in interest if they put the maximum amount away.
Under-18s born on or after 3 January 2011, or before September 2002, qualify for a Junior ISA (JISA), which means you can save or invest up to £3,840 in the 2014/2015 tax year, though this rises to £4,000 from today. You can put as little or as much of the £4,000 allowance as you wish into a JISA. (See our Top Junior ISAs guide for the best buys.)
But an ISA anomaly, which the Government has confirmed works, means children aged 16 and 17 can open both an adult cash ISA and a JISA during the same tax year. You can only open an adult stocks & shares ISA when you're 18 or over.
This is because as the adult cash ISA limit has increased from £5,940 to £15,000 today, and been rebranded a New ISA (NISA). So anyone aged 16 or 17 could save up to £19,000 this tax year, if they or their parents have the cash to take advantage of it.
Savings oddity
The Government has also confirmed that even if you open and fill both an adult NISA and a JISA during the same tax year and then turn 18, meaning your JISA transforms into a NISA, they'll both remain as separate tax-free NISAs, although you could then consolidate them if you wanted to.
MoneySavingExpert.com money analyst Helen Saxon says: "It's a little oddity of the savings system that 16 and 17-year-olds can save more than anyone else in a cash ISA.
"Most teens don't earn enough to pay tax anyway and opening a JISA has the disadvantage of locking cash away until they turn 18, but it's still worth checking to see whether or not a JISA's going to be worth it for you."
Use the best buys to mix 'n' match
Best JISAs:
The top JISA rate is 3.25% AER, available from both Nationwide and Coventry Building Society with a minimum of £1.
Halifax's Junior Cash ISA pays a higher 6% AER on all balances from £1, but only if the registered adult on the account also holds any Halifax ISA or if the child is aged 16 or 17 when the account is opened.
Best adult cash NISAs:
Easy access: The top easy-access account is from Virgin Money at 1.5% AER, which is available with a minimum £1 deposit.
Fixed: If you can afford to lock your cash away, it's more beneficial to apply for Coventry BS's four-year fix at 2.75% (min £1, no transfers in allowed), which allows you to close the account and withdraw early for a relatively low penalty, just 120 days' interest. A number crunch shows if you withdraw after a year, you'd effectively have got 1.85%, beating the best easy-access deals. After two years it's 2.3%, beating the best two-year fix.
Regular saver: For those who want to put money in each month, Nationwide's regular saver pays a variable 2.33% AER. You need to deposit a minimum of £1, then you can deposit up to £1,250 each month if you wish.
Are JISAs worth it?
Children don't usually pay tax anyway if their savings are under £10,000. The only exception is where money is given to a child by their parents, which collectively generates more than £100/year in interest. In this scenario, tax is paid at the parent's tax rate.
However, JISAs are useful because they enable you to save for the long term, as the interest stays tax-free in adult life.
What if I have a Child Trust Fund?
All children born between 1 September 2002 and 2 January 2011 got between £50 and £500 free from the Government to save in a Child Trust Fund (CTF). Up to £3,840 can still be added tax-free, each tax year, although this sum has today risen to £4,000.
Once put into a CTF, money is locked away until the holder's 18th birthday, when they'll get a lump sum that can be spent how they wish.
In the past CTF rates have typically been lower than for JISAs. From April 2015, parents who took out a CTF for their child will be able to move this cash into a JISA.