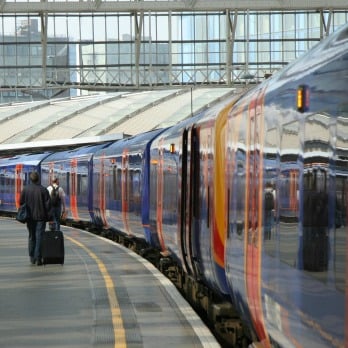 The price of some train tickets for journeys in 2015 will rise at 11.59pm tonight – so if you're planning to travel by rail at the start of the new year – lock into cheaper 2014 prices by booking now.
The Association of Train Operating Companies (ATOC) has confirmed that the price of single and return rail tickets (both regulated and unregulated) on sale from tomorrow will be at the higher 2015 price.
It says this applies across England, Scotland and Wales. So as train tickets are released 12 weeks in advance, you could save cash by booking before 11.59pm tonight for journeys planned in January or February 2015.
However if you're after a season ticket, rather than a single or return fare, you still have until 1 January to buy these at the lower 2014 prices as long as the season ticket starts before 2 January 2015.
Train ticket prices in England, Wales and Scotland tend to rise every year on 2 January.
The 2015 increase for regulated fares in England and Wales – which covers season tickets, anytime single tickets around major cities and off-peak inner-city return tickets – has been capped at 2.5% by the Chancellor George Osborne using July's RPI rate of inflation (see the Train Fare Cap MSE News story for more on this).
Unregulated fares in England and Wales, such as off-peak leisure tickets, are set by the train companies, not the Government but these will also rise on 2 January.
Train fares in Scotland can also only rise by up to 2.5%. There are no planned price rises in Northern Ireland as Translink, which runs the rail network, does not increase fares in line with inflation.
Save money on train fares
To help you save even more on rail costs, here are some of our top tips (see our Cheap Trains guide for more):
Buy in advance. Most train companies put tickets on sale 12 weeks ahead. So the earlier you book, the more chance you have of getting one of their cheap advance tickets.
Two singles can beat a return. If you're going on a return journey, check if two singles are cheaper. It may not always be cheaper, but it's worth a try.
Get a railcard. Frequent travellers should consider a railcard, if they qualify for one. Those aged 16-25, the over-60s, those with disabilities, couples and adults who travel with kids may all qualify. Most railcards cost £30 a year and get the holder a third off many fares.
Split your ticket. Imagine you're travelling from London to Sheffield. If the train stops at Derby, check whether it's cheaper to buy a ticket from London to Derby and a second ticket from Derby to Sheffield. It's perfectly legal as long as the train stops at that intermediate station. Use our free TicketySplit tool to find out if you can get a cheaper walk-on single fare by breaking down your journey.
Look for hidden promos. Lots of train companies have hidden promotions buried on their websites – which you won't find if you're going through a ticket booking website. For a full list of hidden promos, see our Cheap Train Deals page.