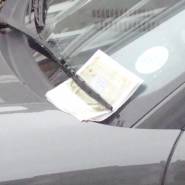 Millions of drivers hit by excessive fines from private parking companies could be in line for a refund if a test case in court goes their way.
According to the RAC Foundation, a case is due to being heard at the Court of Appeal next week, which would set a binding precedent on whether or not private parking companies can charge fines that don't relate to the loss incurred, although a decision could take weeks or even months.
Often drivers who stay longer than the time they were allowed in private car parks receive tickets with excessive demands for payments of up to £100, and in some cases significantly more.
MoneySavingExpert.com has long told people who get unfair private parking tickets not to pay them automatically. The so-called 'fines' handed out are merely invoices, often unenforceable, and it's a Wild West out there – many private parking firms are cowboys.
Our step-by-step guide shows how to fight unfair private parking tickets at supermarkets, hospitals, retail parks and elsewhere, including using the private parking appeals systems. Out of 23,500 people who appealed via one of these systems in the year to March 2014, 45% were successful.
But barrister John de Waal QC argues, in a paper for the RAC Foundation published today, that where fines are several times more than the genuine loss incurred by the land owner, that they're not enforceable by the courts.
De Waal says: "Payments at the level that operators presently demand as sanctions are unlikely to count as a genuine pre-estimate of loss; they should be seen by the courts as penalties, which means they are unenforceable."
The RAC now wants to see this legal argument tested in a court that can set a binding precedent for others to follow, which is what it says is due to happen next week. It says that if this happens "millions of drivers could be in line for a refund".
The RAC Foundation is also calling on the Government to set out what unreasonable charges are. Its director, Professor Stephen Glaister, says: "Ministers thought that the ban on clamping would end parking problems on private land. As we warned at the time, they were wrong.
"They allowed a system of ticketing to emerge which is barely regulated. In effect drivers have been short-changed."
In addition to excessive payment demands de Waal also says European consumer legislation that requires contracts to be fair means so-called "early payment discounts", which are often used to put pressure on the public to pay up quickly or face a higher charge, are in fact unlawful because they constitute a "price escalation clause".
He adds that when signs are not clear or prominently displayed, the charge can also be challenged on the grounds of unfairness.
Additional reporting by the Press Association.