We've been shouting it till we're blue in the face - if you're on a standard tariff, fixing can save you £100s. For the 66% of you on one with a Big 6 provider it's doubly important you ACT NOW. First, their prices are set to rise. On Monday smaller player Ovo Energy sneaked out a 5% rise starting in Jan - others are likely to follow.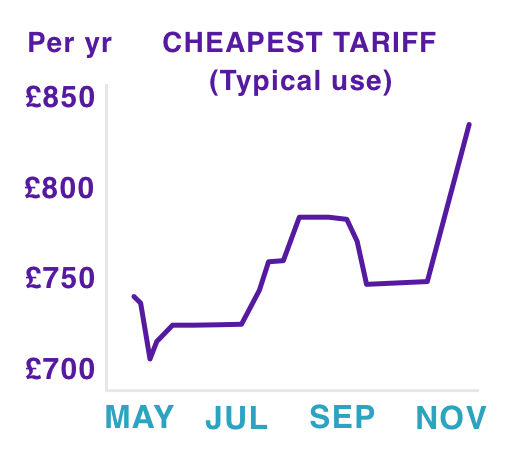 What's more, the best switching deals are disappearing fast. In May, a typical user paid £724/yr on the cheapest 1yr fix - now it's £822/yr. Also, the best deals are from small firms, which buy a set amount of energy. Once it runs out, deals vanish without warning. They're currently £200/yr-ish cheaper than big firms' standard tariffs - a huge saving.

Plus, despite our best attempts, we couldn't negotiate a new MSE Big Switch - where a trusted intermediary (eg, us) gets energy firms to bid to provide special tariffs. We opened two bidding windows for suppliers to beat the market's cheapest. Yet even with our power, no firm would play ball - and as we always say, if it isn't cheapest, we don't put our name to it.

Of course, you can lower your bills by reducing usage, but switching can be a nailed-on winner. Here's what to do...

1. Stop wasting £200/yr on energy. Switch & lock in to a cheap fix. As prices vary by usage & region, always do a full market comparison via MSE's Cheap Energy Club to see how much you could save. Plus we pay £30 dual fuel (ie, gas and elec) cashback if we can switch you. Judith says: "Thanks for your help. Finally got round to switching energy provider (I'm a switching newbie on a pension), which is due to save us £600 this year." Here's the killer point...



If you're one of the 66% on a standard tariff with the Big 6 - B Gas, E.on, EDF, Scot Power, SSE & Npower - you're being ripped off. On typical use, they're £1,063/yr. Our top pick cheap fix is £856/yr - £200/yr+ less.


And if you're on a standard tariff & lock in now at these prices, you may end up saving even more compared to standard rates if they rise.

As this table shows, there are huge savings to make. Avro is currently our top pick 1yr fix - fixes protect against price rises - but if you factor in cashback, Octopus Energy (though it's new, so we've little feedback) could come out cheaper for some. To protect yourself for two winters, iSupply may be better.


BEST FIXES (varies by region, based on typical use)

Tariff
Cost (1)
Cashback (2)
Typical Big 6 standard cost
£1,063/yr
-
Avro Energy - Top pick 1yr fix
£856/yr
-
Octopus Energy - Cheapest 1yr fix with cashback
£876/yr
£15/fuel
First Utility 1yr fix - Biggie with good service
£914/yr
£15/fuel
iSupply Energy - Longer 21mth fix
£870/yr
£15/fuel
(1) For dual fuel, paying by direct debit. (2) Via Cheap Energy Club.
But beware, these deals could be pulled at any moment. It's worth adding that with a fix, only the rate you pay is fixed, not the cost. So the more you use, the more you pay.

PS: We've chosen not to mention a £822/yr deal from Economy Energy because it's currently being investigated by regulator Ofgem for poor selling practices, plus we've little feedback on it.
2. Never switched before? It's quick, easy and can save £100s/yr. Many wrongly think switching's a hassle, yet it's the same electricity, same gas and same safety - only service, billing and price change. For most, it takes just 5-10 mins to fill out your details on our Cheap Energy Club.

Just grab a recent bill for your annual usage (if you don't have one, we can estimate), enter your details and we give a full market comparison. Select a tariff, and you're done - your energy supply should switch in 3-4 weeks, they do the work behind the scenes. Pete did it: "Saving £160 a year, took 5 mins max."

- Elec or gas only? Don't worry, you can still switch, although your choice may be more limited. Just go to Cheap Energy Club and select the correct fuel when in the 'Edit details' section.
3. Save £280/yr if you have prepay. Standard meters are cheaper than prepay, and the Big 6 have stopped charging to swap you to one - though most require a credit check. Some small suppliers also offer this for free (tho not all). A typical standard prepay tariff is £1,137/yr so switching to the cheapest fix can save £280/yr. See our Cheap Prepaid Gas & Elec guide for full info.

If you don't want to or can't change meters, do a Cheap Energy Club prepay comparison anyway, because you could still save - though if you're in debt with your supplier you may not be able to move.
4. Loyal to British Gas? Switch to BG-operated Sainsbury's Energy to save a possible £130/yr. See BG vs Sainsbury's for full info. Charlie emailed: "Just swapped British Gas to Sainsbury's Energy and saved £359 per year, well happy." [That's more than the average saving, but averages are just that.]
5. Switch without switching to save up to £180/yr. If you think moving firm is a hassle (it's not), at least move to your provider's cheapest tariff. The biggest saving is for those with Npower - someone with typical usage on its standard variable tariff could save a massive £180/yr by moving to its cheapest fix. See Switching without switching for full help.
6. 'Unlimited' energy for a fixed fee with this unique tariff. If you're worried about your direct debit suddenly shooting up this winter, Green Star's Unlimited tariff* lets you pay a fixed amount every month regardless of how much energy you use - good for someone freezing in their home and fearful of putting the heating on.

All prices are personalised. You need to give it past bills for it to calculate a flat monthly rate, fixed for 12 months. But prices have risen recently and the tariff now costs similar to a Big 6 standard tariff, though there are £30/fuel exit fees. For medium users, it's about £1,056/yr, or £88/mth. Yet even if your usage rockets, Green Star says it'll honour the deal - useful if you just want peace of mind. See Is Green Star any good?
7. Going green won't get you the cheapest deals, but huge savings are still possible. If you're environmentally conscious, the cheapest deal about is Octopus Energy's green 1yr fix which offers 100% renewable electricity. With typical use, it's £902/yr, there are no exit fees, and you'll get £15/fuel cashback for switching with us. It's still £160/yr less than a Big 6 standard tariff based on typical use, but always do a full comparison for your cheapest (select the '100% renewable' tab once logged in).
8. Paying by monthly direct debit is cheapest. Suppliers charge about 6% less if you pay by direct debit, though give regular meter readings for accurate bills. If you let the supplier estimate, you'll likely pay too much or not enough. If too high, you've a right to challenge - see Fight Unfair Energy Direct Debits. If too low, you could face a bill shock.

Plus, if you've switched, check with old suppliers - you could be owed £100s. Most give it back automatically when you leave, but if you've switched in the last six years, check whether they owe you. Our Reclaim Energy Bill Credit guide shows how. Christy emailed: "Phoned my provider, turned out I was in credit by over £1,700, which it refunded in 10 days."
9. Use heating oil? Haggle for help with bills. Heating oil prices have tumbled in recent years, but they've been on their way back up since Feb, and you typically pay more in winter when demand is highest. So if you need to stock up, now's the time. However, remember to haggle to bring the price down, or check your local area for heating oil clubs - you could even set one up yourself - and benefit from bulk-buying. Beat higher prices with our Cheap Heating Oil guide.

As MSE Kirsty discovered: "After explaining certain personal circumstances to Calor Gas, it agreed to fix our tariff until next summer, giving us peace of mind through winter."
This article first appeared in the MoneySavingExpert.com weekly email on 23 November.