Parents who splashed out on tickets to Disney on Ice's Frozen show at the O2 Arena are refusing to let it go after they were moved to inferior seats – with claims some children were left sobbing with disappointment and others treated to a less-than-magical view of performers getting dressed in the wings.
The show, billed as a "fantastical winter wonderland beyond imagination" on the London venue's website, features popular characters from the film Frozen such as talking snowman Olaf and has garnered rave reviews from critics on its tour around the UK.
But dozens of parents who attended the show's London stint in December have told MoneySavingExpert.com they were left cold by the festive family treat after large-scale seat reallocations. The seating issues dogged at least 15 different performances between 21 and 30 December.
Show producer Feld Entertainment said the problems were caused by an "arena configuration change" which meant "a large number of our customers needed to be moved from their original seats".
The O2 Arena has apologised for the "ticketing issues" and is now offering those affected refunds or new tickets.
For help on finding theatre, sports and gig-ticket bargains, see our Cheap Tickets guide.
'Our daughter now hates Frozen'
Furious parents have tweeted about their experience, with one sharing pictures of the poor views her family were confronted with after their seats were downgraded:
Over 100 parents have formed a Facebook group to demand a full refund of their ticket prices – and they have collated their experiences in a spreadsheet shared with MoneySavingExpert which lists around 70 families who turned up to performances only to find they could not sit in the seats stated on their ticket.
Some were left unable to sit together after being moved, while others said that the process of being relocated meant they missed part of the show, or that young children were given obstructed views.
One customer told MoneySavingExpert he'd "received no credible reason for my seats being moved back 30-odd rows". Another said: "We selected [seats at the] front end of the arena so that we would be watching the show front on, rather than the backs of scenery, and selected front row so that we wouldn't have people's heads in our way. This is exactly what we had to deal with on top of being at the back."
Another customer added: "Our daughter was so hyped for having front seats and ended up in tears [when this didn't happen]. She now hates Frozen and her favorite [sic] Christmas gift is now her worst."
One woman paid for front-row seats for her two young sons but was relocated to seats with a side-on view from which backstage activity could be seen. At one point the bottom half of an Olaf costume was visible in the wings – in a scene unwittingly reminiscent of the Frozen song, Do You Want to Build A Snowman? (see below).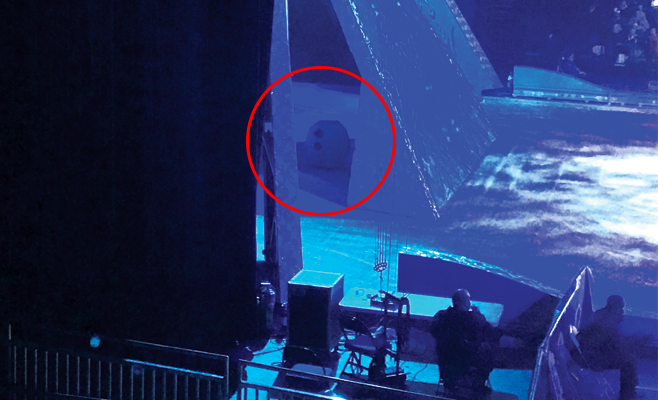 How to get a refund if you were affected
If you went to one of the Disney on Ice shows and are unhappy that you were reseated, you should contact the O2 Arena to ask for a refund. A spokesperson told us: "A number of customers faced ticketing issues for the recent run of Disney on Ice at the O2. This was our error as the venue and we apologise to all those affected unreservedly.
"We managed to fit every customer in and nobody was turned away from seeing any of the performances. We moved most customers to seats of a similar price and quality, but some sadly had to move to seats that were not as good as they had purchased.
"We're urging all those affected to contact us, so that we can handle each case individually. A number have done so to date and depending on how the customer was affected, we are offering a range of options from tickets to other Disney shows through to refunds for any price difference in seats."
If the O2 Arena offers you new tickets or a partial refund and you believe you should be given more, it may be worth pushing for a full refund – two customers have reported being offered full refunds.
What are my rights if I book a ticket and am given a different seat?
Tickets sales are covered by a variety of consumer laws, but in a nutshell here's what you need to know:
You should be given full information before buying a ticket. This should include, if possible, timing, location and seat numbers. You should be told of anything that will affect your view before buying.
Terms and conditions should be highlighted. If a company wants to rely on any terms and conditions of the ticket, these should be made clear to the customer before booking.
If you've been misled, there are remedies. If you were given wrong information, and this formed part of your decision to buy a ticket – eg, you specifically bought front-row seats that weren't available – you can ask for a full refund prior to going to the show. If you've watched the show you can try to ask for a partial refund or potentially even claim damages, such as for distress caused.
In this case, the O2 Arena's terms of admission clearly say customers may be reseated. They state: "We reserve the right to provide alternative seats to those specified on the ticket where it is not possible to allow you to occupy the specific seat printed on your ticket.
"In these circumstances, we will use reasonable endeavours to provide you with a seat of equal value to that which you purchased and where we are unable to do so we will reimburse to you the difference in value of the seat we are able to provide and the value of the seat printed on your ticket and we shall have no further liability to you as a result of the change in seats."
If you're affected by a seat reallocation it's also worth contacting the ticket seller, if you didn't buy directly from the venue, and any trade body the venue may be a member of. The Society of Ticket Agents and Retailers told us it has received a number of complaints from customers about Disney on Ice, but as the 02 Arena is not a member it is unable to take any action.