Holidaymakers are losing out by being charged in pounds despite explicitly opting to pay in local currency, according to reports we've had from MoneySavers. We're now investigating to see how big the problem is – here's what to do if you've been affected.
When paying on a card abroad, you're often asked if you want the transaction to be in pounds or the local currency.
As a general rule, we say never pay in pounds – if you do, through a process known as 'dynamic currency conversion', it'll be the store's bank which does the conversion for you, and it'll almost certainly work out more expensive. See Martin's Always pay in euros blog for full info.
Yet we've heard a string of reports from holidaymakers who've ended up being charged in pounds despite having asked to pay in euros – sometimes even after the salesperson or the holidaymaker has apparently pressed the correct 'pay in euros' button on the card machine.
One MoneySaver told us she was charged in pounds in Spain despite requesting to pay in euros on the pinpad, while MSE Guy was charged in pounds despite the card machine showing the amount in euros and so got an exchange rate of €1.10 to £1, rather than €1.13.
If this has happened to you, we want to hear from you. Let us know at news@moneysavingexpert.com.
Why it's a problem and how it'll cost you
If you use a debit or credit card overseas, either to take cash out of an ATM or to pay in a shop, restaurant or hotel, you're sometimes given a choice on how to pay.
You can pay in local currency, eg, euros, in which case your bank or credit card firm will do the conversion for you. Or you can pay in pounds, in which case the foreign bank or shop or restaurant's bank will do the conversion for you – this is technically known as 'dynamic currency conversion'.
Marketed as a way for travellers to know exactly what they are paying in their home currency, dynamic currency conversion is offered on many card terminals in the EU, including at popular holiday destinations.
It's always worse to pay in pounds if you've a top overseas credit card that doesn't charge the usual 3%-ish commission most cards do, as the conversion would mean you wouldn't get the near-perfect exchange rate you should get.
If you've a card that charges that 3%-ish fee it's less clear-cut, as it depends just how bad the exchange rate you get abroad is. But it's still usually much safer to pay in local currency. We've seen mark-ups of up to 18% which would eclipse the charges on even the worst card to use abroad.
If you're offered dynamic currency conversion then it's the store or restaurant's responsibility to make sure you're offered a choice and you pay in the currency you choose. Yet it appears this isn't always happening – and it's worth noting that foreign banks and overseas stores often make a mark-up on transactions if you opt to pay in pounds, by splitting the commission.
'I approved the payment in euros but the receipt was in pounds'
At least a dozen MoneySavers have told us they've been charged in pounds via dynamic currency conversion, despite asking to pay in local currency.
In many cases, this seems to have happened despite the holidaymakers themselves pressing a button opting to pay in euros, or witnessing a shop assistant or waiter do it:
Katie was caught out on holiday in Spain in May. She said: "I requested to pay in euros on the chip and pin pad, but the receipt showed pounds. I watched the waiter press the correct button. On getting my receipt I noticed it had charged me in pounds – I told the waiter this wasn't what I'd wanted but he said there was nothing he could do."
MSE Guy was affected by this twice on a recent holiday to Greece. He asked to pay a restaurant bill in euros, not pounds – but on checking the receipt later saw it had been processed in pounds at a poor exchange rate. He returned to the same restaurant a second time and it happened again. Guy said: "The machine clearly showed euros before I entered my PIN." Yet again the payment was in pounds. Both receipts he received said "I accept I have been given a choice of currencies".
Kathryn told us this happened to her when paying at a hotel in Fuerteventura. She said: "I approved the payment in euros on the pinpad but the receipt was in pounds. I hadn't been given the option to choose the currency. I queried it and was told it's just the way it is."
MSE Duane saw it happen to friends of his visiting Ireland last month from the USA – they were using US credit cards and ended up being charged in dollars: "At three restaurants during the trip, we were given the card machine and pressed euros ourselves, and were still charged in US dollars at a bad rate. We queried it, but neither the waitress nor manager could explain why it happened."
What do the receipts show?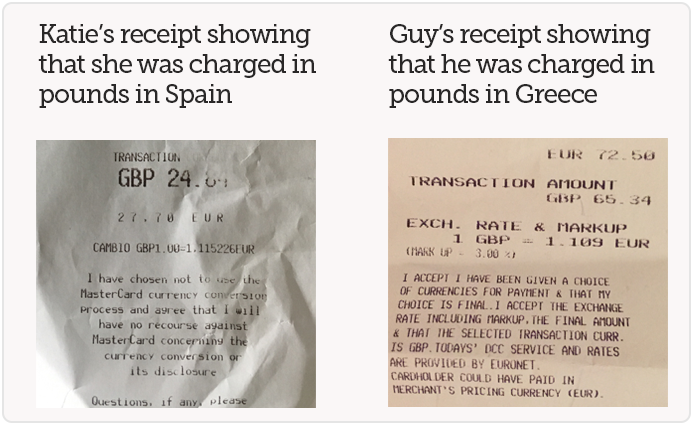 What to do if you've been charged in pounds
Here's how to avoid being caught out:
Always check your receipt. If you've been asked whether you want to pay in euros or pounds and opted to pay in euros, make sure that's how you've actually been charged.
If you find you've been charged in pounds, query it immediately. It's easiest to get this sorted straightaway. The UK Cards Association says you should ask for the transaction to be voided, not refunded. Then start the transaction again.
If the retailer refuses, or you only discover you've been wrongly charged later, contact your bank or card issuer. It will then take it up with the retailer's bank overseas, and may start a chargeback. (See our Chargeback guide for more info on how this works.)
In Katie's case, after we contacted her credit card firm Halifax on her behalf, it told us that it had reviewed the transaction and confirmed it was in pounds and refunded Katie using chargeback.
A spokesperson told us: "We have temporarily credited the full amount of £24.84 to the customer's account and returned the charge to the merchant who have 45 days to accept or challenge our action."

Who's responsible?
If you ask to pay in euros and are charged in pounds, it's often hard to pin down what went wrong unless you immediately query it with the store.
If a shop or restaurant offers dynamic currency conversion, it has responsibility for making sure you're offered a choice of currency. Guidance from the UK Cards Association states that "the retailer or ATM should ask you before using dynamic currency conversion". Yet often this appears not to happen.
A Mastercard spokesperson told us it was an issue they were aware of and added: "Quite often smaller merchants who aren't used to dynamic currency conversion just go through the motions on the point of sale as quickly as possible to get the payment done."
We attempted to contact some of the shops and restaurants that had charged MoneySavers in pounds, but none was willing to comment.
Experts we asked about this weren't able to comment on the specific cases in this article but said it's likely to be an error (or a deliberate ploy) by the shop or restaurant. Yet we're still not convinced what the cause is – so we're investigating further and wanted to put this story out now to find out the extent of the problem.
If you've clearly chosen to pay in local currency but were actually charged in pounds, please email us at news@moneysavingexpert.com. People may be put off claiming for what is only a few pounds at a time – but if this is a more widespread issue it could be a big money-making scheme for whoever's responsible.
What do the regulators say?
The European Banking Authority told us that "a number of consumer organisations and other groups (including the European Parliament) have raised concerns in this area."
New rules which come in next January will provide some additional protection for consumers withdrawing cash from ATMs, but are unlikely to help those caught out by shops and restaurants.
A spokesperson for the UK regulator, the Financial Conduct Authority, said: "The advice for customers really would be to make sure you know what currency you are paying for something in, and to ask for a receipt so you can take it up with the merchant immediately afterwards if there are any problems."
What do card issuers say?
A Barclaycard spokesperson told us: "It is solely the cardholder's decision on whether they pay in local or their billing currency.
"By default, payment terminals must show the amount a cardholder will be charged in local currency of the territory in which they are making the purchase. This should show the transaction amount in the local currency and the total transaction amount in the billing currency including the exchange rate and mark-up, to allow cardholders to make an informed decision as to whether to proceed or not."
A Visa spokesperson said: "Visa has no involvement in setting currency conversion rates or fees that merchants and their financial institutions may apply to dynamic currency conversion transactions.
"Cardholders have the right to refuse the offer and have [the] transaction billed in the merchant's local currency, which will then use Visa's conversion rate."
A Mastercard spokesperson said: "No matter which card is used, it is the responsibility of the bank that provides card acceptance and dynamic currency conversion functionality to the shop who is responsible for ensuring the shop is compliant. If they remain uncompliant, ultimately they will have acceptance taken from them."