Not knowing whether the cheapest energy firms are "any good" is the most common reason householders are reluctant to switch energy supplier, according to a poll of 3,500 MoneySavers.
Last month we asked "What puts you off/frustrates you about switching energy?", and of the 3,449 respondents, a third (32%) said switching providers was easy.
The remaining two-thirds selected issues with switching which applied to them. Some 23% of users' total 5,192 votes identified as a problem that they hadn't heard of the cheapest companies, with concerns that they simply didn't know if they were any good.
Among the other biggest switching deterrents were users not being sure how much money it would save in the long run (10%) and users worrying that actually switching provider would be a "nightmare" despite comparing being easy (9%).
Most on a standard tariff can save £100s/year by switching. Find the cheapest deal for you with our free Cheap Energy Club.
What puts people off switching?
Here's a list of the top 10 most common reasons MoneySavers told us they were put off switching: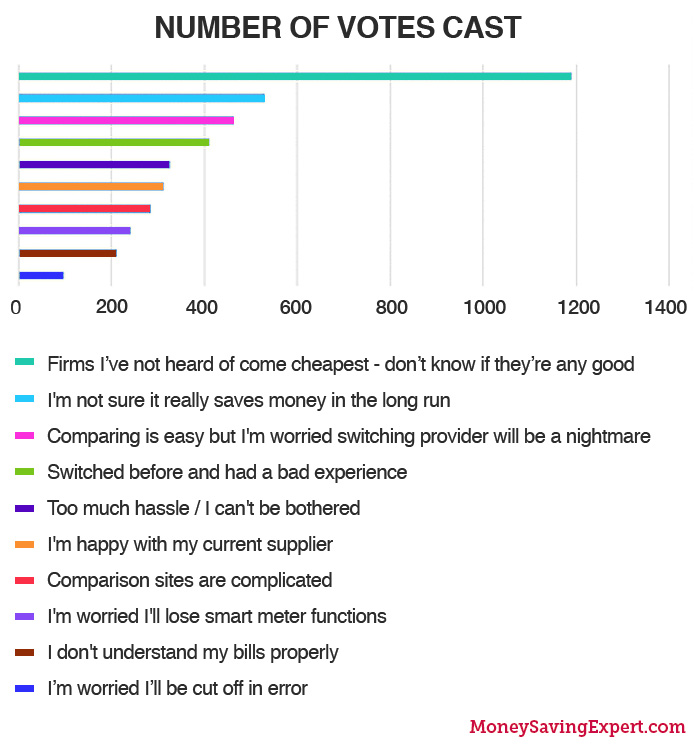 Should I switch to a smaller supplier I might not have heard of?
Most people currently get their energy from a group of firms known as the big six – British Gas, EDF, E.on, Npower, Scottish Power and SSE. But as a general rule it's smaller suppliers which tend to offer the cheapest deals on the market.
For example, right now the market's cheapest deal is a one-year fix from OneSelect, which only began supplying energy in recent months. Based on typical use, this tariff costs an average £824/year – about £100/year less than the cheapest big-six fix. (The OneSelect tariff isn't available in Scotland, so for Scottish customers the cheapest is a one-year fix from Eversmart which costs an average £827/year on typical use.)
While our poll shows many are wary of smaller suppliers, and feedback on new small suppliers is often limited, previous MSE polls suggest some smaller firms can actually offer a better customer experience than their big-name counterparts.
In our April poll, gas-only supplier Zog Energy was ranked top for customer service for the third time running, with 96% of customers rating it as "great". Another smaller firm, Ovo Energy, was in second place, maintaining its long-standing position near the top of our rankings.
Some also worry about the stability of smaller suppliers, though it's worth noting that regulator Ofgem has rules in place to protect customers if the worst should happen – for example, when GB Energy went bust last year, Co-op Energy quickly stepped in and customers' existing tariffs were honoured.
If you're concerned about using a smaller supplier, don't let that put you off switching. Even if you want to stick with the big six, if you're currently on a standard variable tariff it's possible to save £100s/yr by switching – for example with the special cut-rate EDF deal we've negotiated featured in this week's email. To compare and find your cheapest deal, use our free Cheap Energy Club.
Other key switching need-to-knows
Here are some of MoneySavers' other concerns – and what you need to know about switching:
"I'm not sure it really saves money in the long run." Right now the market's cheapest tariff is around £100/yr less than the cheapest big-six fix based on typical use, and even switching to the cheapest big-six tariff from the average standard tariff would save you an average of over £200/yr. Make sure when a fix ends you compare and consider switching again though, as you're likely to be moved onto a supplier's pricey standard tariff at that point.
"Comparing is easy, but I'm worried switching provider will be a nightmare." Switching is usually easy – only customer service, billing and prices change. The new supplier performs the switch, and all you need to do is take a meter reading. It can take as little as 17 days to switch – including a 14-day cooling-off period where you're free to change your mind without penalty – but can sometimes take up to four to six weeks.
"I'm worried I'll be cut off in error." You won't be. When you switch it's the same gas, electricity and safety, the only thing that changes is who provides your bill and looks after your account.
"I'm worried I'll lose smart meter functions." Unfortunately, smart meters aren't compatible with different suppliers at the moment. If you switch to another supplier, your smart meter will likely lose some its 'smart' functionality – such as the ability to send automatic readings to your supplier. However, all this means is that you'd have to go back to manually providing meter readings to your new supplier – don't let it put you off switching and saving.
Have your say