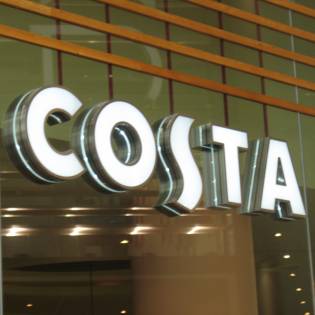 You'll soon be able to fill up your water bottle for free in places such as Costa and Premier Inn as part of a new national scheme to cut the use of plastic.
Water UK, which represents water and wastewater firms, has today launched its drinking water campaign, with the hope you'll be able to refill your bottle for free in tens of thousands of places in England by 2021.
Water UK is working alongside the Refill campaign, which aims to make it as easy as possible to reuse water bottles and has already mapped 1,600 refilling stations on its app, to create a national network of places to get free tap water at high street shops, coffee shops, businesses and local authorities.
You won't need to be a customer, or feel obliged to buy anything if you pop in and refill, and Water UK has confirmed the project is being funded by the water companies. It's also considering expanding the scheme to the rest of the UK.
Water companies will work with Refill on how to improve access to free water, such as by installing new outdoor drinking fountains, and to establish how many refill stations will be available. These plans are to be in place by September this year. It is also hoped that a new app will be created to help you find where you can fill up for free nationwide.
Whitbread PLC, which includes Costa and Premier Inn, is the first major company to sign up to the project, and has pledged to offer free drinking water for customers and passers-by in each of its 3,000 locations from March.
You can already fill up for free in many of the UK's biggest airports, and MoneySavingExpert.com is continuing its campaign to ensure all airports offer this. See our Travel Tips guide for where you can fill up for free before jetting off.
See our Tap Water Rights guide for more information.
What do the organisers say?
Water UK chief executive Michael Roberts said: "As an industry with a strong focus on the environment we are passionate about tackling the problems caused by plastic bottles, which clog up rivers and drains, and pollute our seas.
"By refilling water bottles, we can all help turn this harmful tide of plastic waste. This country has some of the best drinking water in the world and we want everyone to benefit from it. This scheme will do that by making it easier for people to refill their bottles wherever they work, rest, shop or play."
Natalie Fee, founder of City to Sea, the organisation which is the driving force behind the Refill scheme, said: "We've seen a huge appetite for our Refill campaign across England, from individuals wanting to make a difference in their community to national chains keen to offer free refills to their customers.
"Our Refill app puts the power to stop plastic pollution in people's hands – and now thanks to the water industry we'll be able to help everyone, from local communities to airports, to provide free refills on the go."
Have your say