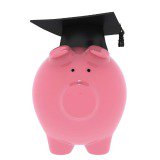 Prime Minister Theresa May has pledged to make student finance "fairer" and launched a major review of university funding this afternoon.
The review, chaired by author Philip Augar and expected to conclude in early 2019, will look at all aspects of student funding, including the maintenance support available to help with living costs, and cover all forms of education for those 18 or over.
The Prime Minister acknowledged that Britain has "one of the most expensive" tuition fee systems in a speech in Derbyshire this afternoon. And she urged people to "throw away" the "outdated attitude" that university is the only desirable route for young people and that going into vocational training "is something for other people's children".
For more on this topic read MoneySavingExpert.com founder Martin Lewis's new blog: 'Why cutting tuition fees bizarrely risks hurting not helping most students' and also see our Student Loans Mythbusting guide.
What will the review cover?
The review, which will be supported by an independent, external chair and panel, is set to look into all aspects of student finance, including:
The maintenance support available to pay for living costs. To "give people from disadvantaged backgrounds an equal chance to succeed", the review will look at how disadvantaged students and learners receive maintenance support, from the Government, universities and colleges.
The level tuition fees are set at – currently up to £9,250/yr. May will acknowledge that a competitive market, where fees differ between institutions, has not emerged. She will recognise that the level of fees charged does not relate to the cost or quality of the course, and that almost all institutions charge the maximum fees.
How to help young people make more effective choices at 18. This could include giving young people better guidance about the earning potential of different jobs and what different qualifications are needed to get them, so they can make more informed decisions about their futures.
The Government hasn't yet published more specifics of what the review will look at. But other areas which could be considered as part of a wide-ranging review include the student loan repayment threshold – something MSE has long campaigned on – and the interest rate charged on student loans.
May's announcement was preceded yesterday by a call from the Treasury Committee – an influential group of MPs from different political parties – for a major rethink of university funding.
Martin: 'My number one priority is maintenance loans'
In a blog written yesterday, Martin warned that high interest rates are not the biggest issue facing the student finance system.
He wrote: "If we're going to tweak the current system's nipples (rather than replace or redesign it totally), cutting tuition fees and above-inflation interest are the wrong nipples to tweak. Both only benefit higher earning graduates.
"Of course with unlimited funds they're good to do, as both are psychological barriers. I especially hate high interest rates on principle, even though in practice they're less of an issue.
"Yet now we've upped the repayment threshold, my number one practical priority would be to look at the system of maintenance loans. Many from lower and mid-earning backgrounds find university living costs cripplingly unaffordable."
May: 'My vision is a country where your background doesn't define you'
Theresa May said: "A country where your background does not define your future, and class distinctions are a thing of the past. Where a boy from a working-class home can become a High Court judge, thanks to a great state education. And where a girl from a private school can start a software business, thanks to a first-class technical education.
"That is my vision for a fairer society and how we will deliver it. A society where good, rewarding work is available for everyone. An economy with the skills it needs to succeed. Britain as the great meritocracy, a country that respects hard work, rewards effort and industry, where a happy and fulfilled life is within everyone's grasp."