One lucky comper has revealed how she bagged herself a host of lavish prizes and even a husband on MoneySavingExpert.com's 'comping' forum board.
Jay, from Yorkshire, first started 'comping' (entering competitions) on MSE's Competitions Time board 10 years ago, but she never dreamed she would end up winning the love of her life when she started swapping tips with now-husband Al.
Not only did the MSE Forum play the role of cupid with their introduction, but Jay admits they probably wouldn't be married now if it wasn't for comping, after a big win inspired their nuptials in 2015.
Many dedicated forumites share the latest competitions and offer tips on the Competitions Time board. See our 40+ Comping Tips guide for hints and tricks.
'If it wasn't for comping, we probably wouldn't have got married'
In 2010 the pair started swapping comping tips on the forum, which Jay says is "a great community, with lots of jokes and chatting."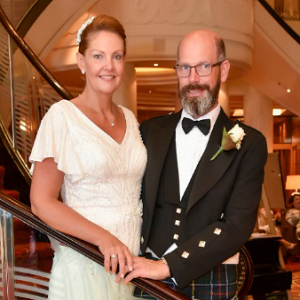 Things started getting more serious for the couple after Jay won a cruise for them both on the Queen Mary 2 in 2013, which she found out about on the MSE Forum.
Jay said: "My best ever win - apart from my lovely husband - was a cruise on the Cunard cruise liner QM2. We had an absolutely amazing holiday, and enjoyed it so much that we were married on board two years later.
"It was a top cabin on the QM2 worth £3,000 – the most expensive prize I've ever won.
"Sadly, we didn't win the wedding, but we got lots of honeymoon clothes with vouchers won through the forum.
"It was perfect. They provide witnesses and everything is so easy. If I hadn't won the cruise, we probably wouldn't have got married."
And Jay and Al aren't the only pair who've had a bit of luck thanks to the comping board – forumite LaurainLondon won her £10,000 wedding package after spotting a competition on the forum.
'I've won so many great prizes, I now comp for charity'
Jay and Al have won a host of lavish prizes, including short breaks away, overnight hotel stays, a KitchenAid mixer, a gold-plated Xbox, two or three televisions and two bicycles. Jay joked the strangest win she had was a DVD which arrived with a surprise bonus of 250 baubles - in July.
But with 10 years of comping experience under her belt, Jay admits the couple have most of what they need so she now enters to help charities.
She explained: "Most of the competitions I do now are for dog charities, winning gifts to put in raffles or tombolas to help their fundraising. Probably 80% of what I win I donate. I kept a pair of walking boots I won recently that are great for walking our dogs, but I give most prizes to charity."
Still a regular in the MSE Forum, Jay enters about 1,000 competitions a month, usually while watching television at home in the evenings.
When asked for her best tips for would-be compers, Jay said: "Only do it if you enjoy it. If you go into it thinking you're going to win big prizes, you probably won't. You can go months without winning. Enter ones for unusual or little prizes, such as DVDs or CDs, or local competitions, as there are better odds.
"Be open to different ways of entering – such as Instagram, Pinterest and radio stations."
How to try your hand at comping
Our 40+ Comping Tips guide has a ton of hints and tricks to help you try your hand at comping and – with a little luck – perhaps become as successful as some of our winners. Here are a few top tips:
Find 100s of competitions in one place. Our MSE comping forum board is regularly updated and compers have a real team spirit.
NEVER use your personal email address for comping. Creating a new email address just for comping will help stop your inbox clogging with spam.
Use an automated form-filler. These allow you to enter competitions at speed. See how to turbo-charge your form-filling.