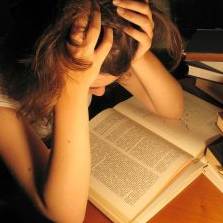 Student loan interest rates, already a source of much anger and a Government review, are set to rise again in September. Current students from England and Wales will almost certainly see the rate rise from 6.1% to 6.3% - and many former students with outstanding loans will see their rates rise too.

The reason for this rise is March's RPI inflation figures have just been revealed, and that is the rate that has always dictated student loan interest for the following academic year, though this isn't something that is confirmed until later in the year.

However according to MoneySavingExpert.com's founder Martin Lewis, there's no need to panic, as bizarrely for most people the interest you end up actually paying, is far less than the amount that's added to your loan statement.

What will the new interest rate be on your student loan?
The Retail Prices Index (RPI) measure of inflation for March, is used to calculate the amount of interest students and university leavers pay on their student loans, was announced as 3.3% today, up from 3.1% last year. Assuming the changes follow the pattern for every year since student loans started. Here are the new interest rates:
Plan 2 loans - All English & Welsh loans for those who STARTED uni in/after 2012.

While studying you're charged RPI + 3%, so you're currently charged 6.1%, and from September, will be charged 6.3%.

From the April after you graduate, the interest rate is RPI if you earn under £25,000 (so it will increase from 3.1% to 3.3%), up to RPI + 3% if you earn over £45,000 (so it will increase from 6.1% to 6.3%) and a sliding scale in between.
Plan 1 loans: ALL loans for those who STARTED between 1998 and 2011 PLUS Scottish & Northern Irish loans since 2012. Here the rate is set as the lower of the RPI rate of inflation or the Bank of England base rate + 1%. As the Bank of England base rate is currently very low at just 0.5%, it means the interest rate is currently 1.5%.

And it will stay at that rate next year, unless UK base rates increase (when it'll increase too). All that today's news changes is that from September the maximum the base rate can rise to is 3.3%, as opposed to the current 3.1%.
Pre-1998 loans. The rate here is simply the RPI rate, so currently it is 3.1% and will rise to 3.3% in September.
Postgraduate loans. The rate is set at RPI + 3%, so it is currently 6.1% and will rise to 6.3% from September.
Martin: 'What counts is the interest that you'll pay and not the interest added to your account'
MoneySavingExpert.com founder Martin Lewis said: "Millions of students and recent graduates will let out a collective groan at the news that almost certainly in September student loan interest rates will rise - many are already petrified when they see their loan statement grow by so much each month.

"And so with the headline rate for current students now 6.3% many will look and wrongly think that they'd be better to get out other cheaper debt elsewhere to pay it off.

"Yet actually in reality for the vast majority of students who have the highest rates, those on Plan 2 loans (England and Welsh uni starters since 2012) - the interest that is added to your account, is mostly meaningless as it is totally different to the interest you'll actually pay.

"This is because what you repay is based on earning not what you owe – you repay 9% of everything above £25,000. In fact it's estimated that only the highest earning 17% of graduates will repay all the interest added to their account, because only they will clear their loan in full in the 30 years before the debt wipes.
"The rest will pay less. Many will pay some interest, though it could be less than inflation, some won't pay any interest as they won't repay enough to clear their original debt, and the very lowest earners won't repay anything at all.

"So you can't compare student loan interest to another types of personal finance and say 'the rates higher I'd be better to borrow elsewhere to pay it off.' What counts is the interest that you'll pay and not what's added to your account. Those two things are radically different."
Worrying about your student loan. See Martin's Should I panic or pay it off? guide for post-2012 loans for more info.
Interest rates could be reconsidered as part of the Government's student finance review
Prime Minister Theresa May launched a wide-ranging review of student finance back in February, which will be supported by an independent, external chair and panel.
The review isn't expected to conclude until 2019, so it's unlikely to affect interest rates until at least next year.
But as part of the review, the Commons Select Committee, a cross-party group of MPs, has recommended the Government abandon use of RPI in favour of the consumer price index (CPI) to calculate interest rates. The CPI is currently lower than the RPI, at 2.5%.
As part of its recommendations, the committee said: "Graduates with very large salaries may in reality pay less over their lifetime than lower-earning graduates as they can repay the loan quicker, and therefore pay less interest.
"The committee has not heard a persuasive explanation for why student loan interest rates should exceed those prevailing in the market, the Government's own cost of borrowing, and the rate of inflation."
What does the Government say?
The Government hasn't actually announced the interest rate changes yet, and historically hasn't done until August each year, but the methods used to calculate the changes stay consistent.
A Government spokesperson said: "Our decision to raise the minimum repayment threshold for student loans to £25,000 is saving 600,000 graduates up to £360 per year from this month.
"This change in interest rate will make no impact on a borrowers' monthly repayments and very few people are likely to be affected by the increase. Once the loans are in repayment, only borrowers earning over £45,000 are charged the maximum rate. This ensures that they make a fair contribution to the system."