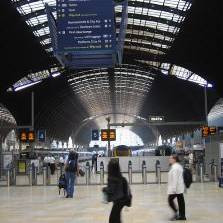 The rail industry has appointed the 'Dispute Resolution Ombudsman' - which currently acts as the ombudsman in the furniture industry - to rule on complaints from passengers.
The new rail ombudsman will launch in November, and the Office for Road and Rail (ORR), which is the railways regulator, has said it will be consulting on whether to make membership of the ombudsman compulsory for all train firms as part of their licence arrangements.
At the moment, if a passenger submits a refund request or complaint to a rail company - for example, after being delayed - and this is rejected, they have to escalate their claim to an independent body called Transport Focus, which can't force operators to act.
The Rail Delivery Group - which represents train firms and appointed the ombudsman - says the ombudsman's decisions will be 'binding', though until the ORR's consultation is complete, it's unclear whether all operators will be forced to sign up to it and to accept its decisions.
See our Train Delays guide to find out about your rights if your train is late or cancelled.
What power will the new ombudsman have?
It's still not entirely clear what exact powers or remit the new ombudsman will have.
In November, a major MoneySavingExpert report into ombudsman reform concluded that effective ombudsmen should have statutory powers to ensure that firms are cooperative with processes and compliant with decisions that have real legal teeth.
The ORR says that it's consulting on requiring rail companies, via their operating licence, to sign up to the ombudsman - and it told us back in February that making membership of an ombudsman a requirement for a license will have the same effect as it being a statutory body.
However the ORR consultation won't end until November, when the new ombudsman's due to launch. Until then, the Rail Delivery Group says that all operators have agreed to sign up voluntarily.
Passengers who can use the ombudsman will be able to escalate complaints to it after first complaining to their train firm. If the train firm rejects your complaint you'll be able to escalate it to the ombudsman straight away - if it doesn't reply, you'll be able to escalate it after eight weeks.
The Rail Delivery Group says the ombudsman will have 'binding' powers, and rail companies will have to take action if failings are found, but it's not yet clear how these will be enforced.
What do key industry players say?
Rail Minister Jo Johnson said: "When train companies fall short, it is vital that passengers get the redress they deserve and are treated with respect.

"This is an important step by the industry - an independent and effective ombudsman, working closely with consumer groups, will ensure passengers get a fair deal and give them a stronger voice. And it will also help the rail companies to improve their service to passengers."

Kevin Grix, chief executive and chief ombudsman at the Dispute Resolution Ombudsman, said: "We are delighted to be appointed the Ombudsman for Rail and are looking forward to launching our service in November 2018.

"With our legal foundation and decades of experience providing alternative dispute resolution to some of the UK's most recognised retailers we are well placed to support future improvement in the rail sector."