Want to vote in the European elections? You've not got long to register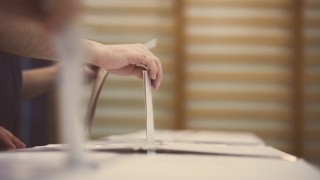 If you want to ensure you can vote in the upcoming European election, you'll need to make sure you're registered to vote by 11.59pm on Tuesday 7 May – but if you're an EU citizen and want to vote in the UK, you'll need to act ASAP as there's an extra form to post.
The European Parliament elections are set to take place on Thursday 23 May, and anyone who's not already registered to vote will need to do so by 11.59pm on Tuesday 7 May if they want to take part.
If you're an EU citizen living in the UK, you can register to vote here, but you'll also need to complete an extra form to confirm you want to vote in the UK rather than in your home country.
You'll need to register AND return this form by 7 May, but unlike registering to vote it can't be done online – so you'll need to leave extra time to send it through the post.
While there has been some uncertainty over whether the UK will take part in the EU elections, it is looking increasingly likely that we will.
Registering to vote can also improve your credit score, see our guide for more info.
How do I register to vote?
You only need to register once, you don't need to do it again for each election. You must register again if you've changed address, name or nationality.
You can register to vote online.
You may need the following, if you have them:
Your National Insurance number.
Your passport if you're a British citizen living abroad.
Anyone who is already registered to vote and wants to change the way they vote can apply by post. To do a postal vote, you must complete an application form and return it by 5pm on 8 May. To change to a proxy vote, you must complete the form and return it by 15 May.
You can also register to vote by post, but it's likely there's now not enough time for the form to be sent out and returned by the 7 May deadline.
I'm not sure if I'm registered – how can I check?
If you've registered to vote previously and haven't changed your name, address or nationality, you should still be on the register.
But if you're not sure whether you're registered or not, you can contact your local electoral registration office to check. Unfortunately, you can't check online.
If you're not sure and you can't contact your local electoral registration office to check, you can register again as a last resort – but the Electoral Commission says you should always check beforehand where possible.
I'm an EU citizen – how do I register to vote in the UK?
If you're an EU citizen and want to register to vote in the UK for the European elections, you'll need to fill in a basic form providing your name, address and nationality (if you're in Northern Ireland, you'll also be asked for your date of birth and national insurance number).
If you live in England, Scotland or Wales, this is a European Parliament voter registration form. If you live in Northern Ireland, you'll need to use an E6 form.
Remember that once you've registered, you'll only be able to vote in European Parliament elections in the UK and not your home country for as long as your name's on the UK register. But this won't affect your right to vote in any other elections.
Once you've filled in the form, you'll need to send it to your local electoral office. You can find the address of your local office by entering your postcode into the Government's tool.
If you're in Northern Ireland, you should send it to: The Electoral Office for NI, 2nd floor, St Anne's House, 15 Church Street, Belfast, BT1 1ER.
Remember that even once you've sent the form in, you'll still need to register to vote by the deadline.
If you're from the Republic of Ireland, Cyprus or Malta, you won't need to send in a form and can just register to vote as usual.
When do I need to return the form by?
The 7 May deadline is the date your local electoral office needs to receive the form by, so you'll need to post it before this.
As Monday is a bank holiday, it's best to send it off as soon as you can to make sure it arrives in time. Royal Mail says it aims for first class post to be delivered the next working day – but this isn't guaranteed.
Will I be bombarded with marketing materials if I register to vote?
Some companies do use a version of the electoral roll for marketing purposes – but it's important to understand there are actually two versions of the electoral roll:
The full electoral register, which is used when you vote.
The so-called open (or edited) register, which is available for companies to buy.
While you have to be on the electoral register in order to vote, there's no requirement for you to be on the open register.
When signing up, simply make clear you only want to be listed on the full electoral register, and your details can't be used by any firms' marketing departments.
Opting out of the open register won't damage your credit score, as lenders use the full electoral register to check your personal details when you apply for credit.
For all the latest deals, guides and loopholes simply sign up today – it's spam-free!