Cash left in your ParentPay account? How to get it back after term ends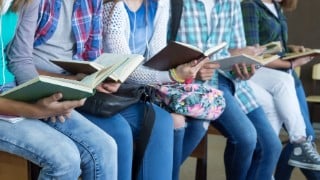 As the school year comes to an end, parents who use online payment provider ParentPay may have leftover credit sitting in their accounts – here's how to check and get a refund.
ParentPay says it's used by 9,000 schools across 200 local authorities for five million users to pay for costs such as school meals, trips and extra-curricular activities.
The average amount in accounts is less than a pound, but as this is the figure from across all five million accounts and many parents use the provider to put aside cash for larger expenses such as school trips, it's definitely worth double-checking your account.
How does ParentPay work?
You can add credit to your ParentPay account using a debit or credit card and use it to make school-related payments.
Alternatively, you can use the site to pay the school or caterer directly, with your debit or credit card.
ParentPay funds are kept in a dedicated ring-fenced Lloyds bank account, and it says this means parents would get their money back in full if anything were to happen to the business.
How can I reclaim cash from ParentPay?
If you're not sure whether you're owed any credit, you can check your balance by logging into your ParentPay account. Your balance will appear in the top right-hand corner of the homepage.
If you think you might be owed credit on money paid directly to your child's school or caterer, via ParentPay, you may need to check directly.

How you reclaim your cash will depend on what type of credit you have:
If you've got credit in your parent account, you'll be able to withdraw the cash straightaway on the ParentPay website. You can do this by logging into your ParentPay account and choosing the 'withdraw' option on your parent account page – there's full help on the ParentPay website.

ParentPay says if you do this, your credit will be paid straight back to the card or bank account connected to your ParentPay account. This should happen immediately, although there can sometimes be hold-ups for security checks, or if you're withdrawing a large sum, and it can take up to 10 days for the money to appear in your account.

Remember that you can only make three withdrawals within a three-month period, and there's a minimum withdrawal amount of 5p.


If you've got credit on money paid to your child's school or caterer through ParentPay, you'll need to contact it directly to ask for a refund. This is because the money will now be held by the school or caterer, rather than ParentPay.

The school or caterer should then refund your credit into your parent account, where you'll be able to withdraw it using the steps above.
Some schools have also been reminding parents to claim refunds:

Megan French, consumer expert at MoneySavingExpert.com, said: "Although some may have as little as £1 in their ParentPay account, others could have more, so at this time of year it's definitely worth checking to see if you can withdraw any cash."
For all the latest deals, guides and loopholes simply sign up today – it's spam-free!
Join the MSE Forum discussion