Autumn Budget 2021: From minimum wage increases to fuel duty freezes - here's a full round-up of the big announcements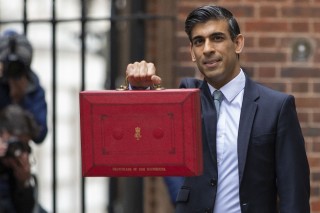 The Chancellor, Rishi Sunak, has delivered his eagerly-anticipated Autumn Budget to the House of Commons, setting out the Government's financial strategy. Key measures that have been announced include a cash boost for in-work Universal Credit recipients, a shake-up of the levy on alcohol, and a cut to air duties on flights within the UK.
Below is a round-up of all the big announcements, as well as links to detailed stories on the main policy changes. For more Budget news, keep an eye on MSE News.
Cash boost for Universal Credit recipients
Millions of workers on Universal Credit will get a cash boost by 1 December, Mr Sunak has announced. The taper rate, which is the amount Universal Credit payments are reduced by when you're in work, will fall from 63% to 55%. This means for every £1 you earn your Universal Credit payments will be docked by 55p per £1 instead of 63p per £1, an 8p per pound saving.
In addition, the amount households with children or a limited capacity for work can earn before they're hit by the taper rate will rise by £500/yr.
Plans revealed to consult on a change to pension fund charges
The Government is to consult on possible changes to the 0.75% cap on pension fund charges, potentially raising the ceiling so that the funds can be used to invest in more expensive projects, such as renewable energy.
The pension charge cap was introduced in 2015 to protect workers auto-enrolled into workplace defined contribution pensions from having their savings whittled away by high charges. But Mr Sunak said the changes could see savers benefit from "higher return investments", which are more expensive to invest it. See our Pension Need-To-Knows guide for more on retirement saving.
MoneySavingExpert.com founder Martin Lewis said he was "slightly concerned" about the proposals, adding that while the move could allow for wider choice it should not be allowed to "push up the norm for charges for simple funds".
Air Passenger Duty will rise for some but will be reduced on domestic flights
From April 2022, journeys over 2,000 miles (e.g. London to New York) will face an APD rise of £2 from £82 to £84 for economy travellers. The rates for journeys under 2,000 miles (e.g. London to Barcelona) will continue to be frozen at £13 up until 2023/24. But from April 2023, Mr Sunak has announced a new third band for ultra-long-haul flights over 5,500 miles (e.g. London to Sydney) - which could set flyers back £91.
On top of this, domestic air travel within the UK will get cheaper as the Treasury announced a 50% cut and the introduction of domestic APD charged at £6.50 - which could cut the cost of flight for millions of frequent travellers across England, Northern Ireland, Scotland and Wales.
Passengers themselves don't directly foot the bill for APD but these are typically passed on by carriers into the price you pay for tickets. See our guide to buying the Cheapest Flights but check the current Coronavirus Travel rules first.
National minimum wage to rise from April
Mr Sunak confirmed plans to raise the national minimum wage paid to workers aged 23 and above across the UK from £8.91/hr to £9.50/hr from 1 April 2022. The national minimum wage for workers aged under 23 and apprentices will also rise. The changes were first revealed by the Treasury earlier this week (on 25 October) and were officially announced today.
No change to the personal allowance and to certain other tax rates, while ISA thresholds will remain the same
There's no change to the personal allowance, capital gains tax (CGT), the pensions lifetime allowance or inheritance tax thresholds, which remain frozen until 2025/26. See our Tax Rates 2021/22 guide for more detail on this.
Child trust fund and junior ISA allowances remain at £9,000 and the adult ISA allowances remain at £20,000. Visit our What ISA should I choose? guide for more on this. If you earn less than £18,570 a year from income and savings interest, then your tax-free savings threshold is also being kept at £5,000. See our Tax Free Savings guide for a full breakdown on this.
No mention of the student loan repayment thresholds for April 2022

A report in the Financial Times (FT) earlier this year suggested that ministers had been considering cutting the threshold at which graduates have to start repaying loans from £27,295 per annum to £23,000 per annum, which would mean students having to pay around £400/yr more. With no announcement made on Wednesday, Martin Lewis has long predicted that one could come at a later date.
MoneySavingExpert.com founder, Martin Lewis, has previously warned the Government against possible retrospective changes to the terms and conditions of existing student loan contracts, saying it would be unfair. See our Student Loan Mythbusting guide for more info on how the current system works.
Alcohol duty frozen before duty rates are simplified and tobacco duty rates rise

Alcohol duties will be shaken-up with the highest strength drinks attracting the highest duties from April 2023. The current 15 alcohol duty rates will be reduced to six. "The stronger the drink, the higher the rate," Mr Sunak told MPs. Please be Drinkaware.
With the price changes expected to come into force in April 2023, consumers could see 35p come off their usual bottle of merlot while Bailey's drinkers will save 45p on a bottle.
Tobacco duties will also rise in line with the retail price index plus 2% from 6pm today (27 October). The current rate of inflation is 2.9%. Other tobacco products, such as chewing tobacco, will see greater increases.
Consumers don't directly foot the bill for alcohol or tobacco duties but these are typically passed on in the price you pay.
Millions of public sector workers to get a pay rise

Over 5 million public sector workers in the health, education and defence sectors will see their wages rise next year, the Treasury has confirmed. Earlier this week, Mr Sunak had announced an end to the current one-year pay freeze on the back of signs of an improving economic picture. The temporary pause, which was announced in November 2020 has been in place for the majority of public sector workers since April 2021 and will end in March 2022.
New £560 million scheme to deliver numeracy skills to 500,000 people

Mr Sunak confirmed plans revealed earlier this week that up to 500,000 people across the UK will benefit from a new £560 million scheme called 'Multiply', which is designed to help improve basic numeracy skills through free personal tutoring, digital training, and flexible courses. It comes as the Government says more than 8 million adults in England have numeracy skills lower than those expected of a nine-year-old.
£3 billion boost to education and training for young people
The Government confirmed a £3 billion injection of money to help young people across the UK. The plans, which were revealed earlier this week, include funding for colleges to provide additional classroom hours for 100,000 16 to 19-year-olds taking the new vocational T levels, as well as cash to create 24,000 new apprenticeships.
Over £2 billion earmarked to construct 160,000 homes
A cash injection of £1.8 billion was confirmed, which is designed to help transform brownfield land equivalent to 2,000 football pitches in towns and cities across England. The idea, which was revealed earlier this week, is to construct 160,000 new homes on these sites. See our 50+ House Buying Tips if you're buying your first home or moving.

An additional £9 million will also be allocated to create more than 100 new urban 'pocket parks' across the UK, it's been confirmed. This funding is designed to enable local authorities to transform over 100 neglected urban spaces, roughly the size of a tennis court, into green sanctuaries to help improve the physical and mental health of communities.
Cities outside of London to get extra funding to improve rail, tram and bus services
Certain English cities outside of London will get £5.7 billion to help improve rail and tram services, as well as another £1.2 billion earmarked for improvements to bus services, it's been confirmed after being revealed earlier this week.
When it comes to funding for buses, the idea is to deliver Transport for London-style improvements to help speed up journey times, simplify fares and increase the number of services available outside of the capital.
For all the latest deals, guides and loopholes simply sign up today – it's spam-free!
Join the MSE Forum discussion