Christmas anti-fraud jingle released by the UK regulator to help consumers spot financial scams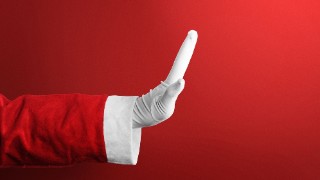 The financial watchdog has released a Christmas jingle as part of an anti-fraud campaign, launched today (9 December), to try and better inform and protect consumers from financial fraud related to taking out loans, which it says are particularly rife over the Christmas period.
The music video was produced by the Financial Conduct Authority (FCA) in partnership with behavioural scientists, Influence at Work, and music production company, Soviet Science. It focuses specifically on loan-fee fraud in which consumers are tricked into paying an upfront fee for a loan or credit they never receive.
In the past year alone, the FCA registered 1,456 instances of reported loan fee fraud, with victims reporting an average loss of £274.
The regulator hopes the song will help consumers become more aware of the issue and more easily spot such scams. The FCA says the campaign is being launched at a time when loan-fee fraud rates are at their highest.
Mark Steward, executive director of enforcement and market oversight at the FCA, said: "During what is already a period of increased spending for families, it's a sad fact that scammers will be seeking every opportunity to exploit vulnerable people through loan fee fraud."
For more information on how to spot scams, see our 25+ ways to prevent scams guide.
The anti-fraud jingle in full
Watch's the FCA's anti-fraud jingle below:
There are other types of scams you should be aware of

Loan fee fraud isn't the only vicious activity to look out for. Many other scams have been on the rise during the coronavirus pandemic, including paid-for scam advertising.

MoneySavingExpert.com founder Martin Lewis has spoken passionately on the issue, calling on the Government to do more and pleading with MPs to include paid-for scam advertising in the scope of the upcoming Online Safety Bill. As it stands, there are few meaningful powers to prevent scam adverts from appearing online, and regulators are unable to punish the big tech platforms that get paid to publish them.
Separately, Lloyds has also joined forces with the police to help tackle fraud
The bank has teamed up with the City of London Police to launch a scheme that will fund a series of fraud fighting and victim support programmes across the country.
The bank said its 'mule-hunting team', which helps capture fraudsters before they target victims, stopped £60 million falling into the hands of fraudsters since it was first set up in 2018.
This money will be invested in several projects to tackle fraud as well as to increase education and awareness. The projects include providing better support for fraud victims and funding a cyber investigation team.
For all the latest deals, guides and loopholes simply sign up today – it's spam-free!
Join the MSE Forum discussion