Ignore requests from the state trying to claw back pension overpayments after someone has died - they have no legal right to do so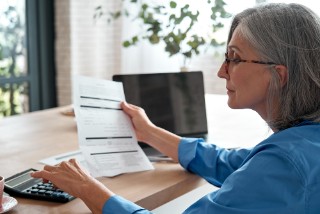 Friends or relatives can ignore requests by the Government to return overpaid state pension payments in the event of the recipient's death, as there is no legal obligation to pay the money back.
This issue was highlighted on Twitter after Radio 4 journalist and presenter Paul Lewis responded to a tweet from a man who had just lost his mother and complained that the Department for Work and Pensions (DWP) had asked the family to return £160.
When someone dies, their death must be registered within five days in England and Wales (unless the death is reported to a coroner), or within eight days in Scotland. The Government, in most cases, should be informed, which is usually done via the Government's 'Tell Us Once' service, run by the DWP. Although the various Government departments can also be contacted individually. (In Northern Ireland, deaths must be registered within five days and can be reported to the Government's bereavement service instead.)
Using the 'Tell Us Once' service informs all relevant departments, including the tax office and local Government offices, to cancel things on behalf of the deceased, such as benefit payments and driving licences. This process can take a little while and may be the cause of a state pension overpayment after death.
But MoneySavingExpert (MSE) has confirmed the advice given by Mr Lewis that people have no legal obligation to repay any money wrongly paid after the authorities have already been informed about a death.
See our Pension need-to-knows and State Pensions guides if you need more info on saving for retirement.
If you receive a letter asking for repayment, you can ignore it
In a blog, Mr Lewis posted an official statement given to him by the DWP that stated there is "no legal obligation to repay this debt" and that it could not enforce "recovery of any unpaid debt". The DWP also added that it would only send out such a letter demanding payment once, which it confirmed to MSE.

Mr Lewis wrote: "If you are not happy doing that then write back asking what statutory power the DWP is relying on to recover the money. It will then respond to say it has no power. You can then confidently ignore the payment demand. The DWP also cannot use common law to recover the debt."
A DWP spokesperson told us: "There is no legal obligation to repay a debt of this type, but we recognise some people will be willing to repay money to which there was no entitlement. We provide full contact details and encourage anyone with concerns to call us."
In a Supreme Court ruling in December 2010, the court also held that common law (unwritten laws based on legal precedents set by courts) could not be used to recover money paid by official error.
We've asked DWP if the same also applies to other benefit payments wrongly paid after death and we'll update this story when we know more.
There are, however, some letters you shouldn't ignore
There are some benefit and pension payments that the DWP does have the legal power to recover though. For example, any debt that was owed to the DWP due to overpayment while the person was still alive, or if any information comes to light showing that the deceased wasn't entitled to the benefit they received when they were alive. In these cases, if you receive a letter from the DWP, you SHOULDN'T ignore it.
At the other end of the scale, however, if someone was underpaid a state benefit they were legally to while alive but have since died, the outstanding payment can be claimed by the next of kin or estate.
If you find yourself in a such a situation, you should seek legal advice from a solicitor or through a law centre - you can find your nearest law centre on the Law Centres Network website.
You can also contact DWP Pensions Service on 0800 731 0469 (press option two) or by writing to:
The Pension Service
Post Handling Site A
Wolverhampton
WV98 1AF
Or you can find alternative contact details on the Pension Service website.
What does the DWP say?
A DWP spokesperson said: "It is not our intention to cause distress, however, we have a responsibility to taxpayers to attempt to recover overpayments. We acknowledge this is not always possible."
For all the latest deals, guides and loopholes simply sign up today – it's spam-free!
Join the MSE Forum discussion