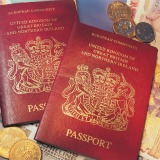 The price of applying for a passport is set to increase in March by £3 if you do it online and £12.50 if you do it by post – but there's a way to lock in today's cheaper price if you're due to renew right up until the end of 2018.
The Home Office has announced it wants to increase the cost of passports, and will for the first time make it more expensive to apply by post rather than online, as postal applications cost more to process.
The price changes, which will have to be rubber-stamped by MPs, will come into force on Tuesday 27 March and apply to renewals and new passports (which includes if you've lost your old passport or changed your name).
Online applications will cost £75.50 for adults and £49 for children, while postal applications will be £85 for adults and £58.50 for children.
See our Passport Renewal Tips for full help if you're renewing yours.
How are passport costs changing?
Here's what's happening to the cost of a standard three-week passport application:
How standard passport costs are changing
| Application type | Current cost | Cost from 27 March | Cost increase |
| --- | --- | --- | --- |
| Adult online application | £72.50 | £75.50 | 4% |
| Adult postal application | £72.50 | £85 | 17% |
| Child online application | £46 | £49 | 7% |
| Child postal application | £46 | £58.50 | 27% |
| Adult online bumper passport (16 extra pages) | £85.50 | £85.50 | 0% |
| Adult postal bumper passport (16 extra pages) | £85.50 | £95 | 11% |
The costs of other forms of application are also going up, including:
Premium service (one day) – this is rising from £128 to £177 for standard adult passports.
Fast-track service (one week) – this is rising from £103 to £142 for standard adult passports.
There's no user-friendly version of the full list of price changes, but they can be found buried in this official document.
The Post Office's Check & Send service, which ensures that you've included the correct documents, that your photos don't breach any of the restrictions and that you've filled in the forms correctly, will remain the same price at £9.75 (on top of the application fee).
Renew EARLY to beat the increase
Crucially you can renew early even if your passport doesn't expire until 26 December 2018 without losing out. That's because when you renew, the time left on your existing passport is added to your new one, up to a maximum of nine months.
So let's say your passport's due to run out on 26 December 2018. You can renew on 26 March and pay the current cheaper prices – but you won't lose any time on your passport and your new one will be valid until 26 December 2028.
Even if your passport expires just after 26 December 2018, it may still be worth renewing early and losing a few days from your expiry date. For example, if your passport is due to expire on 31 December this year, and you renew on 26 March, your new passport will be valid until 26 December 2028 but it may still be worth it overall.
If you need a new passport, for example if you've changed your name or gender, make sure you apply before 27 March to beat the increase (though if you've changed your name and already have travel booked, be careful, as the name on your passport will likely need to match the name on your booking).
Always get your passport, or complete your renewal, by using Gov.uk, and avoid shyster sites. Find more of the best MoneySaving tips in our Passport Renewal Tips guide.

Get Our Free Money Tips Email!
Why have prices gone up?
Immigration Minister Caroline Nokes said: "Our priority is to ensure that UK travellers have a secure, effective and efficient service from the point of application to the time they pass through the UK border and it is only right that we should look at this whole process when setting our fees.
"These proposals will ensure that those people who don't travel abroad are not footing the bill for those who do."
Have your say