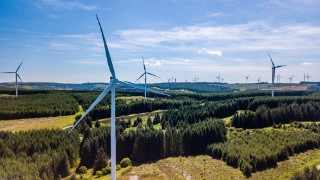 NS&I Green Savings Bond
Fixed 4.2% interest for three years
The Green Savings Bond is a three-year fixed savings account that uses savers cash to fund green infrastructure projects. It's available through National Savings & Investments (NS&I) and pays 4.2% AER – not only the highest it's ever been, but also the most competitive. So if green is your top priority, here's how the account works, and how it compares with other green savings accounts.
For all the latest deals, guides and loopholes simply sign up today – it's spam-free!
What is the Green Savings Bond?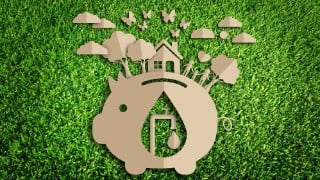 Launched in October 2021, the Green Savings Bond is a type of three-year fixed savings account available from NS&I.
The funds it raises from UK savers will be used to help environmentally-focused projects get off the ground. This is part of the Government's efforts to hit net-zero carbon emissions by 2050 – meaning we're not producing any more greenhouse gases than we're removing from the atmosphere.
These projects include building offshore wind farms, accelerating the transition to electric vehicles and revamping homes and public transport. However, your savings are safe as you're not reliant on these green projects to be successful to ensure you get your money back.

The first issue of the bond paid just 0.65% over three years, though the rate has since been raised three times.
How does the Green Savings Bond work?
It operates like a normal three-year fixed savings account, so the amount you save is locked away until the account 'matures' at the end of the set period. In return, it pays a fixed interest rate, so once the three-year term is over you'll receive your lump sum savings back in full, plus the interest. Here's a full lowdown:
| | |
| --- | --- |
| Interest rate | 4.2% AER, fixed for three years (i) |
| Min/max deposit | £100/ £100,000 |
| Who can get it | Anyone aged 16+ (available as sole and joint accounts) |
| How to open | Open online |
| When can I get the interest? | At maturity |
| Is interest taxable? | Yes, it will count towards your personal savings allowance |
| Are my savings safe? | Yes, NS&I is backed by the Treasury, so you get 100% safety for your cash |
You can beat NS&I's 4.2% interest rate
The Green Savings Bond could be a decent place to put your money if you're planning to lock it away and want to know it's doing good while it's there. The jump to 4.2% has also made the rate more competitive.
Yet if you're looking to max every penny, you can still beat the Green Savings Bond's interest rate, even with shorter one-year fixes (you can see these and others on our Top savings accounts guide).
Despite rates seemingly levelling off in recent months, the question of whether to lock your money away for three years – especially at a rate that can be beaten elsewhere – is still an important one to ask. So, sadly, there's still a sacrifice to be made if you want to use your money to help environmentally-friendly initiatives.
What are the best accounts if being green is my top priority?
Below we've listed a number of green savings accounts with a range of term lengths and interest rates. Though perhaps the most important factor to consider is just how green these accounts really are.

While it's difficult to define, as everyone has their own interpretation of what it means to be green, here at MoneySavingExpert.com we've used ratings from Ethical Consumer, which ranks financial-services providers on a range of factors including their green credentials, transparency and what sort of companies they invest in.
Charity Bank, Triodos Bank and Ecology Building Society comprise the top three places to save in Ethical Consumer's ratings with scores around 15/20 (for reference, most high-street banks score less than 10). All three providers are committed to investing all of savers' cash into socially or environmentally conscious causes. But we've included a few other options where banks are not yet rated and where they are making efforts to help the environment.
Provider
'Green' savings products offered
How does it contribute to environmental causes?
Ethical Consumer rating (1)
NS&I Green Savings Bond
Three-year fixed bond paying 4.2% (min £100 deposit)
The funds it raises will be used by the Government to help environmentally-focused projects get off the ground, for example building offshore wind farms or revamping homes and public transport
N/A (2)
Charity Bank
- One-year bond at 3.36%
- Three-year bond at 3.95%
(both min £5,000)
Supports social enterprises and charities
15.5/20
Ecology Building Society
- Easy-access at 2.25% (min £25)
- 90-day notice at up to 2.95% (min £500)
- Regular saver paying 2.85% (min £25)
Provides lending to support sustainable projects and properties, with £39.3 million lent in 2020


15.5/20
Tandem
Easy-access saver paying 3.2% (no min)
Through green lending initiatives, helping to make UK homes more sustainable
Not yet rated
RCI Bank*
14-day notice account at 2.85% (min £1,000)
Funds electric vehicles and charging facilities
Not yet rated
Triodos
- Easy-access at up to 2.55% (min £1)
- Easy-access ISA at 2.57% (min £10)
- One-year bond at 3.5% (min £500)
Invests in a range of companies that have a positive impact on the environment to "support a sustainable future"
14.5/20
All accounts have the full £85,000 Financial Services Compensation Scheme savings protection. Money saved with NS&I is 100% guaranteed via backing from HM Treasury.
Others to consider... Paragon Bank offers a three-year fixed-rate 'green' savings bond paying 4.15%, which will help finance properties with an Energy Performance Certificate of C or above – you can open an account online with £1,000 or more. However, we've not included it in the table above as it scored an unexceptional 8.5/20 in Ethical Consumer's rankings.
Alternatively, Gatehouse Bank offers a range of fixed-rate savings bonds and cash ISAs and it usually pays close to market-leading rates. In addition, Gatehouse will plant a tree for each account opened. However, as with Paragon Bank, we've omitted it from the table due to its low score of 7/20 in Ethical Consumer's rankings.
If you do want to open an account with Gatehouse Bank, it's worth noting that it only offers sharia accounts. These pay 'expected profit' rather than guaranteed interest, but we don't know of any instance in the past when it hasn't paid the expected rate.

You could get higher interest rates and use them to go green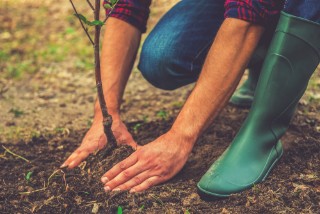 If you want to help the environment but don't want to commit to lower rates, you could put your money into a 'normal' savings account and then use the cash you get back from the higher rate of interest to go green. One way to do this would be to use the money to reduce your carbon footprint by putting it towards a carbon offsetting scheme.
Yet this may not be as green as going for the ethical options above. Most banks, when you save with them, will lend your cash out – it doesn't just sit in a vault waiting for you to withdraw it. And, with many banks, you won't necessarily be aware of just what they are lending your money for. It could be for mortgages, it could be for a car loan, but it could also be to an oil company or an airline. And you just don't know.
If you're comfortable with that, this self-offsetting route could work for you. If not, then you're likely better going for the 'green' banks or building societies above, and the peace of mind that comes with knowing your money's doing some good.
For all the latest deals, guides and loopholes simply sign up today – it's spam-free!
Have your say in our forum!