Free DVD Unlocking Codes
Make DVD players multi-region & get cheaper discs.
Get Our Free Money Tips Email!
For all the latest deals, guides and loopholes - join the 12m who get it. Don't miss out
This guide is archived. The information in it is out of date – please do your own research before acting on any of the information here. We've no plans to update this guide, we've left it here for reference only.
Supercharge your DVD player for free. Just unlock it so you can play DVDs from other countries, taking advantage of knockdown DVD prices and side-stepping film companies' overpriced UK distribution. This is a step-by-step guide to making DVD players multi-region, and includes where to shop for those uber-cheap films too.
In this guide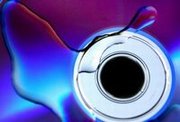 DVDs, overseas
Why should I do this?
It gives you access to a wider, cheaper range of DVDs, costs you nothing, and takes just a few minutes. It won't work for every DVD player, but it doesn't take long to check, so it's worth a go.
By unlocking your machine, you'll be overriding 'region coding', which is designed by the DVD makers to stop you watching films distributed elsewhere. Region coding works by embedding a geographical code into both DVD discs and players; if the codes don't match up you can't watch the disc.
The UK, as part of Europe, is Region 2. Yet irritatingly the US, Region 1 has more films, which are often released earlier and at better prices. Some Region 1 DVDs also include better special features, and sometimes less censorship. In a few niche cases (especially Anime/Manga), going multi-region'll give you access to a much wider selection.
DVD Regions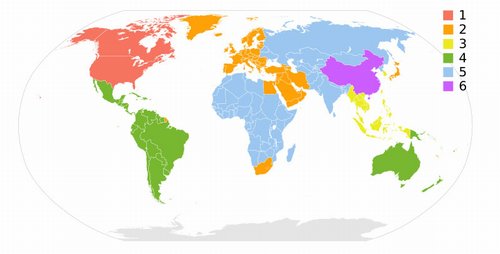 Source: Wikimedia Commons
Why are DVD players locked?
The answer is rooted in big business. DVD player manufacturers are keen to maintain good relationships with the big film studios; after all, they rely on each other. Studios have the power to interrupt DVD supply, so hardware makers don't want to get their backs up by releasing overtly multi-region machines.
It is possible to buy multi-region DVD players that allow you to play films from any country straight out of the box. However, many players which are supposedly region locked just require a number sequence typed into the remote control to free them of their digital shackles, and that's what we're focusing on here.
Is it legal?
It's perfectly above board, as DVD region coding isn't a product of law, it's a product of savvy Hollywood execs keen to maintain an iron grip on worldwide distribution. After all, it makes bad economic sense to have people cheaply importing films when they could be paying a premium for their own local releases.
Though it is worth noting, buying US discs from UK shops is unlawful as they're not approved by the British Board of Film Censors, but importing them yourself is fine.
Are there any risks?
It's arguable that altering your DVD player in any way is not recommended by the manufacturer and could invalidate your warranty. Yet, as it involves the impossible to detect pressing of a few buttons on the remote control, it's a grey area. I've not yet ever heard of anyone ever falling foul of this.
It's also worth noting a very small minority have experienced other issues after unlocking their player to play foreign films, such as freezing. However, you should easily be able to find out on the web if your player's known to become faulty or behave strangely after unlocking, using the sites below. MoneySavingExpert.com can't accept any responsibility for whatever happens to your player on the back of using codes
How to unlock your DVD player
DVD unlocking is easy, you generally just need to find the multi-region code/hack and tap it into your remote control.
Find your DVD unlocking code.

Audio/Video help site Videohelp has a searchable list of more than 5000 DVD player unlocking hacks, and it's the first place you should check. You simply enter the make and model number of your box, and it'll tell you whether any codes have been submitted for it. If they have, it's a simple matter of following the on-screen instructions, and voila, you're in region-free heaven.

If you can't find it on Videohelp, other similar sites are DVDHacks, AVForums & DVD365.

Double-check for negative comments.

Look for comments about your player on these sites, as people tend to report back with their personal experiences and may highlight any potential difficulties. If your player isn't listed, or it's listed as 'never' unlocked, it's still worth running a quick Google search on the make/model plus the word 'hack' or 'unlocking' to see if anything useful comes up. If you're still unsure about the process, try asking the kindly folks on the Techie Stuff board, who are usually more than happy to help.
No luck?
If it really looks like there's no chance, then you could also consider online DVD rental to save money. Numerous introductory offers mean you'll see a lot of films before you need lay down your hard-earned, and as it's all done by post you won't find yourself running to the video shop to get the film back in time. Full details in the DVD Rental article.
Buy cheap DVDs worldwide
Now you've got a multi-region player, you can buy films from all over the world. This adds a new dimension to the DVD hunt, as the same film's various releases can vary hugely in both price and content. Thus, always make sure when ordering that the DVD includes everything you want, and has an audio track in English. The easy way to quickly find cheap prices is to use one of the specialist comparison sites.
Find DVD has a Region 1 (USA) search.

First, try Find-DVD; a specific shopping comparison site for DVDs, which is thorough enough to get very close to the best prices on most releases. It automatically defaults to search for UK Region 2 releases, but if you click the 'Region 1' tab at the top, you can search for any Region 1 (USA) discs, and it'll show the top prices from American and Asian online retailers, inclusive of postage.

Multi-region searches at DVD Price Search.

Then, for a wider range of regional releases, try DVDpricesearch; it'll search for R0 (All Regions), R1 (USA), R2 (Europe), R3 (SE Asia) and R4 (Aus) discs, and includes a few retailers that Find-DVD misses. Be careful to buy the right thing though; it sometimes lists books and other items as DVDs if they share the same title.
The savings are often substantial, especially on box sets and other multi-disc packages. For example, if you buy the much-vaunted Heroes series 1 box-set from the UK, it's currently cheapest at ASDA, at just under £40. Yet you can get its region 1 counterpart from US web retailer DeepDiscountDVD (Find-DVDs top recommendation) for just £23 delivered, saving a full £15 even though it's been shipped from the states.
Obviously, when buying from America you need to be aware of potential customs charges. Read the Buy Now From The US article for full details.