Of course it's a wee bit strange for a money site to have a gallery.... but anything for a bit of colour and a break. Down below you'll find a variety of pictures, videos and even a link to the MoneySaving game. I hope you enjoy them....
The site's packed with videos on how to save money, but these are a little different. They're the site's only promo, my showreel (now slightly dated) and comedy capers... yes I really did do that. Never again though!
Click to choose a video: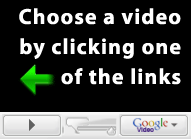 Even the less eagle-eyed MoneySavers amongst you will have noticed that on special occasions, the MoneySavingExpert techie team get out their virtual dressing up box and have a play.
Not all are that flattering, but unfortunately they don't give me the keys to the box! Here are some of the past ones. Check out the site on 'special days' to see what they've done... your guess is as good as mine!
The pics below have been consigned to TV history. They're screengrabs of a selection of various 'funny money' comic characters I used to do. The aim was a 'different' way to introduce each MoneySaving topic. I still have the scripts...
They were used to introduce a particular MoneySaving topic on Channel 5's Open House with Gloria Hunniford and Simply Money's 'Deal of the Day. Can you work out what the money saving theme was for each? If you're really stuck, watch the full video at the top of the page. (Click the image to reveal the answer).