Free 50p to Haiti Disaster Relief for each new email recipient!
NOW CLOSED - ENDED MIDNIGHT SAT 23 JAN - ARCHIVE ONLY
The tragedy of the Haiti earthquake is a sober reminder of real need: one of the world's poorest countries - already fighting poverty on its knees - devastated, with more than 100,000 dead and millions displaced.
Yet many here can't afford to donate, so we've come up with a free way to help the cause. As we've done for prior disasters MoneySavingExpert.com will pledge 50p to the Disasters Emergency Committee per genuine new UK recipient of the free weekly e-mail until midnight Sat 23 Jan (on top of the usual charity fund donations).

Obviously this means those who already get the email won't qualify, but please do your bit by recommending it to friends.
Free 50p to Haiti Disaster relief for each new email recipient
Final Total:

£15,322
Tips to spread the word:
Please tell everyone† you know – preferably by email so they're on a computer when they hear
Post it on your facebook page or twitter
Forward the weekly email that contains it (though never spam)
† In case of doubt, this includes friends, family, lovers, partners, colleagues, dance teachers, pharmacists, and in fact, everybody you pass on your way from A to B (and C).
Get Our Free Money Tips Email!
For all the latest deals, guides and loopholes - join the 10m who get it. Don't miss out
It's win-win-win
This gift is based on TheHungersite's charity fundraising model, and helps Haiti disaster relief, the site and newbies save money.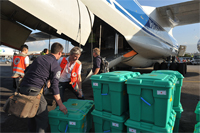 The result will be included in next week's e-mail. Typically, 3,500 join every day, so even without any extra we'll be donating around 7k.
To avoid busting the bank, the donation's capped at £50,000 (100,000 recipients); 10x the highest ever daily join rate (a day the site was on almost every newspaper's front page).

For where the cash is generated, see the how this site's funded guide.

How to donate even more
Do your finances a favour and you'll save enough to donate more at the DEC website. When doing so, don't forget to opt for Gift Aid, which means the charity gets an extra 28% on top (see the maximize your Haiti giving news story).

Here are some quick ways to increase your cashflow:
Give yourself a Money Makeover.
Take a day off to sort your finances for an effective 25% payrise. Link: Money Makeover
Use the free MoneySaving email.
The weekly email's always packed full of tips and tricks to boost the coffers. Link: Latest Tip
Sell old mobiles.
Our special tool finds the top payers for dusty old phones in seconds. Link: Mobile Valuer