I love my trusty Nokia E71, it's a great little business phone which helps me to keep on top of work and personal e-mails as well as twitter and facebook, but I've found an even better use for it.
Being an IT and data geek means that I love statistics, and as I and many colleagues here at MSE Towers are currently training for the Marathon, I wanted a way to record all of the training runs that I do.
The Garmin Forerunner line of watches has high praise from a couple of the running crew, but I was finding it difficult to justify the expense – plus I don't actually like wearing watches!
As all trusty tech guys do, I scoured Google for an answer. With recent surges of "apps stores", as well as the Nokia E71 being based on a relatively stable platform, I was hoping that there would be some apps available for purchase.
What shocked me was that Nokia has its own offering, and even better is that it's free. It's called Nokia Sports Tracker, and available from http://sportstracker.nokia.com
The Nokia E71 has inbuilt GPS, which means it can track my location wherever I am. The app is brilliant – it keeps a diary of all your training workouts, and you can upload them to their site for reviewing on your PC. It can be used on many Nokia Series 60 phones that have GPS (including the Nokia E95, E97 and 5800 I believe).
Once the app is loaded, you simply state the activity that you're taking part in (running, cycling, etc) and hit start. From thereon in it tracks your position, altitude and speed. At the end of the workout you simply stop the app and can review lots of exciting data. The main screen I use is the overview table, which notes your total distance, average speed and energy used – which is helpful to justify the post-workout food.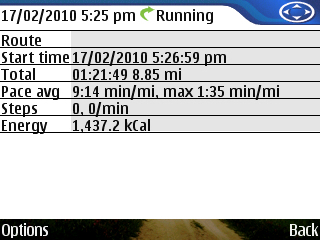 There is also a hook into Nokia Maps, so you can see exactly where you've been. An interesting add-on is that it can also note the music you were playing on your phone at the same time; there's an interesting correlation to an increase in my pace and Michael Jackson songs!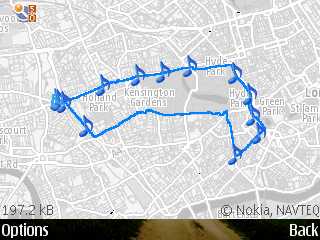 The reason why this app makes my life so easy is that when I go running I only have to take a single device to track my run, listen to music, and also have the ability to phone home if I get lost!
Discuss this blog: Sports Tracker – Nokia's Little Gem