Staying over in London for one or two nights a week means that I need to find cheap but comfortable accommodation.
For the past year or so I've relied on Travelodge to fulfil both criteria.
Booking months ahead and taking full advantage of their £19 and £29/night deals is typical money saving, but the availability of these ultra-cheap rooms in London, during the week is quite limited.
Therefore, I've come up with some useful tips to squeeze extra value out of the rooms that are available:
Be flexible when staying in London
Travelodge have a whole heap of hotels in London, most quite accessible via the tube. Spending 20 minutes travelling can save a large proportion on the cost. Conversely, some hotels bang in the middle of London can be cheaper than those on the outskirts. Therefore, you have to check across London, rather than looking at a certain hotel.
Booking on a Sunday
It seems to me as though certain tranches of cheap rooms are made available before the working week. I therefore spend time going through the list of rooms I need to book and noting down any price differences or new rates that have become available.
Two hotels in Covent Garden
Travelodge has a hotel on Drury Lane and one in High Holborn, which together form their offering for Covent Garden. The Drury Lane hotel is typically used for singles, whereas the other is used for family rooms. I always check-in at High Holborn and ask if they have any spare bigger rooms available; you can sometimes be lucky enough to stay in a larger room free of charge.
Sly free upgrades online
When booking online, typically you are given the cheapest room available, which is great. But what's not so obvious is that sometimes a larger room is actually the same rate. This information, whilst on the page, is not particularly well displayed. S, when booking, always check the price of other rooms that are available.
In the case below you can see that I was offered a single room at £29, with a twin, double or family room available at the same price.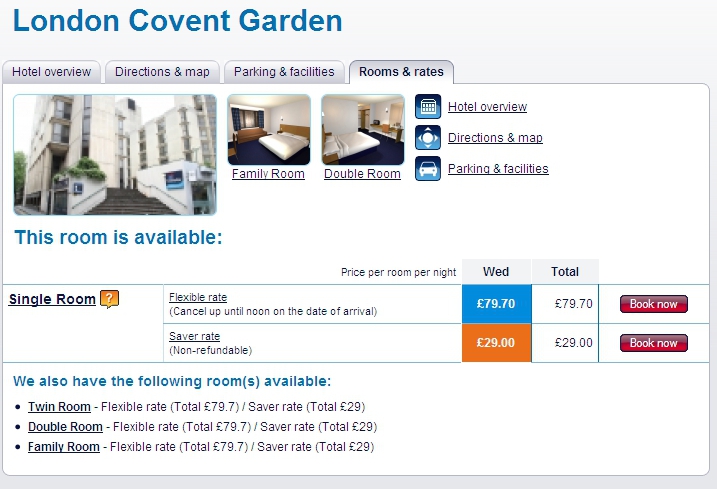 Discuss this blog: Travelodge Tips