It's January, Christmas is over, and we're all a bit fed up with the grey, rainy weather. So here at MSE we couldn't help but perk up when we saw the lovely spring/summer fashion collections in the magazines we receive (for research purposes, obviously).
Designers from Prada to Mulberry are predicting pastel colours, girlie prints and 50s skirts for this spring. However whilst we gazed admiringly at the lovely designs, we weren't too impressed with the price tags. What's a girl to do if she wants a wardrobe spring clean on a budget?
So we had a look around and noticed some high street stores were bringing out dead ringers for designer items. And the best thing is, they won't break the bank. Now to tell Martin we're off shopping (also for research purposes…).
The cat dress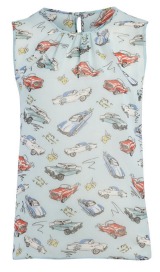 I think Victoria Beckham's new 'affordable' spring/summer 2012 collection could be her best yet, with the cat dress design set to fly off the shelves. But at £500+ a pop, it's not really going to be a payday treat.
However, Debenhams has brought out a really cute cat dress of its own for just £25. And until Fri 10 Feb 2012, you can get an extra 20% off, making it £20 (see our Debenhams Discounts page).
The 50s top
Prada's S/S collection has definitely caught my eye with its 50s designs and pastel hues. You might've noticed Dakota Fanning gracing the cover of February issue of ELLE in an adorable blue top with cars on it. Prices haven't been released yet but I can imagine it will be worth well over £200.
Well, imagine my excitement when I found out Primark would start selling almost exactly the same design for the princely sum of £8 (pictured here). It'll be in 100 Primark stores from mid-February.
The evening dress
Spring and summer also mean wedding season – and for many this means new dresses (though why aren't you recycling…??). I spotted an Alexander McQueen-style dress (without the £900+ price tag) at Oasis that'll leave others green with envy. It's £65 but there's a 15% off & free delivery code that'll bring it down to £55.25 (see our Oasis Discounts page, code valid till 31 Jan).
The girly bag
Asos has a great selection of pastel coloured clutch bags including this lilac one for £15. They're very similar to Michael Kors ones which cost £495, and you can get them for a fraction of the cost.
These are just a few examples of great new items you can add to your wardrobes for less. If you've seen something you've loved in a magazine or catwalk show, chances are it'll trickle down to the high street, with shops bringing out similar designs for less. So keep an eye on our High St Sales and Discount Codes pages to get 'em even cheaper.
Please tell us about your own 'designer' bargains in the designer fashion on a budget discussion thread.