You should NEVER rely on filling up your car at a service station. An example I came across earlier this week drives home the point in one of the worst rip-offs I've seen.
I was driving from my London home to Luton Airport to pick up my fiancee when I stopped for coffee at London Gateway services on the M1. While driving out, I noticed what can only be described as an absolute car crash of petrol and diesel prices.
It was so bad I stopped and took this picture so I could prove the full horror in this blog.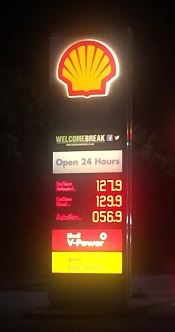 As you can see, petrol was on sale for 127.9p per litre and diesel for 129.9p per litre. To put this into context, when I drove past a Tesco petrol station on a main road on the way back, I noticed petrol and diesel at 108.9p per litre.
Just taking petrol alone, that's a 19p per litre mark-up, or 17.44%. That would turn a £50 fill-up into £58.70.
I'm not going to win any awards for scoop of the year as it's well known that service stations are a rip-off.
Research from Which? in 2011 found motorway forecourts charged on average 6p more on a litre of unleaded petrol and 7p extra on diesel compared with fuel stops away from the motorway. But this is nothing compared with what I saw.
Petrol stations that do this are preying on motorists often with little other option but to fill up to continue their journey.
Therefore it's vital you plan your journey ahead to fill up earlier and avoid being taken for a ride by steering clear of expensive petrol and diesel. For top tips to cut petrol costs, see our Cheap Petrol and Diesel guide.