The new iPhone operating system iOS 10 has a snazzier feel but there are a couple of annoying settings I've managed to sort, and by letting you know how I did it, hopefully it can help you too.
I've resisted the temptation to upgrade from my iPhone 6 to the new iPhone 7, so I can only vouch this works on my model, but I'm sure it's universal. If you want to buy the new handset out today, check out our iPhone 7 interest-free guide, so you get it as cheaply as possible.
Here is what annoyed me about iOS 10 – and how I fixed it.
Having to tap the home button AND use the finger sensor to unlock my phone
I used to be able to simply touch the home button fingerprint sensor to unlock my phone.
But the recent update meant I had to do that and click it again. It was hardly the greatest trauma in the world but regardless, it was annoying.
Here's how to return to a single touch to unlock, though it's buried in the settings.
Go to Settings > General > Accessibility > Home Button > Then switch on 'Rest Finger to Open'.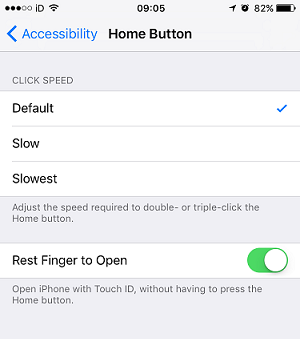 Now it's one touch and I'm in.
Email conversations appearing in a bizarre order
When I clicked on an email that was part of a set of messages, the chain would appear in an unintelligible order, so I had no idea what was the most recent message.
There are various options to change it to, but I went for showing the most recent first.
Here's how to get to that stage to be able to make the decision.
Go to Settings > Mail > Then scroll to the 'threading' section, where there are some options.
As iOS 10 only became available this week, I'm sure I and many others will find more issues. But that's where I am for now. Let us know if you've managed to fix any more annoyances in the comments below or tweet me @MSE_GuyAnker and I'll share some good ones.
These are just a few of the pitfalls to watch out for, there are heaps more in our Mobile Warnings guide.