When it comes to finding cheap flights, our usual rule is to book as early as possible. But it's as much about how you book as when you book – and I've been lucky enough to bag some real bargains.
Take my recent trip to the Philippines. It cost me just £367 return from London Gatwick (+ a £7.35 credit card fee). It was with a good airline too – Cathay Pacific – and a super-short stopover.
Best of all, I didn't have to book months in advance – I actually got it just 11 days before flying. In my experience, with intercontinental flights, prices don't necessarily soar the closer you get to departure. After all, there's more incentive for airlines to shift empty seats on longer flights.
It wasn't a one-off either. Other cheap flights I've managed to grab include a return from London to Dar es Salaam in Tanzania for £295, and from Amsterdam to Yangon in Myanmar for £500 – both decent deals at the time.
What all these cheap flights have in common though is that I booked them through smaller online flight brokers (eg, Travel Trolley, Gotogate). I've found that when I search for the very cheapest price for a long-haul flight, these tend to come up trumps. But there are some potential pitfalls too – so here's what you need to be aware of before handing over your cash.
Where to find the cheapest fares
The online flight-booking market is made up of three layers: airlines, flight brokers (essentially a kind of online travel agent) and comparison sites.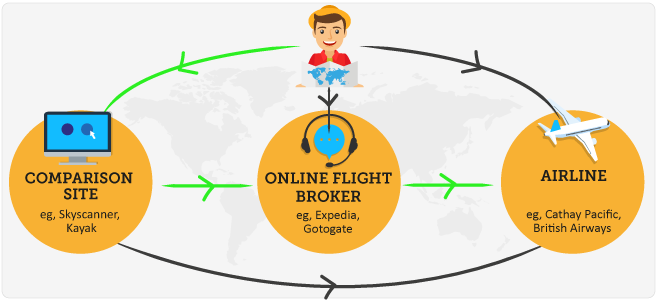 So what's the difference between a comparison site and an online flight broker? Well, a comparison site such as Skyscanner will compare flights from a plethora of airlines and travel agents, but crucially you don't pay it anything (you just click through).
An online flight broker, however, is a third party site that actually sells tickets, sometimes at huge discounts. Some are big names – eg, Expedia and Opodo – but there are many smaller ones out there. It's these, which can often win on price but may be an unknown quantity to many booking flights, that are the focus of this blog.
You can of course book flights directly with an airline too. This is typically the most expensive route though (only the most loyal go straight to their preferred airline). With my Philippines trip, for example, the exact same flights were about £300 more on Cathay Pacific's own site.
To find the very cheapest deal you should first check comparison sites (and check several, as sometimes even the same flights with the same broker come up at different prices). I find that Kayak*, Skyscanner* and Momondo* give a good spread (though see Cheap Flights for more). Often you'll find that flights sold by smaller online flight brokers come top of comparisons.
Warning – you've usually less protection with a broker
Booking with a broker may be cheaper, but you'll typically have less protection. If you book a flight directly with an airline, it's over £100 and you use a credit card, then Section 75 rules mean you're protected by your credit card firm if the airline goes bust. However, you AREN'T covered if this happens and you booked via a broker, since your contract is with a third party.
Personally I accept this as I think the risk is small and the trade-off for the cheaper fare is worth it for me. Plus you can get travel insurance that covers 'scheduled airline failure' (check the small print as many policies don't cover it). But it's an important factor and one to weigh up before booking.
If you do book via a broker, even though you won't be covered if the airline goes bust, it's still worth booking £100+ flights on a credit card if you can (even though most agents charge a small fee to do this). If something goes wrong with the booking itself rather than the airline (eg, if the agent fails to secure your place on the flight), you WILL have Section 75 protection and can claim from your credit card firm.
To be on the safe side, once you've booked via a broker always check your seat's confirmed. Once your e-ticket arrives – it's never taken more than 24 hours after booking to get mine – cruise on over to the airline's site and check your booking using the e-ticket number. I never book accommodation until after I've done this.
Finally, a quick note on ATOL protection – in most cases, the licence of ATOL-protected brokers won't cover flight-only bookings. The only way to know for sure is to get in touch and ask.
Watch out for restrictions on amending your flight
Another downside of booking with an online flight broker is that it can be much harder – and sometimes impossible – to amend a ticket after paying. For example, Travel Trolley told me that all tickets on its website are non-amendable and non-refundable.
Where amendments are allowed, online flight brokers often charge extra fees. Gotogate for example charges an extra £55 'handling fee' on any ticket refunds.
In some cases, it can be difficult to pin down exactly what changing your flight might cost – when I've looked for flights in the past, I've found some sites such as Bravofly wouldn't even tell me on the phone what the fees are until AFTER booking. (Bravofly has since told us that you can actually find these fees on the final page before payment.)
So if there's a fair chance your plans might change, you may be better off booking direct (though again, check what the airline's policy is). The unexpected can always happen of course – personally, I see it as another risk I'm willing to take.
Finally, check cashback to save a bit more
Once you've found your dream fare, it's always worth checking if you can nab some money back via a cashback site.
You can earn cashback on flights booked direct with airlines and those booked via brokers. Always think of it as a bonus as it's never guaranteed, so you should usually go for the cheapest price upfront – but it's worth factoring in.
Rates are always changing but at the time of writing, for example, I found that via Topcashback you could earn 1.92% of the cost of flights booked through Lastminute.com, or £11 for direct bookings with Etihad. It's not much, but could be enough to cover that pesky credit card fee.
See Top Cashback Sites for more info.
So are online flight booking agents worth the risk?
In short, there are pros and cons. Online flight brokers – particularly smaller ones you may not have heard of – will often come in cheapest when you do a flight comparison, especially if you're going long haul.
Yet with a broker you've usually fewer rights and there may be an element of risk if the worst should happen. You can protect yourself and offset this to some degree, but it's important to understand what the potential pitfalls are, then weigh up if that cracking deal's really worth.
Personally, I'm already looking for my next destination – and I know how I'll be booking my flights…