If you're partial to a spot of window shopping then there's a new smartphone app that could earn you Amazon vouchers, just for peering at job ads as you walk by.
The free 'Job Spotter' app launched by job site Indeed rewards you for simply taking pictures of job vacancy adverts at shops and restaurants. You'll earn more at independent stores than corporate chains but as we explain below, your picture could be rejected.
Upload photos and you can earn points which are converted into Amazon vouchers. The jobs you spot are then posted in a separate section on the Indeed website.
I've earned £12.46 so far but some have earned £90+.
So how does it work?
You'll first need to download the free app for Android from Google Play or for Apple from the App Store. Sadly there's no app yet available for Windows phone users.
You'll then need to create a profile – which just consists of giving it your email address and creating a username.
After this it's simply a case of taking photos of job ads (eg, a 'Waitstaff wanted' sign in a restaurant window) you see as you're out and about, and following these steps:
Step 1 – Ensure your phone's location services are switched on; this can be used by Indeed as proof that you are actually at the location.
Step 2 – Take a photo of the shop sign while ensuring no people are visible in the image; the picture must only show job details.
Step 3 – Take a separate photo of the shop name – again, it must be a clear picture with nothing blocking out the name. Try to capture just the ad in the photo or it may be rejected.
Step 4 – Preview the images to check they're clear, and then upload.
You're awarded points for each photo – but the amount varies
Photos you submit are reviewed by Indeed before being awarded points – anywhere from five points to 150 points.
You'll get fewer points for a corporate chain than you will for a small or independent business, because the app says signs in small businesses are "more likely to indicate a current opportunity to get hired".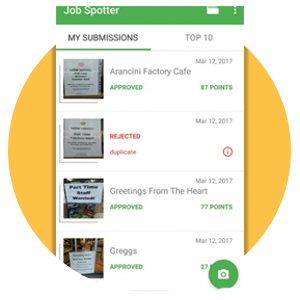 There's no way of checking how many points you'll get for a submission before you make it as Indeed hasn't revealed its points algorithm.
The fewest points I've earned for a submission is five – this was for a photo of a 'staff wanted' sign in my local shop of sandwich chain Pret a Manger, while I've earned up to 102 for photos in independent shop windows.
What are points worth?
These points are converted into a balance in your 'Wallet' (within the app), which you can redeem at any point for an Amazon voucher (which is emailed, and why it's important to put a real email address in when you sign up!).
One point is worth one US cent, which is converted into pound sterling daily. This means the balance in your app will always be shown in British pounds as will any Amazon vouchers you earn.
How much could I earn?
I've so far earned £12.46 in a couple of weeks from very casual use. I work and live in London where, of course, there are loads of shops and restaurants hiring constantly, but you can use the app across the UK.
It was launched in the USA and Australia last year and Indeed claims one user earned the equivalent of £5,000 last year.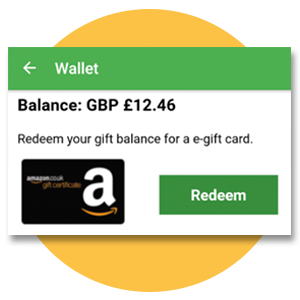 While I don't expect to earn that much, I spoke to Charlotte Burns of Lottyearns.co.uk and formerly of MSE, who's been using the app since it was launched in the UK earlier this year.
She said: "Initially, I wanted to test out how much I could make in one hour, so hit the pavements of my local shopping area and got snapping job signs. It took a few days to process, but I was pleased to find I got £30 credit for one hour's work.
"I became hooked, and in my lunch break would walk around new areas to see what job signs I could find. I've been using the app for a month or so now, and have gone out exploring six times in new areas and have racked up £94 in Amazon credit."
How do I redeem my points?
Redeeming your points for Amazon vouchers is a simple case of visiting the 'Wallet' page in the app and requesting your balance be converted into a e-voucher. You can convert any balance and it can take a few days to be emailed to you.
Are there any reasons my photo could be rejected?
There's a whole host of reasons your photo could be rejected, including:
It's a duplicate – Only one photo can be taken per sign within a 30 day period – which means if another user has spotted the sign before you, then bad luck.
It's not a sign – Receipts, flyers and pamphlets are not included. Weirdly, the submission guidelines also say that photos of faces or feet will be rejected too.
Missing store name – You need to take a photo of the shop sign showing its name too.
Recruitment agencies – It probably goes without saying, but job ads posted in a recruitment agency's window will be rejected unless it's for a job at that particular store. Eg, a cleaner for that particular branch of the recruitment agency.
Not readable – Blurry photos will be rejected. If there's extra contact information then be sure to capture that in the image too.
Not at location – Here's why your phone's 'location services' need to be switched on.
Can only apply online – Potential job applicants must be able to apply using at least one method other than applying online.
Be warned that the reviewal process is not instant – in my experience about a day on average – so just because your submission is 'pending', doesn't mean it'll be rejected.