How bubble wrap and a roll of Sellotape has saved me £100s on family holidays
Whenever my family and I go anywhere on holiday these days, as soon as we get to the airport and get out the car we have a bit of a kerbside ritual. My wife grabs a large roll of Sellotape, my six-year-old son and four-year-old daughter lay two giant sheets of bubble wrap down on the pavement, and we get to work. It sounds a bit Blue Peter – and gets us a few odd stares. But over the past few years it's saved us £100s...
I'm talking car seats, of course – which if you rent a car overseas and have young kids, are essential, but are often pricey. Car hire firms typically charge £5/day or more to hire out a seat, so for two weeks with two kids we're talking £140+ on top of the cost of the rental.
You can sometimes undercut this by renting a car seat separately at the airport – a store which does this at Malaga Airport, for example, quoted me about £90 for two seats for a fortnight.
But if you happen to have a child seat that is easily detachable from your own car, there's generally a much better option – simply take it with you, for free.
For full help on cutting the cost of renting a car abroad, see our Cheap Car Hire guide. And for more holiday helpers, see 67 Overseas Travel Tips.
How to fly with your own child car seat
Given most budget airlines' tight baggage restrictions, I found it hard to believe when I first became a parent that if you're flying with kids, there's usually an enormous amount of extra stuff you can stow in the hold for free – even on Ryanair and co.
Many airlines let you check in a car seat and fully collapsible pushchair for free on top of your usual luggage allowance, and you can sometimes take other items too – Easyjet, for instance, lets you take two of the following: "travel cot, pushchair, double pushchair, buggy, car seat, collapsible or non-collapsible pram, booster seat and/or baby back carrier".
In practice, I find the limiting factor is simply what my wife and I can manage to carry. When you have to negotiate customs, security, airport bus transfers and so on, we've discovered the hard way that two checked bags, four items of hand luggage and two car seats is about our limit.
There are lots of advantages of taking your own car seats, other than it being free – you can use them on the way to the airport as well, the kids are familiar with them and you can be confident they're good quality and will fit. The main challenge, other than lugging them around, is ensuring they're well wrapped and stay safe once you've left them at the oversize luggage check-in – which is where the bubble wrap and Sellotape comes in...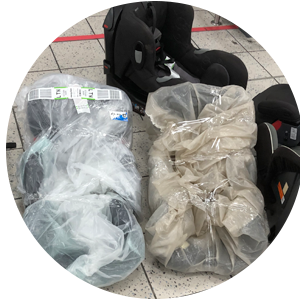 Checking in your car seat – top tips
Over the years we've got it down to a fine art, and can now be out the car and have the car seats wrapped and loaded on a trolley in about 60 seconds flat. We've had to replace the polythene sheeting and bubble wrap once or twice, and have got through a fair few rolls of Sellotape, but other than that doing this hasn't cost us a penny – and over the course of a few years we've probably saved over £500. But we've learned a few things along the way:
Wrap the seat well – however you do it. There are lots of ways that work – I've seen some better-heeled parents wielding swanky-looking travel bags, and if you're going to do this regularly, you might decide that's worth it. But the way we've always done it is decidedly low-tech, with a giant reusable roll of bubble wrap, a clear polythene sheet for the outside and a hefty roll of packaging tape to keep it all together.


Always tuck a note with your name, address and contact details into the car seat itself. Just in case the worst happens and your seat goes AWOL. (Ours did once on a return flight, though British Airways gave us a brand-new spare one to get home in and we got our own seat back a day or two later.)
Beware self-check in machines. I'm sure there are some that can easily cope with checking in car seats and avoid you inevitably having to call someone over to help. We just haven't found them yet.


Search all around the baggage reclaim area for your seat on arrival. Often your car seat will just appear on the carousel with all the other luggage, but sometimes it won't. If so, don't stand there for ages waiting (as we did the first few times). Chances are it's been stacked off a carousel somewhere else in the reclaim area, along with all the rest of the oversize luggage.


Don't, er, forget the bubble wrap and Sellotape. We managed to one time, and ended up having to shell out £25 to use one of Stansted Airport's automatic wrapping machines – a definite MoneySaving fail... though a hit with the kids.
Join the MSE Forum Discussion