Forgotten to apply for an EHIC? There's a way around it
"I should have known better!" That was my first thought when I was handed the bill for my baby boy's medical treatment after he'd ended up in hospital during a trip to Sweden.

Having worked as a personal finance editor for more than 10 years, and being an advocate of taking out travel insurance and having an up-to-date European Health Insurance Card (EHIC) before venturing abroad, I was embarrassed I'd failed to follow my own advice.
To be fair, we've got an annual travel insurance policy, but my son Freddie, who's now 14 months old, was born with a lump on his neck. It's not life-threatening or very serious, but he will need an operation and, until that happens, it'll keep on getting infected.
And as it's a pre-existing medical condition, the travel insurance policy we've got wouldn't pay out for any treatment related to it. And I hadn't got around to sorting him out an EHIC either – the free card that entitles you to free or discounted medical care in all 28 EU countries, plus others.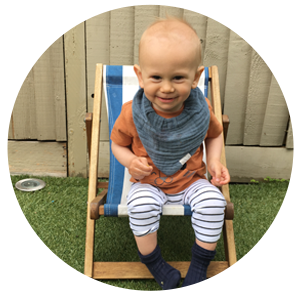 'My baby got ill'
But I didn't give that a second thought when I packed my bags and flew to Stockholm with my three-year-old daughter Olivia and Freddie (pictured), to say my final goodbyes to my grandma. But not long after the funeral was over, I could see that Freddie's neck was swollen. After a frantic call to his doctor in the UK, there was no other option than to take him to hospital.
The doctors were great and quickly diagnosed him and prescribed a course of antibiotics. However, the snag was that with no EHIC, I was handed a bill for 3,500 kronor (about £300). Ouch!
Thankfully, the hospital staff explained that there was a way around it, and as long as I could get a document proving that Freddie is covered by the British healthcare system, I could get the invoice revised.
So as soon as I got back to England, I applied for an EHIC for Freddie. I then rang the EHIC office, and asked them for something called a provisional replacement certificate (PRC). This shows that you would have been entitled to an EHIC at the time of your treatment. I knew you could apply for one if your card had been lost or stolen while abroad, but I had no idea you could simply apply for one if you didn't have a card in the first place.
Would it work for everyone?
In short, yes. Anyone can apply for a PRC – adults and children – as long as they can prove they're a UK resident. This is how it works:
A PRC shows that you are a UK resident and are entitled to a UK EHIC at the time of your treatment.


Once the hospital where you had treatment receives it, your invoice will be revised to what you would have paid if you had had your EHIC in the first place. It does NOT mean that your treatment will be free – but that you will pay the same for state-funded treatment that any resident of that country would have paid.


Just like an EHIC, this certificate will only cover you if you are receiving state-provided healthcare for treatment that is necessary during a temporary visit to a country in the European Economic Area, or Switzerland. It doesn't cover you if you go abroad specifically for treatment.
How difficult was it to get the bill sorted retrospectively?
The call to the EHIC office took about 20 minutes and I needed details of the hospital in Sweden including an email address for them, but the lady on the phone was really helpful and filled in all the information for me.
Less than a week later I got an email from the hospital in Sweden saying my bill had been revised to 120 kronor –about £10 – the same amount any Swedish citizen or someone with an EHIC would have paid for that treatment.
Two-hundred and ninety pounds 'richer', I thought I'd share my experience for anyone who's been caught out in a similar way. While the PRC doesn't replace the need for making sure you have an up-to-date EHIC or travel insurance policy, it's a great safety net we should all be aware of.
And if you're just about to go on holiday and haven't had time to update your card or get one, it's good to know there is a way you can minimise costs should the worst happen when you're away.
No one thinks about getting ill and ending up in hospital when they're abroad. But it does happen, and it happened to my Freddie.
Read our EHIC and Travel Insurance guides for more information.
Join the MSE Forum Discussion