It's never too early for a thrifty, gifty Christmas!
As the MSE Forum Manager and semi-resident Old Style expert/fanatic of MSE, I am (in)famous across our office floor for being a human incarnation of a cornucopia of homemade cakes, cordials, preserves and sweets. Even Martin has fallen for the charms of my balsamic pecans, and my appearances in the office on a Monday morning usually gets a few greetings of "hey *cough* any… banana bread?"
So here is the first of hopefully many blogs inspired by our Old Style board.
In the words of the Grinch: "What if Christmas, he thought, doesn't come from a store. What if Christmas... perhaps... means a little bit more!"
I love Christmas! And yes, it's only September, but many of our Forumites have been prepping since the post-Christmas sales in December and January. The MSE team have already groaned for months at my insistence of bringing up Christmas in our news meetings – during heatwaves!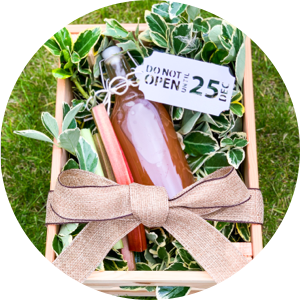 I am a huge fan of homemade crafts and goodies, and although I expect my daughter would be mortified if I suggested a Christmas along the lines of Little Women or Little House on the Prairie (with not a gadget in sight), I do love giving things I've made to friends and family.
On the MSE Forum's Old Style MoneySaving board there are hundreds of ideas and tips on how to live a simpler and thriftier life, including at Christmas. We also have our Special Occasions & Other Celebrations board, which magically transforms itself into Christmas & Other Celebrations as we get nearer to December. You really must read the amazing 41 Xmas MoneySaving Tips guide too – especially point 2 about banning unnecessary presents.
Martin's blog on this can be found here: Ban unnecessary Christmas gifts.
In my view, the thriftiest way to give gifts once you have decided on who you are giving to is to be seasonal in what you have at the time. Of course, this is easier if you're organised and haven't got frequent interruptions about critical topics such as: "Muuuuum, where is my school jumper/book/gadget/Easter-chocolate-that-possibly-Mummy-ate-last-night-when-desperate-and-out-of-gin?" I am NOT organised however, so many of my projects happen when I have time between work, taxi duties and literately herding cats!
This recipe is tweaked from a friends to my own taste, but it's easy, quick and seasonal, and therefore PERFECT for beginners. Best of all, you can add it to gin, prosecco and cocktails OR you can use it as a normal cordial! So it's a winner all round with most people!
MSE Tine's Rhubarb & Ginger Cordial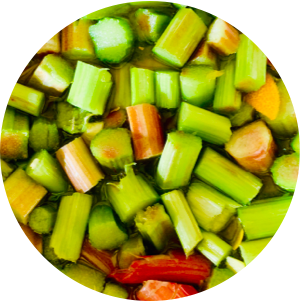 500g of rhubarb – if you haven't got a rhubarb, ask on local Facebook groups if anyone has a glut. (Mine went mad this year with the rain and then lovely hot weather at exactly the right time!)
Two unwaxed lemons – you can also use one lemon and one orange depending on what you have.
250g of sugar.
Fresh ginger – a decent sized lump.
300ml of water.

This recipe will make approximately 750ml of cordial, so you will need to find a bottle according to the size of batch you make. I like to make double or triple batches and use Ikea half-litre swing top bottles. The bonus is that these can be cleaned and used again and again (and you will not be surprised to find these bottles returning with a hopeful look on the recipient's face, wondering if maybe it magically refills itself again… you have been warned!).
Chop the rhubarb into thumb sized pieces (no need to be neat – they will mush down), peel the zest from your lemons (and orange if using one) and juice them. I like my cordial with a little kick, so I take a decent chunk of ginger and whack it with my meat tenderiser. If you want to use the leftover rhubarb for ice cream or on yogurt to be really thrifty, then I suggest peeling and slicing it into chunks you can later remove, or putting it with the lemon peel in a little muslin cloth and tying it up. Then you can just lift it out afterwards.
Put everything in a large pot (if you do a triple batch, a soup pot is very handy!) and bring to a simmer until the rhubarb has cooked down to a mush.
If you want a clear cordial, you will need to use a muslin cloth to sieve the liquid slowly – if you're not that fussy, a fine sieve will do the job just fine!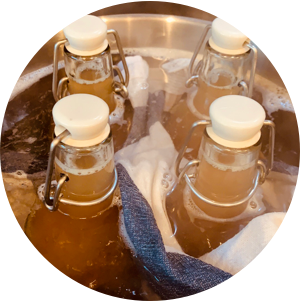 Pour into clean and sterilised bottles and they will keep for up to a month in the fridge. If you are giving them as a gift at Christmas or just want them to keep longer, you will need to seal them in a hot water bath (swing top lids are best suited for this).
I shamelessly use the instructions from River Cottage, but Google will provide lots of helpful links too.
If you bottle your cordial using this method (don't forget to label it properly), it will happily keep for a year, leaving you plenty of time for gifting it at Christmas (or adding it to gin with a splash of tonic yourself while recovering from too much enforced family time and an excess of cranberries!).
Best of all, you don't need a single school jumper or a long-since-devoured celebratory chocolate egg to do this, and it can all be accomplished in relative peace after any cherubs have gone to bed.
Do share your pictures and results.
Join the MSE Forum Discussion