British Airways repatriation policy lottery left a sour taste while abroad for 57 days due to Covid-19
I'm unhappy with British Airways. It's an airline I like, but I'm disappointed in it.
Why? Well, it's clear massive disruption due to Covid-19 is not BA's fault and it's going through its own major financial problems, but its policies left me and my wife in a bit of pickle (a very small pickle in the bigger scheme of things) while we were in Dubai in March and April.
In a nutshell, it failed to book us on to any alternative flights that were still running (which it should have done) after it cancelled multiple flights home.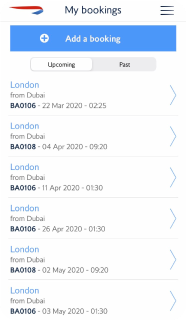 We were due to fly home on 22 March after a two-and-a-half-week holiday, but the flight was cancelled as it was scheduled during the period the crisis was starting to unfold in Europe and the Middle East.

We were staying with my in-laws, so were safe, so this is no sob story.
Yet by late April, we were still in Dubai – I counted eight different BA homebound flights we were booked on that were later cancelled. See the pic of the 'My bookings' section of my BA app, right, which doesn't even include all of those flights.
Eventually, when our 3 May flight was cancelled on 22 April, we gave up as there were no further BA flights till June.
So we booked one of the many special Emirates repatriation flights to London – albeit at a whopping £1,100 cost between us for a one-way economy ticket. For context, it's sometimes possible to pay £300 per person for a London to Dubai return.
We landed home last Thursday (30 April) to a very wet and windy Heathrow (see below left). In total, we had 57 days away in very different weather to what we landed home to.
How BA left us in a pickle

BA didn't leave us stranded, hence why this is no sob story. Other than a 10-day gap around the turn of April, we could have paid for one of the special Emirates or Etihad (from nearby Abu Dhabi) flights which were sanctioned by the UAE government to get people home.
But BA's call centre also refused – despite numerous requests – to book us on to one of those. This is despite European rules (which it is still bound by) stating that when a flight is cancelled, passengers must be offered a choice of a refund or re-routing to their final destination. This includes flights on alternative airlines where available. We were not given that choice.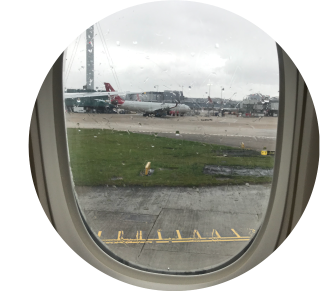 What's more, Foreign Secretary Dominic Raab and Transport Secretary Grant Shapps wrote a joint letter to the airline industry on 30 March as they kicked off repatriation attempts, stating: "It is essential that airlines offer their passengers the service they deserve, including alternatives where routes are cancelled to allow them to change tickets – including between carriers – as quickly and cheaply as possible."

Sadly for anyone in the UAE, BA offered no such assistance until the end of April, which meant people had to wait for flights to start operating again or to pay the expensive one-way fare, which may well have dwarfed the cost of their original ticket.
BA's call centre told me that had we been somewhere where there's an airline it has a partnership with (such as American Airlines or Qatar Airways), it would have booked us on one of those flights at no extra cost, but it does not have any partnerships with UAE airlines. That makes it a lottery for passengers.
I got in touch with BA's press office on 21 April, as my experience made me wonder if there was a bigger story to report, on a widespread failure to follow repatriation rules.
BA eventually changed its tune – but it was too late for us
A few days later, on 24 April, BA changed its policy and will now book anyone in the UAE with a BA flight home that has been cancelled on to an Etihad flight home. That was too late for us, as I'd already booked my wife and I on to an Emirates flight as we needed to get home and, at the point of booking, that was the last flight home available (though more have since been scheduled).
BA insists its change of policy was already in the pipeline before my intervention, and I have no evidence to the contrary, though the timing of its change, coming three days after my question on behalf of the UK's biggest personal finance website is, er, interesting. While it didn't help me, I hope the policy change helped others.
BA also insists the UAE situation – where BA flights are cancelled but others are operating – is the exception, not the rule, given so few flights are actually running worldwide.
It reckons it is unlikely that there are people in other countries who could be booked by BA on to alternative flights. Again, there is no obvious evidence to suggest BA is failing customers anywhere else in the world in that respect. Please let me know in the comments below if I've got that wrong, as I will feed as many of those stories as possible to BA, to urge it to treat other passengers fairly.
Now BA must give refunds
For people like me who bought alternative flights, BA says it will refund the original flights, though it can still leave passengers well out of pocket where the new flight is far more expensive than the original.
I would expect BA to refund the full cost of those new flights, so people are in the position they would have been had BA booked them on to the flight itself – as it should have, at no additional cost.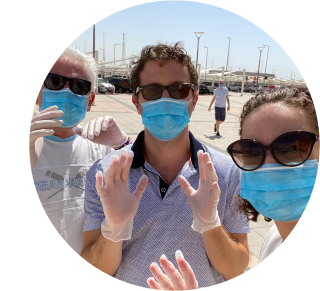 I will be putting that claim in myself. To be clear, that will be via its normal customer channels, not its press office. However, I asked its press office last week for the official policy, given 100s or possibly 1,000s of people could be in this same boat. Sadly, it has yet to give an answer.

You may wonder why we didn't book a repatriation flight earlier. Well, the next flight BA booked us on after a cancellation was never more than two weeks away, and as we were staying with family in a country with far fewer Covid-19 cases than the UK, and as working remotely was no problem, we decided to stay.
While abroad, we got used to lockdown life in Dubai – where masks and gloves became mandatory, as you can see from this picture of when my father-in-law Eddy, wife Sarah and I went on a shopping trip two weeks ago.
BA has its own BIG problems, but the law is the law
You can clearly see I'm disappointed with BA, but to be fair to it, the airline is going through its own nightmare.
It has warned it may sadly need to make 12,000 members of staff redundant due to the financial woes that Covid-19 has triggered, given so few people are flying. I also understand it has to look after 10,000s of passengers across the world and won't get everything right, as its staff are human beings with their own stresses, many of whom are working from home in tough conditions.
However, the law is the law. And passengers' rights are there for a reason. Even if it gets it wrong on just one flight, that could mean 100s of people are affected. I'm sure the numbers are well into the 1,000s in the UAE.
While there are far bigger problems that people are facing due to Covid-19, airlines must understand the difficulties they create for people when they do not follow the law.
I like BA. Not everyone will agree with me, but I like its service and its elegant British-ness. Yet I'd like it more if it followed the rules throughout.
Join the MSE Forum Discussion