Gutted there's no Glastonbury? You can still experience it for FREE via TV and streaming
Due to the coronavirus pandemic, there'll be no Glastonbury this year. While the UK's biggest music festival periodically takes a break to allow the land it takes place on to recover, this year is the first time it's been cancelled since 2001 – and on its 50th anniversary too. Bummer.
But don't feel too bummed! Many of the people usually involved with Glastonbury are doing a whole host of free things on television, radio and online to ensure the festival's anniversary doesn't pass without being celebrated, which means you can still 'go' to Glasto without spending a penny (apart from doing so in your back garden after a few cans of cider if you want to keep things authentic). Here's what's on...
Fill your boots with classic Glastonbury performances via the BBC
The BBC has been televising Glastonbury since 1997, and the broadcaster isn't going to let the fact that there's no Glastonbury this year stop it from marking the festival's 50th anniversary, which is why you'll be able to catch classic performances, highlights and special programmes on TV, radio and BBC iPlayer over the weekend.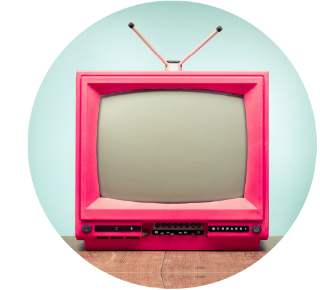 BBC Two will show three 90-minute programmes, one for each night of when the festival would have been on (Fri 26 Jun, Sat 27 Jun, Sun 28 Jun), all featuring classic performances from previous Glastonburys, including Blur Bruce Springsteen, Oasis, Lady Gaga, Lizzo, Rolling Stones, Stormzy and much more, including previously unseen or rarely shown footage.

It will also show several previous headline performances in full, including Beyonce in 2011, Adele in 2016 and David Bowie in 2000, which will be the first time it's been shown in full on TV. There will also be a best of Glastonbury 2019 show and one focused on the festivals vaunted Sunday afternoon legends slot. For full info, see the BBC Two schedule.


BBC Four will kick off by showing Glastonbury, a film about the festival by celebrated counter-culture director Julian Temple, on Thu 25 Jun. This will be followed over the next three evenings by broadcasts of full Glastonbury performances shows from previous years, such as Chemical Brothers in 2000, Amy Winehouse in 2007, Jay-Z in 2008 and Nile Rodgers & Chic in 2017. There will also be 'best of Glastonbury' programmes and compilations of backstage performances. For full info, see the BBC Four Schedule.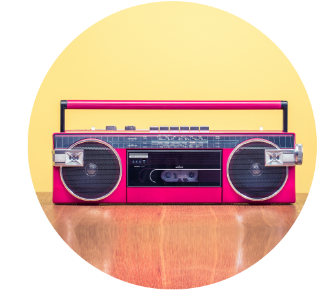 BBC Radio 1 will broadcast special daytime Glastonbury shows on Sat 27 Jun and Sun 28 Jun featuring live performances from previous years, while it's Essential Mix programme, which showcases well-known DJs and music producers and airs in the early hours on Sat 27 Jun, will be dedicated to Glastonbury. See the BBC Radio 1 schedule for full details.


BBC Radio 2 has already begun its coverage, with long-time Glastonbury presenter Jo Whiley talking about her memories, and those of her fellow presenters and listeners, every evening from Mon 22 Jun to Thu 25 Jun. She'll also play tracks from previous years and interview special guests on Sat 27 Jun and speak to those who have previously played the Sunday afternoon 'legends' slot at Glastonbury on Sun 28 Jun.

Zoe Ball (Fri 26 Jun) and Johnnie Walker (Sun 28 Jun) will also be covering aspects of Glastonbury on their shows, with Jo Whiley returning to do so again on Mon 29 Jun. For full info, see the BBC Radio 2 schedule.


BBC Radio 6 Music will begin with 'Glastonbury Throwback Thursday' on Thurs 25 Jun, celebrating the best of the festival with tracks from the archives, which the station has been playing in many of its shows since Mon 22 Jun, and listener requests. Lauren Laverne will be joined by Glastonbury co-organiser Emily Eavis on her morning show on Fri 26 Jun, which will also feature a listener playlist dedicated to the festival.

The BBC Introducing Mixtape show on Sun 28 Jun will be dedicated to the emerging artists who would have played on the BBC Music Introducing stage at this year's festival. Other shows will include When We Played Glastonbury, where artists and bands talk about their memories, and classic performances, including Pulp's memorable headline slot in 1995. For full info, see the BBC Radio 6 Music schedule.

There'll also be special Glastonbury shows on BBC Radio 1Xtra each night from Fri 26 Jun to Mon 29 Jun, while the BBC Asian Network has been highlighting British Asian artists at the festival every evening this week, starting on Mon 22 Jun and ending tonight (Thurs 25 Jun) and BBC Radio Somerset will broadcast three evening shows over the weekend which will include interviews with artists, bands, organisers, regulars and locals.
You can listen to all the shows above live (if they haven't happened yet) and on-demand on the BBC Sounds website or via the free BBC Sounds app for iOS and Android devices.
Don't forget that you need a TV licence to use BBC iPlayer whether you're watching live TV or catch-up TV. Full info in our Do I need a TV licence? guide. Haven't got a TV licence and don't want to get one? Then check out our other 'virtual' Glastonbury tips below.
For the first time, BBC iPlayer will feature a temporary channel dedicated to Glastonbury, broadcasting highlights and full sets from previous years, such as PJ Harvey in 2004, Janelle Monae in 2011 and LCD Soundsystem in 2016, from Thurs 25 Jun to Mon 29 Jun. You can see the full schedule below.
There will also be over 100 sets to watch on-demand on BBC iPlayer, such as Radiohead in 1997, The Killers in 2004 and Billie Eilish in 2019. The full line up will be revealed on Thurs 25 Jun, so keep an eye on the BBC Music at Glastonbury website or the BBC Glastonbury Twitter.
Recreate the Glastonbury 2020 headliners virtually (sort of)
The confirmed headliners for Glastonbury 2020 were influential rapper Kendrick Lemar on the Friday night, former Beatle Paul McCartney on the Saturday night and best-selling pop star Taylor Swift on the Sunday night. Obviously they'll no longer be performing, but you can recreate the headliners for free from your own home using a combination of YouTube and your imagination...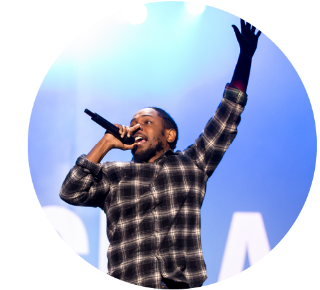 Kendrick Lemar – King Kendrick hasn't played Glastonbury before, so you can't catch a previous performance, but he did headline Reading and Leeds Festival in 2018, and you can find his full set from Reading on YouTube, including hits like King Kunta, Swimming Pools (Drank) and Humble. NB: If you're not familiar with Kendrick Lemar, just to warn you he uses some fairly full-on language.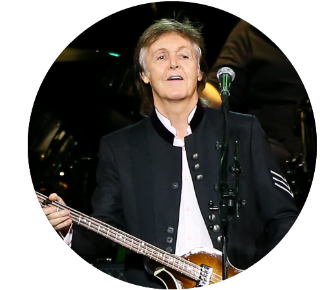 Paul McCartney – Macca previously headlined in 2004 – his first ever UK festival performance – playing a mammoth two-hour set to a very muddy Glasto. You can find an hour and 50 minutes of the show on YouTube, though the picture quality's not great, the atmosphere comes across well. There's also a shorter but better-quality version which, while it doesn't include as many songs, is still over an hour long and includes the second encore of Sgt. Pepper's Lonely Hearts Club Band (Reprise) and The End that the longer version cuts off.
Taylor Swift – Like Kendrick Lemar, Tay Tay hasn't played Glastonbury before, so there aren't any previous performances to fill the gap, but you can find her full set from the Swansea leg of BBC Music's Biggest Weekend in 2018 on Dailymotion (skip to 16.11 for the start). Although it predates her last studio album Lover, it includes the likes of ...Ready For It?, Look What You Made Me Do, Blank Space and Shake It Off.
And if that's not enough Glastonbury 2020 action for you, check out the Spotify and Apple Music playlists of the acts who would have been playing the main stages at the festival this year. There's one each for the Pyramid Stage, Other Stage, West Holts, The Park and John Peel, and you can find them all on the Glastonbury website.

Love Glasto's Shangri-La? Then there's a new 'festival' for you
For the uninitiated, Shangri-La is always one of Glastonbury's most eye-catching and out there after hours areas, encompassing art installations, secret clubs, political and social commentary, band and DJ sets throughout the night and occasionally a 360-degree dance arena called the Gas Tower.
Obviously there'll be no Shangri-La this year now, but you can still experience something similar as the people behind it is putting on Lost Horizon – "the world's largest virtual reality music and arts festival – on Fri 3 Jul and Sat 4 Jul. It promises to be a free, fully-interactive event involving DJs and musicians such as Fatboy Slim, Carol Cox and Frank Turner, as well as sound systems, visual artists, films, comedy, theatre and more.
You can stream the festival via a PC-powered virtual reality headset such as Oculus Rift or HTC Vive (for which you'll need to download an app and get a free ticket), on the desktop of a PC with Windows 7 or higher (again you'll need to download an app), via the Lost Horizon website, and on Android and iOS phones and tablets, for which you'll need to join the mailing list to be sent a link to download the app nearer the time.
The Glade plans to bring itself to you via Facebook
Established in 2000, The Glade is an area of Glastonbury that specialises in underground dance music, dub, reggae, and experimental sounds. With there being no Glastonbury this year, The Glade asked the acts it had lined up to put together special mixes to put out over the weekend, and received such an enthusiastic response it will be streaming 12 hours of music a day from the likes of Autechcre, Don Letts, Leftfield and Timo Maas.
It will start with a tribute to hugely-respected DJ and producer Andrew Weatherall, who sadly died earlier this year, on Thurs 25 Jun and end on Sun 28 Jun. All streams will be free and available via The Glade's Facebook page and, if you can't wait until then, house and techno DJ Carl Cox, who was supposed to play The Glade this year, has made the set he was going to perform available on BBC Sounds (Warning: Contains 'robust' language).
The Greenpeace Field took itself online this year
The Greenpeace Field, organised by the environmental organisation, has been a staple of Glastonbury since 1997. And it's far from simply a place to celebrate nature and learn about the environment – in 2019 it boasted a 22-metre high interactive rave tree with guest DJs, a skate ramp, a drop slide, its own stage and much more.
There'll be no Greenpeace Field this year, so instead Greenpeace put on Greenpeace AAA (Action All Areas) – a free virtual festival that ran from Thurs 18 June to Sat 20 June. While it's over now, you can still catch performances from all the artists that took part, including Arlo Parks, Kelis, Tim Burgess of The Charlatans, and former Spice Girl Melanie C on the festival's website.
Print out free wristbands, bunting and posters for your 'Glasthomebury'
If you really want to get into the spirit of Glastonbury at home, then the Glasthomebury Festival website's got you covered, offering free-to-download-and-print bunting, posters and even wristbands to help you give your household a Glasto vibe (it's also asking users to donate money to Mind, NHS Charities Together, the NSPCC, Refuge and The Trussell Trust).

And if you want more ideas on how to do Glastonbury at home, including how to make Hare Krishna curry, how to support charities and stall holders who have obviously been hit by the festival being cancelled and where to find Glasto-related films and online events, check out the Glasthomebury Festival 2020 Facebook page.
And finally... pitch a tent in your living room
It's not Glastonbury if you don't pass out in a tent at 3am and then wake up baking in it at 6am, so why not replicate the experience by camping in your living room or even your garden if that's where you'll be marking the occasion. A pop-up tent's ideal if you've got one, but if not you can build yourself a badass blanket fort – all you need is blankets/sheets, pillows, clothes pegs, chairs or other furniture to use as supports, and, if you want to get fancy, fairy lights. There are some basic designs on Wikihow and YouTube to get you started. Happy camping!
Join the MSE Forum Discussion