- Get FREE £55 in M&S vchs with top credit card
- FREE £125 to switch bank
- FREE £20 to rebuild your credit & more




Everyone loves a freebie, and right now a host of top money deals pay free cash or vouchers when you get them. While it's unlikely you'd want them all, the freebies below total more than £400.

To get 'em you normally need to pass a credit check, which puts a minor mark on your credit file. The odd application isn't usually a problem - but we wouldn't suggest more than a couple in a short time, and it's best to avoid if applying for a mortgage or important credit soon. Plus only get these deals for normal spending - they're not an excuse to over-spend. Here's what's on offer.

1.

New.

Bag £55 in M&S vchs if you get a credit card and do normal spending. Accepted new M&S Bank (eligibility calc / apply*) cardholders who apply via this link by 31 Aug and spend £100+ anywhere on it by 30 Sep get emailed a £50 M&S vch. You'll need to use it by 30 Nov. If needed, it also offers 25mths' 0% interest on spending - used right, there's no cheaper way to borrow.

- You can also earn another £5 M&S vch. You're sent a voucher with the card - swipe it at the till or use online to buy most things at M&S and you'll get 500 M&S points, worth £5. Plus you earn one point (worth 1p) for every £1 spent at M&S and every £5 elsewhere. If you want, you could just spend enough to bag the freebies, clear the balance and cancel the card.

- How good is the 25mths 0%? It's longish but up to 32mths 0% is possible - see Top 0% Spending Cards (APR Examples). Never miss a min repayment and clear before the 0% ends to avoid 18.9% rep APR interest.
2.
Nab an easy £20 cashback with a top-pick overseas spending card. A specialist overseas credit card is one of the best ways to spend abroad. As it's peak holiday season we've a rundown of the top cards below including a free £20 from Halifax if you apply soon and spend abroad on it by the end of September.
3.
A bunch of freebies with one card - £100 Amazon/M&S vch + 2 free airport lounge passes. Spend £2k+ on normal purchases in the first 3mths on the Amex Rewards Gold charge card (eligibility calc / apply*) and get 20,000 bonus Membership Rewards pts. You also get two free airport lounge passes with the card, which can be used at many airports worldwide. But they take up to a month to arrive so don't bank on them for this summer.

- What are 20,000 points worth? You can swap them for a £100 Amazon/M&S/Boots etc gift card (shops can change) or 20,000 British Airways/Virgin etc points. You earn 1pt per £1 spent on the card too.

- IMPORTANT: there's a £140 annual fee after 1yr. Diarise to cancel if you don't want to pay it. Also, as it's a charge card it must be repaid IN FULL each month. There's no interest but missed repayments cost £12 and mean a credit file black mark. Full help in Reward Credit Cards (APR Examples).

Won't spend that much? The Amex Rewards credit card (eligibility calc / apply*) gives 10,000 bonus pts for a lower £1k+ spend in 3mths, so you can get a £50 vch or 10,000 BA/Virgin points. If you don't repay IN FULL every month, it's 22.9% rep APR.
4.

Ending.

Get £20 cashback and STOP paying credit card interest for 33mths. A balance transfer is where a new card pays off your existing credit and store cards, usually for a small fee, so you owe it instead, but at 0% interest. Repayments then clear the debt rather than interest, so you're debt-free quicker. And a decent cashback offer's ending:

- Apply by Tue 8 Aug for Halifax's (eligibility calc / apply*) up to 33mths 0% card and transfer £100+ within 90 days to get £20 cashback. The fee is 0.58% of the amount moved (min £3), so transfer less than £3,450 and the cashback effectively cancels out the fee.

- Need longer? Go for the lowest fee in the time you're sure you can repay. If unsure go longer for safety, it's possible to get up to 41mths 0% - our eligibility calc shows which of the top cards you've best odds of getting. For some it can also tell if you're pre-approved, subject to an ID check. Full options and info in Best Balance Transfers (APR Examples).

- Follow the Balance Transfer Golden Rules... Repay by the end of the 0% period or you'll pay the rep APR (18.9% on Halifax). Plus never miss the min payment and avoid spending or cash withdrawals, which aren't at 0%.
5.
New. Give £25 to charity & get £125 for switching bank Switching's easy. In our latest poll 76% said it was mostly hassle-free. It takes seven working days, and the new bank closes your old account and moves all direct debits, payments in and standing orders. Full help and eligibility in Best Bank Accounts, here are the top freebies.

-

New.

Free £125 + £5.50/mth + £25 to charity. Switch to Co-op Bank to get £125 and earn up to £5.50/mth more. Plus for each switcher it'll donate £25 to charity Centrepoint. To trigger it all there are a myriad of requirements. You must pay in £800/mth+, switch and pay out 4+ active direct debits each month, make 30 debit card transactions per month, go paperless, use online/mobile banking once a month and stay within your overdraft limit.

- Free £125 M&S gift card + £5/mth. M&S Bank* gives new switchers a £125 M&S gift card and access to a 5% linked regular saver, and for the first year you can get an extra £5/mth added to the card. To get it all you must pay in a min £1,000/mth and switch and keep 2+ active direct debits.

- Free £100 + top service. First Direct* gives £100 to new switchers, plus it's won every customer service poll we've ever done, with 90% rating it 'great' in the most recent. You also get access to its 5% fixed regular saver, and for some, a £250 0% overdraft. The account's free if you pay in £1,000/mth; if not, it's £10/mth.
6.
A friendly freebie - refer someone to Nationwide and you both get £100. If you've a Nationwide current account, mortgage or savings, you can refer a friend - if they then switch to a FlexAccount, FlexDirect or FlexPlus current account (incl 2+ direct debits) within 90 days and fill in a form you'll both get £100. You can get paid for switching five people a year, so could net up to £500.
7.
Earn a £20 Amazon vch and (re)build your credit history. If you've a patchy or limited credit history, you'll likely struggle to get the deals above. Yet some cards are designed for those with past county court judgments or defaults. Do normal spending, never bust your limit and pay off IN FULL each month to avoid horrid interest and (re)build your credit score by proving you can handle credit.

- Aqua Advance (eligibility calc incl pre-approval / apply*) gives a £20 Amazon vch after 2mths, as long as you use the card at least once, pay on time and don't bust your limit. Keep up this 'good behaviour' and your rep APR can drop from 34.9% to 19.9% over 3yrs. More options and help in Credit Rebuild Cards (APR Examples).
8.
Members of cashback sites could get cashback on lots of things. If you use such a site to get cashback, make sure the product's the same as you'd get elsewhere. For full info, pros and cons, see Top Cashback Sites.





PS: If you're in problem debt, read our Debt Crisis Help guide.
Saved cash? Shout it from the rooftops.
If this email's ever helped you, please forward it to friends and suggest they get it via moneysavingexpert.com/tips.

This is a warning to all British Gas customers. Yesterday it announced it is going to hike electricity prices from 15 Sept - overall for a typical dual fuel customer this will see your bill rise by 7%. Here's my view on it...
This is British Gas's catch-up hike. It was the only one of the Big 6 energy firms not to raise prices earlier this year, and now, as predicted, it'll do it from September. And that means, if, as is possible, we see another batch of rises in winter, its customers will feel like they've been price-slapped twice in rapid succession.

While its freeze has given people a little respite from price moves over the key high-use winter period, the false sense of security that it wouldn't move prices meant many did nothing. Yet they could've cut their rate, and locked that in for longer, by actively picking a far cheaper one-year fixed tariff.

So let this be a clarion call for all British Gas customers (unless you're on the MSE collective tariff) and all those on other Big 6 standard tariffs. Do not sit on your backside and just take this. On typical use, with British Gas's standard tariff, you'll pay £1,120/yr from September. The cheapest tariffs are about £840/yr for the same usage. So check how much you can save.

And switching is usually no big deal - there's no break in service, no engineers. It's the same gas, electricity and safety. Only price and customer service change.

The easy way to find your cheapest deal - it depends on your use and where you live - is via our Cheap Energy Club which includes customer service ratings and extra cashback. Plus, unlike some, it doesn't default to only showing tariffs where we're paid.
Stop press. Virgin Media price hike for 5m custs - how to beat it. Rising by up to £48/yr. Beat Virgin hike
Revealed - does YOUR airport offer free water? We've checked the 30 biggest UK international airports - 12 do, 18 don't. See if yours is one of the good guys, and how we're trying to twist the arms of the rest. Free airport water campaign
Last chance. Sky Sports & Sky Cinema + broadband & line, £32/mth. Stonkingly cheap but with TalkTalk, which has had problems. Till 11.59pm on Thu, it's £32.45/mth with standard speed broadband, £39/mth on faster fibre. Don't want Cinema? The same package but just with Sky Sports is £28.45/mth on standard speed, £35/mth fibre. See Mega Sky TV deals.
Beat the queues at theme parks, restaurants & more this summer - at home & abroad. Good for days out. Dodge queues
Two pairs of glasses or prescription sunnies for £17 all-in. MSE Blagged. Via code until Mon. Spec-tacular
YEAR'S 2for1 cinema trick now £1.50 - incl Dunkirk & Despicable Me 3. See our updated cinema trick.
Could you pass the driving theory test? Official mock version is free online. Share with pals, whether learners or if they, ahem, need a refresher. Mock theory test
Avoid pitiful exchange rates with our top tips to get the most bang for your buck, euro, lira or dong
Maybe it's the romance, or because some places won't accept plastic, but our latest poll suggests many of you like to have a wad of cash when travelling. So getting the best rate is crucial. On Monday €500 cash would've cost £448 with a specialist card (without the typical 3% fee), £451 from a top bureau de change and a scandalous £530 at Birmingham Airport. Here's how to ensure you're never caught short...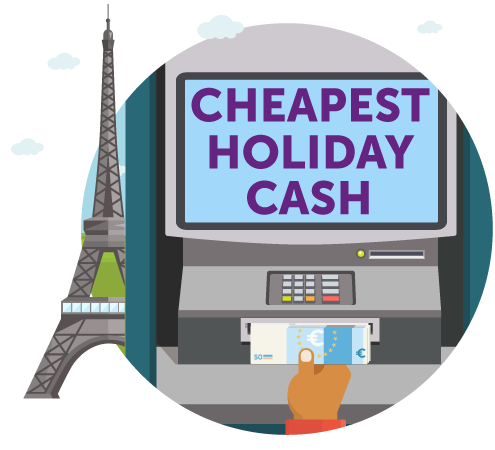 About to go? Compare rates from 30+ bureaux. Anyone changing cash in the UK can be hit with a confusing array of rates. Our TravelMoneyMax comparison tool compares 30+ bureaux to find the cheapest, so you don't have to.

- NEVER buy cash at the airport. Rates are disgusting, as bureaux know you're a captive customer. If you've left it late, at least preorder for pick-up as you get a better deal.

Time on your side? A specialist credit card wins. We always bang on about getting one for overseas use. You're not charged the usual 3% transaction fee on spending, or cash withdrawal fees (although the ATM may charge you) and you get the near-perfect rates the banks get (you'll need to pass a credit check). There's not much to choose between our top picks, which can take 1-2 weeks to arrive...

- Get £20 cashback. This Halifax Clarity (eligibility calc / apply*) card gives £20 if you apply by Sun 3 Sep and make a foreign purchase before Sat 30 Sep. It charges daily interest on cash till it's paid off (about 5p per £100). So to minimise charges, pay back the cash immediately (eg, via a banking app, but check roaming charges) and repay the overall balance IN FULL to avoid the 18.9% rep APR.

- Alternatively, if you can't pay the cash immediately, with the Barclaycard Platinum Travel card (eligibility calc / apply*) if you repay the card IN FULL each month there's no interest on both overseas cash withdrawals and spending - else it's 18.9% rep APR on spending, 27.9% interest on cash. Full help: Top Overseas Credit Cards (APR Examples).

New. No cash fees on top debit card. Beat the queue for a debit card from app-based newcomer Starling Bank that unusually has no commission fee and gives free cash withdrawals overseas. There's normally a two-week waiting list to open it, but the first 1,500 who apply via our link can jump the queue. Full info in Top Travel Debit Cards.
Tell your friends about us
They can get this email free every week
MARTIN'S APPEARANCES (WED 2 AUG ONWARD)
Thu 3 Aug - Good Morning Britain, ITV, Deals of the Week, 7.40am
Fri 4 Aug - This Morning, ITV, Martin's Quick Deals, time TBC. View previous
Mon 7 Aug - This Morning, ITV, time TBC. View previous
Mon 7 Aug - BBC Radio 5 Live, Lunch Money Martin, noon. Subscribe to podcast
MSE TEAM APPEARANCES (MOST SUBJECTS TBC)
Fri 4 Aug - BBC South West stations, breakfast, cheap football on TV
Tue 8 Aug - BBC Radio Cambridgeshire, 2.20pm
QUESTION OF THE WEEK
Q: Will I be covered on my travel insurance if I can't get to my Florida holiday because I'm not allowed into the US, even if I have the correct visa? Alan, via email.

MSE Tony's A: No one wants their holiday to end before it begins, but most standard policies won't cover this type of scenario.
Insurance policies have a list of scenarios they cover (eg, theft, medical conditions). We checked a number of major insurers' policies and this eventuality was NOT listed. Trade body the Association of British Insurers also stated this is not normally covered.
To mitigate against problems, always check the Foreign and Commonwealth Office website for countries' entry rules well before travelling and give yourself plenty of time to get your paperwork in order.
And as a general note, always get insurance as soon as you've booked so you're covered for cancellation. See our Cheap Travel Insurance guide for the best buys.
Please suggest a question of the week (we can't reply to individual emails).
THE DEAL SO EXTREME IT DEFEATED OUR OWN COUPON KID
That's it for this week, but before we go... our Coupon Kid Jordon Cox has made a name finding extreme MoneySaving tips. But when we sent him and cameraman Anthony to Alton Towers to sample a deal that allows you to return for free if you try six of its stomach-churning roller-coasters, he met his Nemesis, as the rides really were stomach-churning... so Anthony had to take over. Don't worry, the video isn't graphic but you'll see why Jordon had to put up with some ribbing when he returned. Watch via our Facebook page when MSE's Coupon Kid met his Nemesis.
We hope you save some money,
The MSE team
We think it's important you understand the strengths and limitations of this email and the site. We're a journalistic website, and aim to provide the best MoneySaving guides, tips, tools and techniques - but can't promise to be perfect, so do note you use the information at your own risk and we can't accept liability if things go wrong.
What you need to know
This info does not constitute financial advice, always do your own research on top to ensure it's right for your specific circumstances - and remember we focus on rates not service.
We don't as a general policy investigate the solvency of companies mentioned, how likely they are to go bust, but there is a risk any company can struggle and it's rarely made public until it's too late (see the Section 75 guide for protection tips).
We often link to other websites, but can't be responsible for their content.
Always remember anyone can post on the MSE forums, so it can be very different from our opinion.
Please read the Full Terms & Conditions, Privacy Policy, How This Site is Financed and Editorial Code. Martin Lewis is a registered trade mark belonging to Martin S Lewis.
More about MoneySavingExpert and Martin Lewis
What is MoneySavingExpert.com?
Founded in February 2003, it's now the UK's biggest consumer help website with more than 12 million people getting this email and about 13 million using the site every month. In September 2012 it became part of the MoneySupermarket Group PLC. Its focus is simple: saving cash and fighting for financial justice on anything and everything. The site has over 80 full time staff, more than a third of whom are editorial - researching, analysing and writing to continually find ways to save money. More info: See About MSE.
Who is Martin Lewis?
Martin set up and is chairman of MSE. He's an ultra-focused money-saving journalist and consumer campaigner with his own ITV prime-time show The Martin Lewis Money Show and weekly slots on Radio 5 Live, This Morning and Good Morning Britain, among others. He's a columnist for publications including the Telegraph, Sunday Mirror and Woman magazine. More info: See Martin Lewis' biography.
What do the links with an * mean?
Any links with an * by them are affiliated, which means get a product via this link and a contribution may be made to MoneySavingExpert.com, which helps it stay free to use. You shouldn't notice any difference; the links don't impact the products at all and the editorial line (the things we write) isn't changed due to them. If it isn't possible to get an affiliate link for the best product, it's still included in the same way. More info: See How This Site is Financed.
As we believe transparency is important, we're including the following 'un-affiliated' web-addresses for content too:
Unaffiliated web-addresses for links in this email
bank.marksandspencer.com, americanexpress.com, halifax.co.uk, firstdirect.com, aquacard.co.uk, barclaycard.co.uk, uk.virginmoney.com, confused.com, comparethemarket.com, gocompare.com, moneysupermarket.com, directline.com, aviva.co.uk, tsb.co.uk
Financial Conduct Authority (FCA) Note
MoneySupermarket.com Financial Group Limited is authorised and regulated by the Financial Conduct Authority (FRN: 303190). The registered office address of both MoneySupermarket.com Group PLC and MoneySupermarket.com Financial Group Limited (registered in England No. 3157344) is MoneySupermarket House, St. David's Park, Ewloe, Chester, CH5 3UZ. MoneySavingExpert.com Limited is an appointed representative of MoneySupermarket.com Financial Group Limited.
To change your email or stop receiving the weekly tips (unsubscribe): Go to: www.moneysavingexpert.com/tips.