Martin's Weekly Briefing: For more tips, alerts & puns, follow Martin on Twitter

10 need-to-knows about buying euros, dollars etc after Brexit vote



I've been swamped with holiday money questions on Twitter, Facebook and while out filming roadshows for my new TV series. From Andy's "Will the rate improve in Aug or shall I get euros now?" to Alice's "Booked honeymoon in euros, already lost £200 - should I wait to pay rest?" and many more.


I need to start with a confession. I don't know what'll happen to currency rates. Nor does anyone else and if they tell you they do, they're lying (some will always guess right, but that doesn't mean they know). Instead I want to give you strategies to beat volatility and get the best price.

It's worth a bit of context though. Before the EU vote a pound bought €1.30ish - it's now a little under €1.18. At this rate your holiday will be far more expensive than last summer when it was €1.43, a bit more expensive than the summer before but a touch cheaper than the year before that when it was €1.15 - so this ISN'T a historical anomaly.

Much of the pound's resilience is because Brexit has weakened the euro too. The pound has faced a much bigger drop against the dollar, where it's at a 30-year+ low, hanging around the £1 buys $1.30 mark by 6pm Tue.

For more on what Brexit means for mortgages, house prices, EHIC cards, savings and more, see my full Brexit Q&A. Here, let's stick to currency.


1.
Easy way to get near-perfect rates everywhere, every time, with extra protection. I'm going to start where I usually do with specialist overseas credit cards. All regular travellers should pocket one. Yet the near-perfect rates here are based on the rate on the day you spend. Later I've options on how to smooth out currency moves...

Most debit and credit card firms get a near-perfect exchange rate from Mastercard or Visa, but then add a 3%-ish 'non-sterling exchange fee' to what they charge us, so £100 of euros costs you £103.

Specialist credit cards have no exchange fee, so we get the same near-perfect rate banks do, without that add-on. So simply pocket one, only for use abroad, ensuring you repay IN FULL each month to minimise interest and use it on every holiday. My top picks are...

- Long-term winner: Halifax Clarity (eligibility calc / apply*) has good feedback and a) It's a Mastercard, which usually wins on the underlying exchange rate - see rates compared. b) It has low fees for cash withdrawals.

- Slightly cheaper at ATMs: The Creation Everyday (apply*) is similar, but cash withdrawals are a touch cheaper. We've little feedback though (let us know).

- Easy-to-get card, but bad for ATMs: The Aqua card (eligibility calc / apply*) has no exchange fee, pays 0.5% cashback on spending and accepts some with past CCJs/defaults. But ATM withdrawals have high fees & high interest.

These aren't the only specialist cards - see full list. If you already have one, it isn't worth shifting. Check the two overseas debit cards too.

The Golden Rules. Full info: Top Overseas Cards (APR Examples).
1) Pay on the card - it's cheaper than withdrawing cash to spend.
2) Clear IN FULL or these cards are 18.9%, 12.9% & 34.9% rep APR.
3) You usually pay interest on ATM withdrawals (not spending) even if you clear in full. Even so, Halifax and Creation still beat most bureaux.

Extra protection: With credit cards (not debit, prepay or cash), you get Section 75 protection on all spending over £100, incl abroad, so if there are problems with what you bought, the card firm must sort it.
2.
Find best rates from 40 bureaux with TravelMoneyMax site & apps. Our Travel Money comparison site compares 40 bureaux to find you the cheapest travel cash. Tell it how many euros, dollars, ringgits, etc and it finds cheapest, incl fees.

We now also have the TMM iPhone app or TMM Android app, which do the comparison too. They've the added function of a personalised currency calculator - it stores what plastic you have and what you paid for your holiday cash. Then when you buy something it shows YOUR cheapest way.

PS. Don't leave it until the airport. Airport and ferry-port rates are usually atrocious, as they know you're a captive customer. At the very least, pre-order ahead online for airport pick-up to get a better rate.
3.
A trick to buy now with protection against currency swings. While not the very best rates on the market, a couple of bureaux's T&Cs can be manipulated to give you protection against currency swings as you order at today's rate for collection before your holiday. Then...

- If the rate gets worse, you're up as you got it at today's rate.
- If the rate gets better, you cancel it and buy at the new rate.

This was a corking trick when we launched it a few weeks ago, as you could buy up to 60 days ahead and cancel at no cost. Now most firms have altered these terms. Of the big bureaux left (and you'd want big brands as they're holding your cash with little protection) there's...

- Travelex* & Tesco: Order for collection up to a week ahead, and cancel for free before last 24hrs. Good in case of imminent fluctuations.
- Sainsbury's*: Order for collection up to 30 days ahead, but it's £10 to cancel. Can be good for large buys (£500ish+); see the £10 as 'insurance'.

I'm not saying this is a must do, but it's an option if you're worried about moves. Use TravelMoneyMax to see which of these bureaux (they're all in there) give the best rate.
4.
How to hedge your bets. A simple way to guard against currency moves is buy some now, and some just before you go. This diminishes the impact of rate moves (good ones as well as bad). To get the best rates now, use TravelMoneyMax. To get the best rate when you go, use a specialist overseas card (see point 1).
5.
Save over £100 per €1,000 spend. Whatever the rate of the currency you're using, don't throw more money away by paying the wrong way. I wanted to show you the scale of the differences, here's a comparison on Monday's rate.

The cost of €1,000 (5 x €100 at ATMs, rest spent in 20 transactions)

- Top specialist credit card repaid in full: £842
- Cash, via TMM's cheapest bureau (must pick up in London): £844
- Cash from M&S on the high st (non-cardholders): £862
- Using a debit card from hell (Halifax in this case): £896 (see point 9)
- Change at airport (not pre-ordered): £959
6.
Can't get/don't want a credit card? Try Supercard. The Travelex Supercard* is a hybrid card ANYONE can get, as there's no credit check (they do ID-checks). Full info in Supercard analysis, in brief...

1) Via its app, link it to your existing debit or credit cards (not Amex).
2) Spend on it abroad.
3) It charges your plastic in pounds, at that day's Mastercard exchange rate with no added fee, making it far cheaper than spending direct on most cards.

Some of you will have had a Supercard as part of a limited trial last year. If you still want it, you need to reapply. The big difference is it now has a 2.99% fee for cash withdrawals, so while the exchange rate's the same as the top specialist credit cards, it's costlier for cash.

Plus you don't get the added Section 75 protection with Supercard, even if you link it to a credit card. However, if you link it to a card that pays you cashback or rewards, you will get those.
7.
Free £10 when you load £50+ on top PREPAID cards (anyone can get one). With prepaid cards, you load cash, use 'em like a debit card - and there's no credit check. The rates can be very good, but unlike the options above, here you get the rate on the day you load - great if the rate drops, bad if it improves.

- Top pick for dollars, euros & some others: Sign up via this WeSwap* link (we've blagged another 3,000 of these) to get an extra £10 when loading £50+. It'll give you the perfect interbank exchange rate for a year, provided you wait a week for the conversion to happen (normally there's a 1% fee for this). There's no ATM fee if you withdraw over equiv of £200ish but there is for less. Full analysis: WeSwap.

- Top pick for other currencies: The Revolut card* gives the perfect interbank rate for more currencies, with no fees on spending or ATM withdrawals (up to £500/mth, 2% above that). Sign up and use the code MSE for an extra £5 when loading £500+. Full analysis: Revolut.

For more help and to see how prepaid cards stack up against the top credit cards, see Cheap Prepaid Cards.
8.
Should I pay in pounds or euros? And other key questions...

Q. When they ask 'do you want to pay in pounds or euros', what do I say? In a nutshell, pay in euros, for why see my pay in euros? blog. And as for just how costly it would be if you get in wrong, MSE Guy found out first-hand last week (he got it right) - see his Paying in pounds rip-off blog.

Q. Will withdrawing cash abroad hurt my credit file? On the right card it's cheap, but there is a possible impact - see withdrawing abroad.

Q. Why've I been charged extra at a bureau? Pay on a credit card & it counts as a cash withdrawal - full help in Paying at bureaux.
9.
Is your bank card an overseas DEBIT CARD FROM HELL? Not only do they add around 3% to the exchange rate and an ATM fee, they also charge up to £1.50 every time you use it to spend overseas.



DO YOU HAVE A DEBIT CARD FROM HELL?
Bank of Scotland | Halifax | Lloyds | Santander
TSB | NatWest/RBS (hell for small spends) | Clydesdale/Yorkshire


ANY other card, including a credit card (if repaid IN FULL), is cheaper to spend on than these. See full Beware the debit cards from hell info.

And to find what all your plastic charges, use the TMM iPhone app, TMM Android app or our How good is your current plastic? checker.
10.
Take a peek inside my overseas travel wallet. Are you part of the 'overseas wallet or purse' club? I am. After all, there are some things you only need when abroad. The first is a specialist credit card - these tend to be pretty poor for UK use, so mine lives in the wallet till I go away. To find out what else is in there, take a peek inside it.




PS: Got post-Brexit travel money questions? MSE Sally & Rosie are doing a Twitter Q&A at 1-1.30pm on Fri. Send questions to @MoneySavingExp.
Get friends on board the MoneySaving bandwagon.
If this email's ever helped you, please forward it to friends and suggest they get it via moneysavingexpert.com/tips.
The answer's yes-ish. Special credit cards give you loans - there's a fee, but the potential savings are HUGE
The cheapest loan, especially for under £3,000, is often a special credit card. You'll have heard of 0% balance transfers where a card pays off existing credit card debts for you. A few also offer money transfers within 60 days of getting the card, allowing you to pay cash into your bank account to use at will, so you then owe the card instead. There's been a big price war over the last year, and with another new deal launching this week, it's time to give you a rundown.
Top money transfer 'loans' - 40mths 0% or 4.9% for 5yrs. With these credit cards apply or ask specifically for a 'money transfer'. Done right, the only cost is a one-off fee based on the size of the loan. Here are the top picks...

- Virgin Money (eligibility calc / apply*) for a 1.69% fee (min £3), you get 32mths 0% (19.9% APR after).
- Ends Thu 7am: Tesco (apply*) for a higher 3.94% fee, you get a longer 40mths 0% (20.6% APR after).
- New. MBNA 5 (eligibility calc / apply*) Not 0%. For a 0.5% fee, you get 60mths 4.9% interest (8.9% APR after).

Fix your repayments: Credit cards give a dangerous freedom to choose what to repay, yet loans have fixed repayments. To replicate this, use the loan calc to see the repayments needed to clear it within the cheap period and pay that or more.

Which card wins for you? Assuming the money transfer eligibility calc shows you've decent acceptance odds, if you can pay the loan off in 32 mths, go for Virgin; for longer, Tesco. Even over 5 yrs on fixed repayments, MBNA 5 doesn't beat these - it's only good if (be careful) you can't fix repayments and may need to pay little at first and more later. Here's how they compare to the cheapest standard loans (they require a good credit score).

TOP cards AND LOANS
£2,000 2yr LOAN COST
£3,000 4YR LOAN COST (1)
The very cheapest normal loan (eligibilty calc / apply*) 7.3-7.9%
£168
£468
Virgin (eligibility calc / apply*) 32mths 0% money transfer, 1.69% fee
£34

£175

Ends Thu 7am.

Tesco (apply*) 40mths 0% money transfer, 3.94% fee
£79
£153
For a full list of cheaper loans, including for larger amounts, see cheap loans and APR examples. (1) In practice you should pay off the card within the 0% period, this is an illustration that you'd still save even if it went a bit beyond that
The Golden 'money transfer' card rules. See 0% credit card loans for full info.
1) Be careful with new borrowing. Ensure you budget, minimise the amount and repayments are affordable.
2) Want the loan just to clear existing credit/store cards? It's cheaper using a top 0% balance transfer card.
3) Is the loan for something you can buy with plastic? If so, 0% purchases cards have no fees, so can be cheaper.
4) These are good for money and balance transfers, but nowt else. Avoid cash withdrawals or spending on them.
5) Never miss min repayments & clear before the cheap rate period ends. Or the rate jumps to the APR.
20% off ALL main 1yr Railcards code - Two Together, Family, 16-25 or Senior. Makes 'em £24. See Railcard code. Plus, until Thu, Virgin Trains (West Coast) sale, eg, Ldn-Manc £20 rtn, Birm-Glas £20 rtn. On Jul-Sep. Virgin sale
What does Brexit mean for your pocket? Mortgages, EHIC, savings, house prices, etc. Martin's Brexit Q&A
80p iPhone 5 case, 31p purse, via Dotcomgiftshop 20% code off up to 80% sale. MSE Blagged. Till Mon, stock up... Cheap gifts
Amazon Prime FLASH 1-day sale next Tue... TRICK for non-Prime customers to get it. Amazon's promising big discounts if you're on its £79/yr Prime service. Yet if you don't have Prime, there's a trick: Amazon FLASH sales & how to get 'em
Bank with Barclays, Halifax or Co-op? You may OWE tax. The cashback & rewards on these accounts are often NOT covered by the new personal savings allowance. Find what to do in Barclays, Halifax, Co-op rewards alert
Tesco Wine code: £10 off £75 (new & existing custs). MSE Blagged. We've 5,000 Tesco Wine* codes - just enter XXKHGX by Sun (or till codes run out if sooner). Full info: Wine Deals. Pls be Drinkaware.
Tell your friends about us
They can get this email free every week
Nurofen's been slapped for nonsense 'targeting pain' claims. Our new research reveals six need-to-knows
The pharmaceutical industry's full of genuine wizards. Both those who make the drugs that help and the marketeers who use a raft of tricks to persuade us there's hidden magic in their brands. Our Cheap Medicines guide has long cautioned about this. Last week Advertising Standards said Nurofen's TV ad "misled" people with nonsense that its Joint and Back Pain product specifically targeted those areas. So we've done our own new research on other medicinal balderdash...
1. It's the name you're paying for - Nurofen's overpriced by 692%. It's a medicine's 'active' ingredient that does the business. The rest is irrelevant (unless you've certain allergies), though liquid capsules do deliver it quicker. Over a week in June we compared 15 branded products at their cheapest price against the cheapest generic. Nurofen was the worst at £1.98 compared to its 25p generic ibuprofen equiv - Calpol, Anadin and Clarityn were up there too. See Revealed: 15 Brand Drugs Hikes.

Yet the psychology is powerful, as Pam Facebooked,"When I worked in pharmacy I steered customers to non-branded items, as they're EXACTLY the same but a fraction of the price. Some still bought the brand as "it works better for them".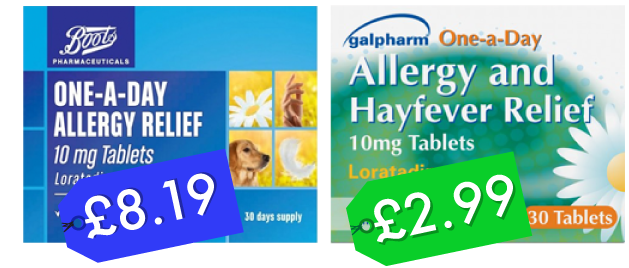 2. IDENTICAL tablets, same store - huge price difference. The Boots and Galpharm hayfever tablets pictured here are identical - made by the same manufacturer, sold in the same store. Yet there's a £5.20 price difference between them. While supermarket own-brands are pretty reasonable, Boots and Lloyds pharmacies can be costly, so check for cheaper generics.
3. IDENTICAL tablets, IDENTICAL brand - different packaging. Eg, Anadin Ultra and Anadin Period Pain are the same. Big drugs brands often change the packaging to make us think it's a special product, and it's not just Anadin - Sudafed and others do it too. It's clever - when you're hurting, you might think 'there must be a reason for saying it's good for back pain' and not look for cheaper options. Yet there's a trick to spot identical products.
4. Free meds for coughs, colds and more. If you or your child gets free prescriptions, the little-known Minor Ailments scheme often means you can get other free meds too, eg, paracetamol, eye-drops, creams.
5. Big savings for regular prescriptions. If you're in England and pay for prescriptions, it's £8.40 per item. But if you pay more than once a month, check out prescription season tickets, which can save you large.
6. Achoo! 120 hay fever tablets £3. 4mths' generic equivalent to Zirtek. Not to be sniffed at. See Cheap Hayfever Tabs.
CAMPAIGN OF THE WEEK
Tell the Govt how to improve support for carers. Carers look after family, friends or others suffering from long-term physical or mental ill health, or disability. They give huge amounts of time and energy - which can mean their own health and finances are affected. Now the Department of Health's planning a strategy to support carers, and it's asking what needs to be done. Whether you're a carer, someone cares for you or you have other expertise, take its online survey and tell it how to make things better.
THIS WEEK'S POLL
Which Tory candidate would make the best PM? Of the five from the start of the process. Sorry, but none isn't an option...
62% are scared about their finances post-Brexit. Last week's poll unsurprisingly showed those who had voted leave in the referendum were far more positive - with 73% optimistic about their finances - than those who had voted to remain - with just 6% optimistic. Leave voters were far less vocal though, as, despite winning 52% of the vote in the referendum, they only made up 38% of those who voted in our poll compared to 55% for remain. See how 42,074 of you voted in the Brexit finances poll results.
MARTIN'S APPEARANCES (WED 6 JUL ONWARD)
Thu 7 Jul - Good Morning Britain, ITV, Holiday Special, 7.40am and 8.40am. View previous
Fri 8 Jul - This Morning, ITV, Martin's Quick Deals, Holiday Special, from 10.30am. View previous
Fri 8 Jul - Good Morning Britain, ITV, Holiday Special, from 7.40am. View previous
Mon 11 Jul - BBC Radio 5 Live, Lunch Money Martin, noon. Subscribe to podcast
TEAM APPEARANCES
Wed 6 Jul - Share Radio, 11.20am
Thu 7 Jun - BBC Radio Manchester, 4.20pm
Tue 12 Jul - BBC Radio Cambridgeshire, 2.20pm
QUESTION OF THE WEEK
Q: My annual travel insurance policy ends in Dec this year, but I want to book a holiday now for a date that falls after this - in Jan 2017. If I fall ill and have to cancel the holiday, will I be covered? Zoe, by email.
MSE Tony's A: If you need to make a claim to cancel between now and Dec you will be covered, as insurers base their decision on the date you cancel the trip, NOT the date of the trip.
To be covered if you have to cancel between December and your departure date, avoid having any gap in cover. So have a new policy in place to start as soon as the old one ends.
If you plan to take more than one holiday next year, consider an annual travel policy from £9, but if the January trip will be your only holiday in 2017, a single trip policy (from £5) could be better. See full help in Cheap Travel Insurance.
Please suggest a question of the week (we can't reply to individual emails).
'MY NEIGHBOUR NICKED MY BIN'
That's it for this week, but before we go, check out this forum thread on borrowing your neighbour's bin. There's little that riles people quite as much as rows over rubbish collection, and a post on whether it's OK to pop a sack in the garbage next door has evolved into a full-blown debate on bin etiquette. Join the discussion (but pls, keep it clean).
We hope you save some money,
Martin & the MSE team
We think it's important you understand the strengths and limitations of this email and the site. We're a journalistic website, and aim to provide the best MoneySaving guides, tips, tools and techniques - but can't promise to be perfect, so do note you use the information at your own risk and we can't accept liability if things go wrong.
What you need to know
This info does not constitute financial advice, always do your own research on top to ensure it's right for your specific circumstances - and remember we focus on rates not service.
We don't as a general policy investigate the solvency of companies mentioned, how likely they are to go bust, but there is a risk any company can struggle and it's rarely made public until it's too late (see the Section 75 guide for protection tips).
We often link to other websites, but can't be responsible for their content.
Always remember anyone can post on the MSE forums, so it can be very different from our opinion.
Please read the Full Terms & Conditions, Privacy Policy, How This Site is Financed and Editorial Code. Martin Lewis is a registered trade mark belonging to Martin S Lewis.
More about MoneySavingExpert and Martin Lewis
What is MoneySavingExpert.com?
Founded in February 2003, it's now the UK's biggest consumer help website with more than 10 million people getting this email and about 13 million using the site every month. In September 2012 it became part of the MoneySupermarket Group PLC. Its focus is simple: saving cash and fighting for financial justice on anything and everything. The site has over 80 full time staff, more than a third of whom are editorial - researching, analysing and writing to continually find ways to save money. More info: See About MSE.
Who is Martin Lewis?
Martin set up and runs MSE, and still writes this email each week (unless it says so). He's an ultra-focused money-saving journalist and consumer campaigner with his own ITV prime-time show The Martin Lewis Money Show and weekly slots on Radio 5 Live, This Morning and Good Morning Britain, among others. He's a columnist for publications including the Telegraph, Sunday Mirror and Woman magazine. More info: See Martin Lewis' biography.
What do the links with an * mean?
Any links with an * by them are affiliated, which means get a product via this link and a contribution may be made to MoneySavingExpert.com, which helps it stay free to use. You shouldn't notice any difference; the links don't impact the products at all and the editorial line (the things we write) isn't changed due to them. If it isn't possible to get an affiliate link for the best product, it's still included in the same way. More info: See How This Site is Financed.
As we believe transparency is important, we're including the following 'un-affiliated' web-addresses for content too:
Unaffiliated web-addresses for links in this email
halifax.co.uk, apply.creation.co.uk, welcome.aquacard.co.uk, travelex.co.uk, tescobank.com, sainsburysbank.co.uk, weswap.com, revolut.com, uk.virginmoney.com apply.mbna.co.uk, ikano.co.uk, tesco.com, hsbc.co.uk, co-operativebank.co.uk, firstdirect.com, santander.co.uk, theaa.com, zopa.com, gocompare.com, comparethemarket.com, confused.com, moneysupermarket.com, directline.com, aviva.co.uk, admiral.com
Financial Conduct Authority (FCA) Note
Where we feature insurance products, referring people to insurers or insurance intermediaries can in some circumstances constitute an FCA regulated activity. For this reason, pages with links which take you to the sites of insurers or insurance intermediaries are hosted by MoneySavingExpert.comLimited on behalf of MoneySupermarket.comGroup PLC.

It's also worth knowing that MoneySupermarket.com Financial Group Limited is authorised and regulated by the Financial Conduct Authority (FRN: 303190). The registered office address of both MoneySupermarket.com Group PLC and MoneySupermarket.com Financial Group Limited (registered in England No. 3157344) is MoneySupermarket House, St. David's Park, Ewloe, Chester, CH5 3UZ. Telephone 01244 665700. MoneySavingExpert.com Limited is an appointed representative of MoneySupermarket.com Financial Group Limited.
To change your email or stop receiving the weekly tips (unsubscribe): Go to: www.moneysavingexpert.com/tips.