Test whether mortgage, credit card, energy and other firms want you enough to give you the best deals. If not, how to MAKE 'EM want you



Every firm judges whether it desires you as a customer based on its bespoke wish-list of what is a profitable customer. It's like a beauty parade, so today we'll teach you how to make yourself as attractive as possible. Even if you succeed, tastes vary - no one is fancied by all.

The key is boosting your creditworthiness. When you apply for credit (loans, mortgages, cards, energy on direct debit, monthly car insurance, contract mobiles etc) lenders predict future behaviour based on your past.

If you've had problems, or you've no history to predict from, expect rejections or costlier products. Even a perfect history doesn't ensure acceptance - they also assess if you can afford products. Here's a 16 credit boosting tips crash course.

1.
Join the FREE MSE Credit Club to interrogate what lenders really think of you. We launched the revolutionary, totally free MSE Credit Club in September to try to demystify the 'acceptance' process, and uncover the true picture of your financial appeal.

It includes a free Experian Credit Score, but lenders don't stop there and we wanted to mimic what they do more closely, so we don't stop there either. It incorporates the features below, many of them unique...

1. Experian Credit Score - how lenders rate your past credit behaviour.
2. Affordability Score - mimics how lenders check whether you can afford a product or deal.
3. Credit Hit Rate - how likely you are to be accepted when you apply.
4. Credit Card & Loan Eligibility Calcs - your odds of getting top deals.
5. How to improve your credit profile - shows where it's strong & weak.

And we're working on adding a lot more, including your full Experian Credit File, how scores change over time and what mortgage you can afford. If you join now, we'll let you know once these are added.
2.
Space out credit applications. Lots of applications, especially in a short time, can harm your creditworthiness, even if you're rejected. So spread out applications and do the most important first.
 
 
3.
Check credit reports annually and before important applications. The three main credit reference agencies, Experian, Equifax and Callcredit, hold reports that chart key info about your financial past. Errors can kibosh applications, so checking them is crucial - preferably all, but at least the biggies (Experian and Equifax).

You've a legal right to see them for £2 each, but find how to check your credit reports for FREE (soon, Experian will be available free via Credit Club). Check line by line for errors. If you miss a mistake, you may be rejected. If you keep applying after, that can harm too. So act sooner.
4.
Beware even minor address errors. Sounds trivial, but isn't. As Martin recalls: "I did a TV money makeover for a woman looking to buy a house who couldn't work out why she'd been rejected for a mortgage. It turned out she had an old, technically active but unused mobile still registered to her old home. That was the final straw killing her application."
5.
Holding hands and snogging are fine, but beware joint mortgages, loans & bank accounts. If your credit file is linked to someone else, lenders can see their history when you're assessed, so be careful if they've a bad history.

Linking is nothing to do with marriage, holding hands or sharing a bed, it's about whether you've a joint mortgage, loan, bank account and sometimes utility bill. If wrongly linked, see How to delink your finances.
6.
Bizarrely, the best way to (re)build a poor score is to get credit - and get PAID to do it. Credit scoring is about predicting future behaviour based on your past. Those with a poor history do poorly, as do those with little history, as predicting's tough. The catch-22 is as you have a poor history, getting credit is difficult.

Yet there are special credit (re)build cards which are easier to get. So get one, then do £50-£100/mth of normal spending on it (never withdraw cash) & repay

IN FULL

each month so there's no interest. After 6mths to a year, you'll start to gain a decent history. Just ensure you never miss or are late repaying.

Will you be accepted?

Our Poor Credit Eligibility Calc (Credit Club members can access it by logging in) shows which of these cards (and others) you're most likely to get, and doesn't affect your credit score. Better still, some top cards have rewards.

Aqua Advance (eligibility calc / apply*) gives a £20 Amazon voucher after 2mths, as long as you've used it and paid on time. Aqua Reward (eligibility calc / apply*) gives 0.5% cashback. They're a horrid 34.9% rep APR and 39.9% rep APR respectively if you don't repay in full.

If you need to, there are also two cards that give 0% borrowing for 6mths. Generally if you've credit issues you should avoid that, but you can use them as respite from hefty payday loans / overdraft interest. They're Tesco Foundation (eligibility calc / apply*) & Aqua Purchases (eligibility calc / apply*). After the 0% they're 27.5% & 34.9% rep APR.

If you can't even get these, the last resort is the Credit Improver package for really bad credit, which costs £15 upfront, then from £5/mth.
7.
Where do lenders get their info from? It comes from three sources - they plug in all to judge you when you apply:

(i) Your application form tells them crucial 'affordability info' and more.
(ii) Past dealings you've had with them. A lender you've banked with has more info on you - sometimes good, sometimes bad.
(iii) Your credit reference files, which include electoral roll info, products you have, court judgments & more.
8.
Ensure you're on the electoral roll. If not, getting credit's tougher, as it can cause ID and tracing issues. If you're worried about junk mail, opt out of the 'open' register. See full electoral roll help.
9.
Do they fancy me? The most important way to judge attractiveness is 'Will I be accepted for the product?'. The only way to know is to apply but that marks your credit file. Our eligibility calculators show your odds of getting top cards without harming your creditworthiness.

If you're a Credit Club member you can log in and check there. If not, you can speedily check, without signing up, via the following links...



Eligibility calculators...
0% Balance Transfer Cards | Cashback Credit Cards | 0% Spending Cards | Cheap Spending Abroad Cards | Cheap Loans

10.
Time it right - when you apply can have a big impact. Applications stay on files for a year - bad stuff (such as defaults & CCJs), six years. So if they lapse soon, wait before applying. Also avoid lots of applications in a short time.
11.
Slash debt costs to boost your score - up to 41mths 0%. Lowering interest itself doesn't help (though it boosts your coffers) but as it results in more of your repayments clearing the debt, meaning it drops quicker, that can boost your score. See Best Balance Transfers for how.
12.
Never miss or be late on repayments. Use a direct debit to be sure, even if just for the minimum (then you can manually repay more).
13.
Be accurate and consistent on application forms. Lenders may verify your income and if it's wrong, you may be auto-declined. Inconsistencies over job title or mobile number can also trigger a fraud fail - another form of rejection. See Fraud scoring.
14.
Withdrawing cash on credit cards can harm your score. It's expensive & lenders see it as evidence of poor money management. See Is it different for overseas cards?
15.
Get unfair defaults removed. If there's one on your file (eg, you didn't pay a catalogue loan as it failed to deliver the goods), get it removed or it can be a killer. For how, see Remove unfair defaults help, and even if it's fair, see how to mitigate the damage from defaults.
 
 
16.
What ISN'T on your credit file. Many believe every element of their lives is there, but actually it's mainly just a strict set of financial data. So to bust some myths, you won't find...

Student loans (except pre-1998 starters) | Council tax arrears | Parking or driving fines | Who you're married to | Declined applications | How many times you've checked your file (you see this, lenders don't) | Criminal records | For the full list, see What's on your credit file and What's not on your credit file.




That's just the start. For the full set, see our 37 Credit Boosting Tips guide.
Spread the (MoneySaving) love.
If this email's ever helped you, please forward it to friends and suggest they get it via moneysavingexpert.com/tips.
It has a 16% cheaper tariff under another name. If you've not switched in a year, this is a no-brainer
It's Martin here. I've a quick trick for all British Gas gas & electricity customers - especially those with it out of loyalty or who can't be bothered to switch. I've mentioned it on TV in the last couple of weeks, to a phenomenal response, eg, MonteCristo tweeted: "@MartinSLewis just switched electricity and gas for my 90 yr old nan from British Gas to Sainsbury's, which is BG. Saved £329, cheers."
Sainsbury's Energy is British Gas under another name, but FAR cheaper. BG licenses Sainsbury's Energy and sells its wares under it. Yet in reality it's the same firm, same gas, same electricity, same service & same safety. The call centre's separate, but that's still run by BG, while if you've a smart meter you can get the tariff but will lose online functionality. And price-wise based on typical use...

- BG standard tariff (66% of people are on standard tariffs): £1,044/yr
- Sainsbury's cheapest is its Price Promise Nov 2017: £877/yr. Plus as it's a fix, the rate's locked in for a year (though cost depends on usage) - useful as price hikes are predicted. It's available (not in NI) for dual fuel only on direct debit, with £20/fuel exit fees.

As far as we can see, in every region and at every usage level it's cheaper than British Gas's standard tariff. It's also far cheaper than any other British Gas tariff currently available, though past MSE British Gas collective tariffs are cheaper. So just flick across to it - don't worry, there's no downtime, your gas/elec stays on, and barring the price there's little practical difference.

How to get it and grab an extra £30 cashback. You could just call up, but as cost varies by region/usage, the best way is to do a quick comparison to see your exact price & saving and compare it with others. This link takes you to our Cheap Energy Club 'top picks' page, which includes Sainsbury's so it's easy to find. Plus you get £30 cashback which you WON'T GET if you go direct to Sainsbury's.

Q. I'm not with British Gas - can I get it? Yes, but why not switch to the comparison's overall winner?
Q. What if I've got exit penalties on my BG tariff? It won't charge them if you switch to Sainsbury's.
Q. Is it cheaper than BG 'HomeEnergy free elec on Saturdays/Sundays' deal? Here, you pay the same £1,044/yr rate as standard but get 8 hours' free elec a week; roughly 4% of a week. Sainsbury's is 16% less.

If you're willing to switch firm you can save MORE. Even Sainsbury's Energy isn't that cheap. Take 5 mins to do the comparison and you can save far more. Eg, the cheapest tariff on typical use is £822/year. Or check Green Star unlimited, which fixes the price regardless of what you use. More help in Cheap gas & elec.
The top-paying savings bank account pays 3% on £5,000 - the trick is opening three of 'em
Last week Santander 123 halved its market-leading interest rate. And it's not alone: First Direct, Halifax, HSBC, Lloyds, M&S & TSB have all announced similar. Yet there's still a way to earn decent interest on a decent chunk, via Bank of Scotland. Warning: Its rate is unmoved since August's base rate cut. It says it won't announce a cut this year, though as it must give 60 days' notice if it does, any drop shouldn't come in till March at the earliest. After that, who knows? This could be short-lived.
Step 1: Open THREE accounts paying 3% on £5,000. The Bank of Scotland current account pays 3% AER variable if you've £3,000 to £5,000 in it - if you select the 'Vantage' feature when applying. It allows you to have three accounts, but some MoneySavers have found issues opening the 2nd or 3rd too quickly. Waiting 48 hours between each and calling it instead of applying online seems to be easier.

Of course this means couples can have 6 accounts between them, so £30,000 saved.

Step 2: How to meet its criteria for all 3 accounts. There's no requirement to use its 'switching service' (which closes your existing bank account) and with two of them you shouldn't, though there's nowt wrong with using one as your main account. Each account requires you 'pay in' £1k/mth, and have two direct debits paid out from it each month. Some tips...

- Meet the min-pay in by recycling £1,000s. Set up a standing order to move it from account 1 to account 2, then two days later to account 3, but keep cash in to pay the direct debits. See how to jemmy the pay-in.
- Create extra direct debits. If you don't have enough, set up small ones to savings accounts or even to charity. Bank of Scotland doesn't care where the money goes, as long as they're direct debits. See full alternatives.

Other options (and easier routes) to keep interest high. As the 3% is paid if you've £3k-£5k, you can cover all combinations from £3k to £15k except between £5k & £6k by using a combination of 2 or 3 accounts.

If that doesn't fit you can have two Tesco Bank accounts, paying 3% on up to £3,000 with no minimum pay-in or direct debits (though of course this week Tesco was hacked). If you've less, you'll earn more in an account such as Co-op's, which pays £150 for joining and at least £4 a month in rewards if you jump through hoops.

For big savers, or those looking for a simple life, in a range of circumstances Santander 123 is still a winner even after its rate cut. See Martin's Santander: ditch or stick? blog for more and full best buys in Top Savings.
Tell your friends about us
They can get this email free every week
Now even a bank has been hacked. What to do if you've been affected and the lessons everyone can learn
For the first time we know of, a UK bank has suffered a direct hack, its online vault broken into, and there's been theft from 9,000 Tesco Bank current accounts. If you're affected, see our new Tesco Bank hack - your rights article. And while there's nowt its customers could've done to stop it, we're all still vulnerable unless we're vigilant. Here are our top 5 online self-defence tips - see more in Stop Scams.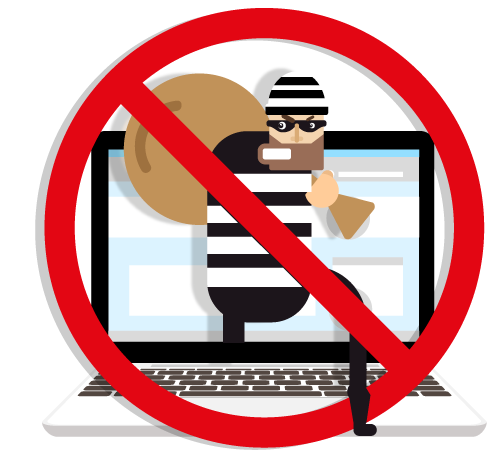 1) Get antivirus software - it's FREE. Simple but effective. Free Antivirus
2) New. How to choose the right passwords & keep 'em secure. It's simply not safe to use the same password for different account logins - if a website's hacked and your details are compromised, your other accounts will also be at risk. Our brand-new 60-sec guide to password security explains tips, tricks & tools to choose and remember passwords.
3) Two-min check to see if hackers have stolen your data. Find out if passwords, email addresses, your home address, phone numbers or your date of birth have been exposed via a Hack check.
4) Filter out fake deals in your Facebook feed. Our Deals team uncover many bogus offers popping up on Facebook feeds, eg, Lidl allegedly giving an £80 voucher to everyone for its birthday. These offers are a con - if something seems too good to be true, it probably is. Here's how to spot Facebook fakery.
5) Know how to check if a link's real - eg, where does bbc.co.uk go? Not all links are genuine - fraudsters exploit this a lot. To find where a link goes, on a laptop or desktop, hover your mouse over & read what's at the bottom of the screen - but sometimes they can fool you still. Always look where you're clicking (we bet you checked that time).
THIS WEEK'S POLL
Can you DIY it? How skilled are you? Life throws up lots of tests, and often things that should be simple aren't as easy as you'd think. We've 15 to choose from, incl...
Zog Energy turns up the heat on the big boys. The small energy firm came top in last week's poll on energy firms' customer service - for the second time in a row - with 90% of those voting for it rating it 'great'. Extra Energy again propped up the table with 72% rating it 'poor'. Among the big six, EDF and E.on tied for the top slot with 60% 'great', while Npower was again bottom with 52% 'poor'. See full energy service poll results.
MARTIN'S APPEARANCES (WED 9 NOV ONWARD)
Thu 10 Nov - Good Morning Britain, ITV, Deals of the Week, 7.40am. View previous
Fri 11 Nov - This Morning, ITV, Martin's Quick Deals, from 10.30am. View previous
Mon 14 Nov - This Morning, ITV, from 10.30am
Mon 14 Nov - BBC Radio 5 Live, Lunch Money Martin, noon. Subscribe to podcast
TEAM APPEARANCES (SUBJECTS TBC)
Wed 9 Nov - Share Radio, 11.20am
Wed 9 Nov - BBC Radio Cumbria, 1.45pm
Thu 10 Nov - BBC Radio Tees, 10.35am
Fri 11 Nov - BBC South West stations, breakfast
Tue 15 Nov - BBC Radio Cambridgeshire, 2.20pm
QUESTION OF THE WEEK
Q: I've just traced a lost bank account. It's been in credit for 20 years - but as it's been dormant, am I still due interest on it? Tom, by email.
MSE Sam's A: Yes, you're entitled to it all if it's an interest-paying account. You should get interest for the full period - the bank should tell you how much it is and how to get hold of the cash (it can differ by bank).
While you've found your lost account, for anyone else reading this, there's a website set up by the industry, My Lost Account, which allows you to trace old accounts. See full info on how to get lost money in bank, savings, investment and pension accounts in our Reclaim Forgotten Cash guide.
Please suggest a question of the week (we can't reply to individual emails).
'Love it... the official one had better be good' - a student's John Lewis ad tribute
That's it for this week, but before we go...The often eagerly awaited John Lewis Xmas advert launches on Thursday - but some reckon a student's effort to pay homage to the company's Christmas commercials for his coursework could well be better than what comes out. Tell us what you think (and have a watch)...
We hope you save some money,
The MSE team
We think it's important you understand the strengths and limitations of this email and the site. We're a journalistic website, and aim to provide the best MoneySaving guides, tips, tools and techniques - but can't promise to be perfect, so do note you use the information at your own risk and we can't accept liability if things go wrong.
What you need to know
This info does not constitute financial advice, always do your own research on top to ensure it's right for your specific circumstances - and remember we focus on rates not service.
We don't as a general policy investigate the solvency of companies mentioned, how likely they are to go bust, but there is a risk any company can struggle and it's rarely made public until it's too late (see the Section 75 guide for protection tips).
We often link to other websites, but can't be responsible for their content.
Always remember anyone can post on the MSE forums, so it can be very different from our opinion.
Please read the Full Terms & Conditions, Privacy Policy, How This Site is Financed and Editorial Code. Martin Lewis is a registered trade mark belonging to Martin S Lewis.
More about MoneySavingExpert and Martin Lewis
What is MoneySavingExpert.com?
Founded in February 2003, it's now the UK's biggest consumer help website with more than 10 million people getting this email and about 13 million using the site every month. In September 2012 it became part of the MoneySupermarket Group PLC. Its focus is simple: saving cash and fighting for financial justice on anything and everything. The site has over 80 full time staff, more than a third of whom are editorial - researching, analysing and writing to continually find ways to save money. More info: See About MSE.
Who is Martin Lewis?
Martin set up and runs MSE. He's an ultra-focused money-saving journalist and consumer campaigner with his own ITV prime-time show The Martin Lewis Money Show and weekly slots on Radio 5 Live, This Morning and Good Morning Britain, among others. He's a columnist for publications including the Telegraph, Sunday Mirror and Woman magazine. More info: See Martin Lewis' biography.
What do the links with an * mean?
Any links with an * by them are affiliated, which means get a product via this link and a contribution may be made to MoneySavingExpert.com, which helps it stay free to use. You shouldn't notice any difference; the links don't impact the products at all and the editorial line (the things we write) isn't changed due to them. If it isn't possible to get an affiliate link for the best product, it's still included in the same way. More info: See How This Site is Financed.
As we believe transparency is important, we're including the following 'un-affiliated' web-addresses for content too:
Unaffiliated web-addresses for links in this email
welcome.aquacard.co.uk, welcometo.aquacard.co.uk, tescobank.com, uk.virginmoney.com, apply.mbna.co.uk, halifax.co.uk, confused.com, gocompare.com, moneysupermarket.com, aviva.co.uk, directline.com, admiral.com, bank.marksandspencer.com, ikano.co.uk, firstdirect.com, santander.co.uk
Financial Conduct Authority (FCA) Note
MoneySupermarket.com Financial Group Limited is authorised and regulated by the Financial Conduct Authority (FRN: 303190). The registered office address of both MoneySupermarket.com Group PLC and MoneySupermarket.com Financial Group Limited (registered in England No. 3157344) is MoneySupermarket House, St. David's Park, Ewloe, Chester, CH5 3UZ. Telephone 01244 665700. MoneySavingExpert.com Limited is an appointed representative of MoneySupermarket.com Financial Group Limited.
To change your email or stop receiving the weekly tips (unsubscribe): Go to: www.moneysavingexpert.com/tips.