WINTER IS COMING - time for our checklist




Don't be fooled by the recent warm temperatures. Nights are rapidly drawing in, clocks will soon go back, and the annual X Factor/Strictly battle is in full swing. It can only mean one thing - time to winterproof your home. So save money on energy, plus get cheap roadside recovery, free insulation and more, with our annual checklist.

1.
Is it REALLY cheaper to leave the heating on low all day? The truth behind this & 16 other common energy-use conundrums - eg, should you paint radiators black? The arguments aren't always clear-cut. See what you should do in Energy Mythbusters.
2.
Do you fumble for your stopcock? Everyone should know where it is. The last thing you want is to be desperately groping around in the middle of the night (ahem). It's your mains water off-switch and if a pipe bursts, not knowing where it is could cause massive damage, costing thousands to repair. See how to turn it off.
3.
Is your energy company ripping you off by £300+/yr? Stop it in 5 mins. Switching to the best energy deal is easy with our Cheap Energy Club. It shows the whole of the market, and savings can be huge. 66% of you are still on a standard variable tariff - those who are with the big six pay an average £1,132/yr based on typical use. Yet the cheapest deal is a typical £820/yr. Plus you get £25 cashback (£12.50 per fuel) if we can switch you. Some can save big - Zoe tweeted: "@MartinSLewis Persuaded mum to join your Energy Club & switch. £602.40 saving a year!"

Yet we know many are scared of small new companies they've never heard of, which dominate the cheapest deals and often have poor or no feedback - so our links make it easy to pick the tariff that suits you (once there, use our filters to change what you see). All links order results by savings including cashback...

- The overall cheapest deals - save £300+/yr
- Cheapest with decent customer service - save up to £295/yr
- Cheapest from 'Big Name Suppliers' - save up to £260/yr
- Cheapest from your current supplier - save up to £260/yr
- Show me MSE's Top Picks - save up to £295/yr

PS. Ofgem's changed the way it calculates average annual typical usage, reducing gas consumption by 500 kWh/yr, so our savings calcs have changed.
4.
Worried about switching? Don't be. It's the same gas, same electricity, same pipes - at a better price. No-one visits your home, and you don't need to contact your old supplier. The only thing that changes is the price and service. It only takes 5 mins to pick, and all you need is a bill (we'll guesstimate it for you if you can't find one).

Almost anyone can switch, including renters, those with smart meters or those in debt (by less than £500). Plus as long as you're on a standard variable tariff, or there are fewer than 49 days left on your fix, you won't pay any exit fees. See full energy switching FAQs.
5.
Free loft and cavity wall insulation FOR EVERYONE - worth £600+. Two big energy companies are offering these to suitable homes, even if you're not a customer - and unlike previous offers you don't need to be on benefits. They could cut your bills by up to £450/yr. Yet cavity wall insulation isn't right for everyone. See how to get it, and check it's right for you.
6.
Full breakdown cover £43, basic for £26 - to stay protected through winter. Problems are more likely in winter, the consequences more severe.

Top pick: For breakdown, home start and onward travel cover, AutoAid* charges £43.31/yr. It covers any car you, your spouse or civil partner drive. It also improved its claim service last year so you no longer need to pay and then reclaim.



Cheaper policy but less cover:

For basic policies you can (after cashback) get RAC basic cover for £26 or AA for £27. Full deals in Cheap Breakdown Cover.



Don't want to switch? HAGGLE.

Some 86% of AA and 85% of RAC customers who tried got lower rates in our most recent poll. Beverley emailed: "Just saved £22 on my AA renewal and got it fixed for 2 years at that price just by ringing up and threatening to leave." See Breakdown Cover Haggling.
7.
Already switched energy? Check if you're owed £100s from your old firm. If you pay by direct debit, you've likely built up credit over the low-use summer period. Since 2014, providers have been much better at giving it back automatically when you switch, but if they don't, ask. See Energy reclaim.
8.
Cut boiler costs by £100+. Many energy firms use our fear of a) losing heating and b) thinking there's a link between energy provider and boiler cover to charge hefty insurance costs. But you can go elsewhere. Amanda emailed: "I swapped my boiler cover company and saved £213 a year whilst also increasing cover - and still with an annual service included. Thanks."

Full help in our detailed Cheap Boiler Cover guide (incl if you need it at all) - at super-speed though:

a) Try uSwitch* and add Energyhelpline* & MoneySupermarket* for a wider comparison.
b) Choose between boiler-only, or central heating cover. See what boiler cover do I need?
c) If it's right for you, get cover ASAP, before the true cold weather kicks in, as almost all new policies have a no-claims period within the first 14-30 days. See more need to knows.
9.
Stay toasty with a sausage dog. Why not try some old-school heat-saving tips to keep warm, including DIY sausage dog draft excluders, Chimney Sheep and lining your curtains with cheap fleece. Plus, see more forumite tips in the Winter Prep thread.
10.
Paying for energy by monthly direct debit is cheaper. Suppliers offer discounts of around 7% if you pay this way. Always give regular meter readings to get accurate bills. If estimated, you could end up with overly inflated monthly payments or face a bill shock if you've not paid enough. And if you think it's too high, you've a right to challenge it - see Fight Unfair Energy Direct Debits.
11.
Wrap up warm - grab some cheap winter clothing. Get up to 60% off at Marks & Spencer - eg, £10 jumper (was £30) - and up to 70% off at Asos. For more cheap clothing, see our High Street Sales Diary.
12.
Are you entitled to extra winter help? Winter can be tough. But there's help available, especially if you're on a low income...

a) Winter Fuel Payments. If you were born on or before 5 Aug 1953, regardless of your income, you're eligible for the up-to-£300 one-off winter fuel payment. If you get certain benefits, eg, state pension, pension credit or jobseeker's allowance, you'll usually get it automatically - otherwise you may have to claim. See Winter Fuel Payments info.

b) Warm Home Discount. If you were on pension credit on 9 Jul, you'll get an automatic one-off £140 rebate on your electricity bill sometime between Oct and Mar, unless you're with some smaller energy firms. If you've a prepay or pay-as-you-go meter you won't get it automatically, but you can apply for it directly with your supplier. Other low-income families can also be eligible - check if your provider pays the discount.

c) Cold Weather Payments. Anyone on certain benefits, eg, specific income support/jobseeker's allowance/pension credit, gets £25 for every 7 consecutive days it's zero degrees or less from 1 Nov to 31 March. It's paid automatically. Full details: Cold Weather Payments.
 
 
13.
Choosing between heating and eating? If you're seriously behind, or in general financial hardship, you may be eligible for special tariffs/help. Try the Energy Saving Trust on 0300 123 1234 for England, Wales & NI or Home Energy Scotland on 0808 808 2282. Also see our Housing & Energy Grants & Debt Help guides.
 
 
Saved cash? Shout it from the rooftops.
If this email's ever helped you, please forward it to friends and suggest they get it via moneysavingexpert.com/tips.
This venerable name is back at the top of the best-buy tables as rates continue to rise
Banks are finally competing for your cash, as expectation grows that the Bank of England will increase the base rate next month. While many recent best buys have been from smaller firms, now a biggie has joined the fray. So if you've cash to save, it's a great time to make it work harder. All accounts below have £85,000 per person UK savings protection, unless stated...
New. Top 1.27% easy access with the Post Office. The Post Office is once again a top pick with this easy access account, offering savers 1.27% AER variable, including a 1.02% bonus fixed for 12mths. It's online-only, but you can open it with just £1 and add and withdraw cash at will, so if rates rise you can move. It's run by the Bank of Ireland, but has UK savings protection.

- RCI Bank pays a higher 1.3% AER variable (min £100), but isn't protected by the UK FSCS, so you'd rely on the French scheme in the unlikely event it went bust.
- Bank of Cyprus UK plans to increase its easy-access rate to 1.28% AER variable from Wed evening.

Get 1.9% fixed if you lock your cash away for a year. Top 1yr fix accounts pay more, but you can't access the money for the year and you won't benefit if rates rise. Top payer is Harrods Bank (which is being bought by challenger bank Tandem) at 1.9% AER but with a huge £20k minimum. Kent Reliance offers 1.85% AER (min £1k), and Atom is 1.8% AER (min £50).

Get up to 5% easy access on smaller amounts. Some current accounts offer high-interest easy access as a loss leader to draw in your custom. Yet while you don't have to switch to 'em, there may be strict criteria to take advantage. Nationwide FlexDirect offers 5% AER interest FIXED for 1yr on up to £2,500, 1% after. Tesco Bank is 3% AER variable on up to £3,000 until at least Apr 2019, and you can open two of them. Full details and more options in Top Bank Accounts.
Lots more help and deals, incl 5% for regular savers, in Top Savings and Regular Savings.
It normally dishes out £100 but every once in a while ups this - NOW is the moment if you want to grab it
Switching's easy. In seven working days your new bank will move across your direct debits and standing orders, close your old account and ensure all payments go to the new one. A huge 76% told us it was no hassle in our last poll. As Ken said: "I'm really impressed I changed - got my £125 as promised and my account was switched in seven days."
It's back. Free £125 + no.1 service. Via this link, First Direct* gives £125 to new switchers (£100 if you go direct), plus it's won every customer service poll we've done, with 90% most recently rating it 'great'. You can save up to £300/mth for 1yr in its 5% fixed regular saver, and some get a £250 0% overdraft. Pay in £1,000 within 3mths to get the bonus, then £1,000/mth to keep the account free; if not, it's £10/mth.

Free £200 + linked 5% savings. New HSBC Advance* switchers get £150 for switching and £50 more if you're still with it after a year. Plus there's access to a linked 5% regular savings account in which you can put up to £250/mth for 1yr. Apply online, then call up or go to a branch within 30 days to start the switch (incl 2+ direct debits/standing orders), register for online banking within 60 days, and pay in £1,750+/mth.
All accounts credit check you when you apply. For full info, eligibility and more options, see Best Bank Accounts.
Tell your friends about us
They can get this email free every week
With the deadline clock ticking Hugh's extraordinary story shows the power of our PPI reclaiming tool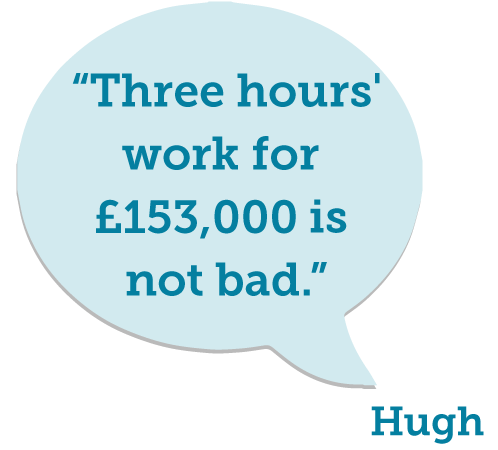 "We started the first claim in April using MSE's PPI reclaim tools and it was far easier than I thought. The information was so good - it was just so simple.
"Between us, we were mis-sold 12 policies for credit cards and loans, with one payout of £43,300. I think each claim took between 10 and 15 minutes max. Three hours' work for £153,000 is not bad.
"The money has allowed us to clear our debts - before, we got to the point we were paying the bare minimum on credit cards. We've also put a 'fair amount' in savings, and we're now seeking to move to a new home.
"My wife actually says she doesn't believe it's happening. It's almost dream-like, everything has flipped on its head. My message is quite simple, you've got nothing to lose - it takes a very little amount of time."
£28 This Works beauty box code. MSE Blagged. Incl 'deep sleep' pillow spray & moisturiser. £67ish sold separately, 1,300 avail. Beauty box
Clarks & Dr. Martens 25% off code incl discounted items, eg, £62 boots (norm £97). MSE Blagged. Incl delivery. Ltd stock, ends Sun. Rubbersole
SUCCESS OF THE WEEK: (Send us yours on this or any topic)
"Hello, thanks to your broadband haggling help I reduced my monthly payments by over 50% for the next 18 months. Big hugs."
2mths' free OK, GQ, Cosmopolitan, Good Housekeeping & 2,000+ other mags. MSE Blagged. Via app, to read on phone or tablet. Ends Mon. Mag-nificent.
CAMPAIGN OF THE WEEK
Teachers: sign up for a free financial education conference. Charity Pfeg, part of Young Enterprise, is running the event for teachers interested in financial education in London, on 7 Nov. There'll be like-minded teachers, informative workshops and you'll hear why 'fin ed' is so important in schools. Register on the Pfeg website under the Centres of Excellence Conference. If you can't make it to London there are also loads of resources on the Pfeg website.


MARTIN'S APPEARANCES (WED 11 OCT ONWARD)
Thu 12 Oct - Good Morning Britain, ITV, Deals of the Week, 7.40am. See previous
Fri 13 Oct - This Morning, ITV, Martin's Quick Deals, time TBC
Mon 16 Oct - This Morning, ITV, time TBC
Mon 16 Oct - BBC Radio 5 Live, Lunch Money Martin, 12noon. Subscribe
MSE TEAM APPEARANCES (MOST SUBJECTS TBC)
Wed 11 Oct - BBC Cumbria, Money Talks with Ben Maeder, from 6pm
Fri 13 Oct - BBC South West stations, Good Morning with Joe Lemer, from 5am, winter tips
Tue 17 Oct - BBC Radio Cambridgeshire with Jeremy Sallis, 2.20pm
QUESTION OF THE WEEK
Q: My daughter booked four seats directly with Monarch from Manchester to Tel Aviv, each costing over £100 but as it's collapsed they're no longer running. She paid in full with her credit card, can she get a refund? Ros, by email

MSE Callum's A: She should be able to. Under Section 75 of the Consumer Credit Act the card firm is jointly liable for anything that costs more than £100 if the service is not provided, and must refund the cardholder if they make a claim.
In this case each flight must have cost more than £100 per person which it does in her case.
There is a small chance she may be covered by the Government's Atol compensation scheme - in which case she'd claim under that rather than Section 75. However, this only applies to Monarch flights booked on or before 14 December 2016, which will be the minority of flights as it was so long ago. See our Monarch help guide for full info and template letters to claim.
Please suggest a question of the week (we can't reply to individual emails).
THE ADVENT CALENDAR CREATING A STINK
That's it for this week, but before we go... we've spotted all kinds of advent calendars with chocolate and lots more stuff you'd expect. But last week we noticed one sure to cause a stir... a cheese advent calendar coming out next month. Early reaction on our CHEESE advent calendar Facebook post is mixed with it causing a stink for some, but others are going crackers for it. Check it out via our Facebook page, add your view and let us know the oddest advent calendar you've seen.
We hope you save some money,
The MSE team
We think it's important you understand the strengths and limitations of this email and the site. We're a journalistic website, and aim to provide the best MoneySaving guides, tips, tools and techniques - but can't promise to be perfect, so do note you use the information at your own risk and we can't accept liability if things go wrong.
What you need to know
This info does not constitute financial advice, always do your own research on top to ensure it's right for your specific circumstances - and remember we focus on rates not service.
We don't as a general policy investigate the solvency of companies mentioned, how likely they are to go bust, but there is a risk any company can struggle and it's rarely made public until it's too late (see the Section 75 guide for protection tips).
We often link to other websites, but can't be responsible for their content.
Always remember anyone can post on the MSE forums, so it can be very different from our opinion.
Please read the Full Terms & Conditions, Privacy Policy, How This Site is Financed and Editorial Code. Martin Lewis is a registered trade mark belonging to Martin S Lewis.
More about MoneySavingExpert and Martin Lewis
What is MoneySavingExpert.com?
Founded in February 2003, it's now the UK's biggest consumer help website with more than 12 million people getting this email and about 13 million using the site every month. In September 2012 it became part of the MoneySupermarket Group PLC. Its focus is simple: saving cash and fighting for financial justice on anything and everything. The site has over 80 full time staff, more than a third of whom are editorial - researching, analysing and writing to continually find ways to save money. See About MSE.
Who is Martin Lewis?
Martin set up and is chairman of MSE. He's an ultra-focused money-saving journalist and consumer campaigner with his own ITV prime-time show The Martin Lewis Money Show and weekly slots on Radio 5 Live, This Morning and Good Morning Britain, among others. He's a columnist for publications including the Telegraph, Sunday Mirror and Woman magazine. See Martin Lewis' biography.
What do the links with an * mean?
Any links with an * by them are affiliated, which means get a product via this link and a contribution may be made to MoneySavingExpert.com, which helps it stay free to use. You shouldn't notice any difference; the links don't impact the products at all and the editorial line (the things we write) isn't changed due to them. If it isn't possible to get an affiliate link for the best product, it's still included in the same way. See How This Site is Financed.
As we believe transparency is important, we're including the following 'un-affiliated' web-addresses for content too:
Unaffiliated web-addresses for links in this email
admiral.com, aviva.co.uk, directline.com, comparethemarket.com, confused.com, gocompare.com, halifax.co.uk, apply.mbna.co.uk, hsbc.co.uk, firstdirect.com, moneysupermarket.com, energyhelpline.com, uswitch.com, autoaidbreakdown.co.uk, sainsburysbank.co.uk
Financial Conduct Authority (FCA) Note
MoneySupermarket.com Financial Group Limited is authorised and regulated by the Financial Conduct Authority (FRN: 303190). The registered office address of both MoneySupermarket.com Group PLC and MoneySupermarket.com Financial Group Limited (registered in England No. 3157344) is MoneySupermarket House, St. David's Park, Ewloe, Chester, CH5 3UZ. MoneySavingExpert.com Limited is an appointed representative of MoneySupermarket.com Financial Group Limited.
To change your email or stop receiving the weekly tips (unsubscribe): Go to: www.moneysavingexpert.com/tips.