†
Martin's Weekly Briefing: For more tips, alerts & puns, follow Martin on Twitter

- Shift LOANS to just 3.3% or even interest-free if they're small
- Move OVERDRAFTS, CREDIT CARDS or STORE CARDS to 0%
- Get rid of PAYDAY LOAN and CATALOGUE debts


There's no one-size-fits-all approach to tackling debt. Yet they all have one thing in common: less interest means more of your repayments clear the actual debt, so you are debt-free quicker. Let me tackle each debt type one at a time.

1.
Cut credit card costs - get 23mth 0% (or 39mth 0% for a 3% fee). This is easy as there's fierce competition to cut your interest. It's all about balance transfer deals, where you get a new card that repays debts on old cards for you, so you owe it instead. Yet don't just apply, that marks your credit file - use our Eligibility Calc to find your acceptance odds first.



The top new cardholder 0% balance transfers

Go for the LOWEST FEE, if you're sure you can repay in that time

Card
0% deal (REP APR AFTER 0% ENDS)
ONE-OFF FEE
Halifax* - longest no-fee 0% card
Up to 23mths 0% (18.9%)
NONE
AA* - no-fee card where 0% length isn't an 'up to'
22mths 0% (19.9%)
NONE
Barclaycard* - good midway card

Up to 32mths 0% (18.9%)
1.13%
MBNA* - longest 0%
Up to 39mths 0% (20.9%)
2.98%
Tesco* - longest 0% where length isn't an 'up to'
38mths 0% (20.6%)
2.7%


As Michelle emailed us: "Thank you. I was paying through the nose for £1,700 on Capital One, it'd have taken YEARS to pay it off. I tried your eligibility checker, got 36mths 0% and will now pay it off within that timeframe." That's an approx saving of £980 in interest. Yet follow the golden rules...

a) Repay at least the set monthly min, or you can lose special rates.
b) Always clear the card/shift again before the 0% ends, or rates jump.
c) Don't spend/withdraw cash on them, it's rarely at the cheap rate.
d) Unsure what to pick? Use our Which Card Is Cheapest? tool. Full help in Top Balance Transfers (APR Examples).
2.
Shift store card debts to 0%. These are just credit cards you only spend with in one store (or group of stores), but with far costlier interest. Eg, Debenhams' is 24.9% APR, Homebase's is 29.9%. But just like with credit cards, you can balance transfer store card debt, so follow the best buys and tips in point 1 above.

Before you read on - you need to understand 0% money transfers


I'm oft asked if you can shift loans, overdrafts or other debt onto 0% credit cards. You can, but only via a specialist 0% 'money transfer' deal, yet this opens a wide door for cutting loan, overdraft and other debt costs - so let me brief you before you carry on.

What is a money transfer? It's a credit card deal letting you pay a lump sum into your bank account, to use as you like, so you owe the card for it. Full help in Top Money Transfers (do follow the Balance Transfer Golden Rules above).

What are the top deals? Virgin Money* offers new cardholders 32mths 0% money transfers for a one-off 1.69% (min £3). For longer, this other Virgin Money* card's 36mths 0% for a 2.39% fee (min £3). The Money Transfer Eligibility Calc shows your acceptance odds. After the 0% ends these jump to 20.9% rep APR (APR Examples).

†
†
3.
Cut big personal loans to 3.3% or small ones to 0%. The big question is: "Can you get a new loan to clear your current one and save?" The problem is you could be charged up to 2mths' interest to pay your loan early. So...

STEP 1: Call your current lender and ask it three things: a) What your 'settlement amount' is, ie, how much it'd cost to pay off your loan today b) How many monthly repayments you have left c) The exact amount of your repayments.

STEP 2: Work out what you will pay if you stick with your current loan, by multiplying the remaining months by the repayment amount.

STEP 3: See what rate you could get on borrowing the settlement amount elsewhere. Use our Loans Eligibility Calculator to see your chance of getting a cheap deal.

If you're borrowing under £3,000 then the cheapest route is likely to be doing a 'money transfer' (see above). Above that, a cheap loan wins. For £3,000-£4,999, Zopa* is 4.6%-6.9% rep APR. For £5,000-£7,499, Sainsbury's* is 4.2% rep APR with a Nectar card (4.3% without). For £7,500-£15,000, M&S Bank* is 3.3% rep APR. Full info: Cheap Loans.

STEP 4: See if using the new borrowing to clear your current loan is cheaper than just continuing to repay. Our Cut Existing Loan Costs Calc can help.

As Becki emailed: "A big thank you. I took out a loan at a terrible rate - £7,500 interest on £15,000. I applied for a cheaper loan thanks to your email. Interest is around £1,000, so I used it to pay off the previous one saving £6,500."
†
†
4.
Shift your overdraft to 0%. Debit cards can be debt cards too - if you're in your overdraft it's often more costly than credit cards, especially if you bust your limit. With both ways to get out of this, you'll need pass a credit check...

a) Switch to a 0% overdraft: First Direct* offers £150 to join it and a £250 0% overdraft (you must pay in income of £1,000/mth) so if your overdraft's under £400, this pays some off & the rest is interest-free.

Alternatively, Nationwide's* 0% overdraft can be bigger depending on your credit score, but it only lasts a year (50p/day after), so see it as an opportunity to slash it during that time. See 0% overdrafts.

b) Use a 0% money transfer credit card. In some ways it's just simpler to pay it off with a money transfer card (see above) - especially for larger amounts.
†
†
5.
Payday loans. These loans are typically only supposed to last up to a month, for a max £1,000, but many get stung by huge interest rates. The best thing to do is avoid them (see Payday Loan Help for full info), but if you've got one or more there are a few things to try:

a) Credit score OK? Repay with a 0% money transfer (see above).
b) The Aqua card*†gives 4mths 0% on spending (hideous 34.9%†rep APR after) and accepts some with poor credit scores (use the Eligibility Calc to check). The aim here is to use it temporarily so your income can be used to clear the payday loan. Step-by-step help in Repay payday loans via Aqua.
c) See if you're eligible for a Govt-backed 0% loan.
d) Can your local credit union offer a cheaper alternative?
e) Can you get, or extend, an overdraft? See Full overdraft help.
†
†
6.
Catalogue loans. These are a way of buying goods by post, internet or phone & spreading the cost. Yet check interest charges, they can be scarily high. If so, use similar techniques to payday loans above.
†
†

Debt FAQs

Q. What about student loans? In many cases here you're better to save than clear it. See my Should I pay off my student loan? guide.

Q. What about mortgages? I've focused on unsecured debt but if you want to cut mortgage costs, see my Free Remortgage Booklet and the Should I overpay my mortgage? guide.

Q. Can I shift loans onto my mortgage? While rates may be lower, as you're spreading repayments over a much longer period it'll likely cost more. If you're going to do it, at least increase your mortgage repayments by what you were paying on the loan. See Shift debts to your mortgage?

Q. I've multiple debts. Which should I focus on? The one with the highest APR, as it's growing most quickly. Focus all spare cash to clear it. Full pros and cons in Which card to repay first.

Q. I'm not getting great deals - how do I improve my credit rating? Big question, so see my 35 Ways to Boost Your Credit Score guide.

Q. I've got savings - should I use them to repay my debts? In general, yes. See my Repay Debts or Save? guide for full help.

Q. I can't sleep at night due to my debts. Help... A very common emotion, especially at this time of year. Do any of these apply to you?

- You can't even meet just minimum monthly payments.
- You have non-mortgage debts bigger than a year's salary.
- You have sleepless nights or depression/anxiety over debt.

If so, then forget my solutions above and get free, one-on-one debt counselling help from Citizens Advice, CAP, StepChange or National Debtline. They are there to help, not judge. The most common thing I hear after is: "I finally got a good night's sleep." Read some inspiring stories in our Debt-Free Wannabe forum and also see my Mental Health & Debt guide. Full info: Debt Crisis Help.

The Martin Lewis Money Show
Does your bank owe you £1,000s? Fri 8pm ITV (repeat Sat 4.30pm)

Last week my show was 'can you save £1,000?' If you missed it, you can watch online. This week it's whether your bank owes you £1,000s, in bank account fees, bank charges or card protection cash and more. Do watch, or set the Betamax.
†
Spread the (MoneySaving) love.
If this email's ever helped you, please forward it to friends and suggest they get it via moneysavingexpert.com/tips.
†
†
6 tips to slash the cost of mobile phones - incl tools to analyse your bill & same signal, lower price
Multiply your monthly mobile cost by 12 and it can be £100s or even £1,000s a year. Yet huge savings are possible. Our 30+ Mobile Tips show you how to slash costs. Here we ring up the big 6...
1. Why pay more than £18/mth? Our benchmark is O2's* Sim-only 12mth contract, with unlimited minutes, unlimited texts and a decent 4GB of 4G data. If you pay more, why? There are some excuses: i) Your contract includes handset costs; ii) Your credit score stops you getting a contract (if so, try cheap PAYG deals); iii) You roam; iv) You need more data.
2. Buy the handset outright and get a cheap Sim-only deal. We believe contracts that include handsets should show an APR, as effectively you're signing up to a loan to pay off the handset with up to 40% interest added - see Hidden mobile phone APRs. Usually (there are exceptions) it's cheaper to just buy the handset, even using a 0% credit card if you must, and get a cheap Sim-only deal, as Danielle tweeted: "@martinslewis, just saved £446 by switching to a Sim-only deal with Vodafone."
3. Free tool to analyse your bills. Two sites will log in to your online account and analyse your bills to find your cheapest tariff: Billmonitor* has a little more detail, MobilePhoneChecker* covers more networks. See Mobile Matchmaking. Forumite dalleDF tried it: "Did Billmonitor check - switching to Sim-only, saving £21/mth".
4. Can you find your cheapest tariff, cheaper? It may be possible via a reseller such as Carphone Warehouse. MoneySup* gives a quick search, MobilePhoneChecker* a detailed one. See our 'before you buy' checklist.
5. Pay less without switching signal. Many people tell us, "I can't switch, as there's only one network that gives me coverage at home/work." But there are only really 4 UK networks, all the rest use their signals, eg, Asda is EE, Giffgaff's O2, iD Mobile's Three, Talk Mobile's Vodafone. So you've still a choice - see our full Mobile Piggybacking List.
6. Haggle. If you're near your contract's end, try haggling a new handset and/or far cheaper deal. For those who do, success rates in our poll are strong: Vodafone 77%, EE 63%, Three 62%, O2 57%. See Mobile Haggling Tips. As forumite Phillw says: "Productive call with O2, I was offered a £10/mth discount PLUS £150 bill credit."
†
Forum Hottie: Boots sale boosted to up to 70%, eg, £18 Soap & Glory set. Ltd stock. Full info in Boots sale boost. Plus other stores are boosting sales too - House of Fraser has gone to 70%. See full High street sales boosts list.
Bank with Barclays? Get free £55/yr min. Co-op? £48/yr. Not best buys, but if you're sticking get free money.
Got Sky line rent? Huge opportunity to slash costs. Due to the regulator's intervention after its price hike, Sky's extended the period in which its line rent customers can leave contracts penalty-free, opening up a great window to haggle. The type of savings people get include this from Brian: "Rang Sky & asked it to match Virginís Big Kahuna movies & sport - now £50/mth, down from £100/mth." Full help in Beat Sky price hikes.
£10 off £30 Amazon trick for parts of Eng, eg, in & around Manc, Birm, Ldn, Newcastle. See Amzn £10 off.
£14 Hi-Tec trainers, £19 waterproof boots. MSE Blagged. Via 60% off footwear code for 10 styles. Hi-Tec
31 New York MoneySaving tips. Planning a trip to the Big Apple? Take a bite out of it with our new 31 NYC trip tips.
†
†
†
†
Tell your friends about us
They can get this email free every week
†
†
†
Dreaming of sun & sea? Don't let travel-lust destroy your wallet. Pay the min for flights, hotels & packages
It's cold and dark, so it's no surprise January is the year's biggest holiday-booking month. We're going to bring you a full holiday booking guide soon, but here are 5 quick need-to-knows to tide you over...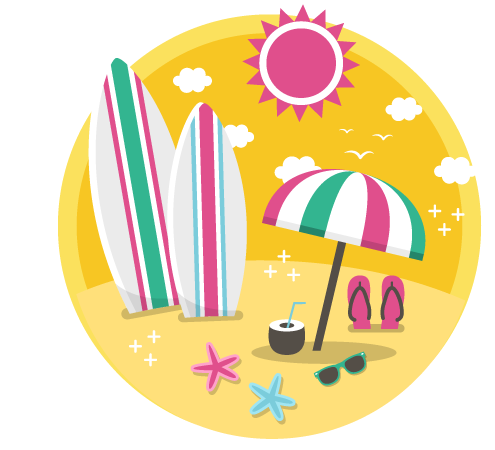 1. Slash flight costs using the RIGHT comparison site. Use the right tool for the job. a) Kayak* and Skyscanner* are the most powerful. b) But if you're going to a traditional package holiday destination, eg, Majorca, use TravelSupermarket* & Flights Direct* as they also include many charter flights. c) If you want to know when to book, use Momondo's* flight insight tool - typically best prices come if you book 53 days in advance. See 28 Cheap Flight Tricks.
2. Find the cheapest rate for the hotel you want. If you know which hotel you want, try Trivago* and TravelSup* comparisons to track down the cheapest. Full step-by-step: Cheap Hotels.
3. Haggle down package holiday costs. Summer package holidays often win for 7, 10 or 14 days in a traditional tourist destination. The cheapest time to book is within 8wks of travel as prices plummet in the 'lates' market, yet there's limited choice and flexibility. Otherwise, book now while there are early-bird discounts on at Thomas Cook, First Choice, Thomson, Virgin etc. Better still, haggle to find which travel agent will sell it you for less. Forumite Yinster says: "I was looking to go to Vegas. I was originally quoted £1,400/pp, but after calling around got the same deal plus an extra night for £1,150/pp. Very happy." Full help in Cheap Package Holidays.
4. Uncover secret hotels & bag big discounts. Lastminute.com* & others offer 3-5 star UK & world 'secret hotel' discounts. You only find out the hotel once you book - yet we can show how to uncover secret hotels before booking.
5. Booked your holiday? Get travel insurance NOW (it's just £13/year). Many book a holiday, then leave sorting the travel insurance until they go. This is bonkers - it defeats half of what you're paying for, as in the event of cancellation, injury, illness, or death in the family, you've no cover. So sort it as soon as you book - see Cheap Travel Insurance.
More HOLIDAY MoneySaving: Cheap Travel Money, Car Hire, Cheap Airport Parking, 50+ Overseas Travel Tips
†
†
THIS WEEK'S POLL
When did you last check your credit file? A small error on your files at credit reference agencies Experian, Equifax or Callcredit can cause havoc, so checking your file is important.
When did you last check your credit file?
You feel better off than your parents: At least that's what the 19,174 who voted in our poll last week said. In every age category you felt more well-off than your parents had been at the same age. However, it was the older 50+ category that felt the most advantaged, with 79% feeling better off compared to just 54% of those aged under-25. See the full results.
†
†
†
†
†
MARTIN APPEARANCES (WED 13 JAN ONWARD)
Thu 14 Jan - Good Morning Britain, ITV, Deals of the Week, 7.40am. Watch previous
Fri 15 Jan - This Morning, ITV, Martin's Quick Deals, from 10.30am. Watch previous
Fri 15 Jan - The Martin Lewis Money Show, ITV, 8pm. Watch previous
Mon 18 Jan - This Morning, ITV, Money Monday, from 10.30am. Watch previous
Mon 18 Jan - BBC Radio 5 Live, Lunch Money Martin, 12noon. Subscribe to podcast
TEAM APPEARANCES
Fri 15 Jan - BBC Radio Wiltshire, 12.30pm
Fri 15 Jan - BBC Radio Manchester, 4.50pm
Tue 19 Jan - BBC Radio Cambridgeshire, 2.30pm
†
QUESTION OF THE WEEK
Q: Does Section 75 legislation cover charge cards, such as Amex Gold? Nathaniel, via Twitter.
MSE Rosie's A: Spending on charge cards, along with debit cards, isn't considered a credit purchase, so they aren't covered under Section 75, as credit cards are. This means purchases between £100 and £30,000 on a charge card are not automatically protected.
However, there is still a way to try to get your money back if you don't receive the goods you bought, using a little-known scheme called 'chargeback'.
Similar to Section 75, though not enshrined in law, chargeback allows card providers to reverse a payment you've made to a retailer if they agree you've a legitimate complaint, for example a company going bust or goods being faulty. For more information see Chargeback and Section 75.
Please suggest a question of the week (we can't reply to individual emails).
†
How do you know when you're getting old? as asked by a 30-year-old...
That's it for this week, but before we go, check out this thread in the forum - a 30-year-old asking "When do you start feeling old?" Suggestions include picking Shredded Wheat over Frosties, saying "back in my day...", or this: "Two kids cycle towards me, one shouts 'mind the old man', I turn and look over my shoulder - and nobody's there." We'd love your views.
We hope you save some money,
Martin & the MSE team
†
We think it's important you understand the strengths and limitations of this email and the site. We're a journalistic website, and aim to provide the best MoneySaving guides, tips, tools and techniques - but can't promise to be perfect, so do note you use the information at your own risk and we can't accept liability if things go wrong.
What you need to know
This info does not constitute financial advice, always do your own research on top to ensure it's right for your specific circumstances - and remember we focus on rates not service.
We don't as a general policy investigate the solvency of companies mentioned, how likely they are to go bust, but there is a risk any company can struggle and it's rarely made public until it's too late (see the Section 75 guide for protection tips).
We often link to other websites, but can't be responsible for their content.
Always remember anyone can post on the MSE forums, so it can be very different from our opinion.
Please read the Full Terms & Conditions, Privacy Policy, How This Site is Financed and Editorial Code. Martin Lewis is a registered trade mark belonging to Martin S Lewis.
More about MoneySavingExpert and Martin Lewis
What is MoneySavingExpert.com?
Founded in February 2003, it's now the UK's biggest consumer help website with more than 10 million people getting this email and about 13 million using the site every month. In September 2012 it became part of the MoneySupermarket Group PLC. Its focus is simple: saving cash and fighting for financial justice on anything and everything. The site has over 80 full time staff, more than a third of whom are editorial - researching, analysing and writing to continually find ways to save money. More info: See About MSE.
Who is Martin Lewis?
Martin set up and runs MSE, and still writes this email each week (unless it says so). He's an ultra-focused money-saving journalist and consumer campaigner with his own ITV prime-time show The Martin Lewis Money Show and weekly slots on Radio 5 Live, This Morning and Good Morning Britain, among others. He's a columnist for publications including the Telegraph, Sunday Mirror and Woman magazine. More info: See Martin Lewis' biography.
What do the links with an * mean?
Any links with an * by them are affiliated, which means get a product via this link and a contribution may be made to MoneySavingExpert.com, which helps it stay free to use. You shouldn't notice any difference; the links don't impact the products at all and the editorial line (the things we write) isn't changed due to them. If it isn't possible to get an affiliate link for the best product, it's still included in the same way. More info: See How This Site is Financed.
As we believe transparency is important, we're including the following 'un-affiliated' web-addresses for content too:
Unaffiliated web-addresses for links in this email
mbna.co.uk, barclaycard.co.uk, tsb.co.uk, halifax.co.uk, theaa.com, virginmoney.com, sainsburysbank.co.uk, zopa.com, marksandspencer.com, firstdirect.com, nationwide.co.uk, aquacard.co.uk, o2.co.uk, billmonitor.com, mobilephonechecker.co.uk, moneysupermarket.com, gocompare.com, directline.com, leisureguardtravelinsurance.com, kayak.co.uk, skyscanner.net, travelsupermarket.com, flightsdirect.com, momondo.co.uk, trivago.co.uk, lastminute.com, confused.com, google.co.uk, aviva.co.uk, admiral.com, santander.co.uk, cbonline.co.uk, ybonline.co.uk
Financial Conduct Authority (FCA) Note
Referring people to insurers or insurance intermediaries can in some circumstances constitute an FCA regulated activity. For this reason, pages with links which take you to the sites of insurers or insurance intermediaries are hosted by MoneySavingExpert.com Limited on behalf of MoneySupermarket.com Group PLC. MoneySupermarket.com Financial Group Limited is authorised and regulated by the Financial Conduct Authority (FRN: 303190). The registered office address of both MoneySupermarket.com Group PLC and MoneySupermarket.com Financial Group Limited is MoneySupermarket House, St. David's Park, Ewloe, Chester, CH5 3UZ.
To change your email or stop receiving the weekly tips (unsubscribe): Go to: www.moneysavingexpert.com/tips.