| | | | |
| --- | --- | --- | --- |
| Martin's Quick Briefing | For more tips, alerts & inevitable bad puns follow Martin: | | |

It sounds like weirdy-beardy nonsense, but the savings fountain's my concept to more than double many savers' interest. Pour as much cash as possible into the best-paying savings vehicle until it overflows, then fill up the next top, & so on.

1.
Repay expensive debts before saving. Most debts cost more than savings pay. So if you save £1,000 at 3% and owe the same at 18% on a credit card, repay the card with the savings and you're £150/yr better off. Still not convinced? Read the full Repay Debts With Savings? guide.

2.
Start with cash ISAs — 4.25% AER tax-free. Every over-16 can save £5,640/yr in a cash ISA, simply a savings account where you receive more, as the interest's not taxed. Better still, once in an ISA, the savings stay tax-free year-after-year.

Top fixed deals: If you can lock cash away, the top payers are Halifax 3-5yrs* 4-4.25% AER; Santander 2yrs* 4% & 1yr* 3.5%; Saga 1yr 3.6% (over-50s).

Top easy access: Cheshire BS pays 3.35% AER, though it's got a bonus so the rate'll plummet in a year, diarise to transfer then. Full info in Top Cash ISAs.
3.
Check old cash ISAs urgently — is your rate 0.1%? Tax-free's pointless if the rate's pants. Sadly, if your ISA's over a year old, the interest's likely to have dive-bombed. Check NOW, and if so, transfer to a new top payer. The fixed ISAs above (not Saga) allow transfers, and top easy-access is Santander's* 3.3% AER, but transfer again in a year as the rate'll plummet. Full help: ISA Transfers.
4.
Up to 8% AER in a regular saver. If your ISA's full, regular savings accounts, which require monthly contributions, are next. Yet they're taxed, only allow limited amounts, only last a short time, and the best are linked to bank accounts.

Until tomorrow, First Direct* gives £125 to those opening its top-rated customer service bank account and paying in £1,500/mth. Plus, its customers can put £25-£300/mth in its 8% 1yr fixed saver. A 6% regular saver's available for HSBC customers. The best non-linked accounts pay 4%, see Top Regular Savers.
5.
Fix at up to 4.4% AER if you're prepared to lock cash away. If you've more, you'll now need normal savings. High guaranteed rates are possible if you sacrifice access. The longer you lock away for, the bigger the risk other rates will rise and you'll be stuck. Pundits think a few years is fine, though.

Top fixed rates: Secure Trust 5yrs 4.45% & 4yrs 4.1%; BM Savings 3yrs* 4%; Nottingham BS 2yrs 3.8%; Cahoot 1yr* (min £25k) 3.6%. See Top Fixed Savings for full info.
6.
New top easy access — 3.2% AER. The catch-alls are easy access accounts. Santander's* 3.2%, followed by the Post Office* at 3.17%. Both include year long bonuses, so diarise to ditch & switch then. Full options in Top Savings.

A halfway house if you've £25k+ is Investec's High 10, currently 3.17%. It will match the top 10 accounts' average, but needs 3mths' notice to withdraw.
7.
Got a partner? Save in lowest taxpayer's name. Outside ISAs, interest is taxed at your income tax rate. So if one partner pays 40% tax and the other 20%, provided you trust each other, put it in the lower taxpayer's name to get more. For non-married couples (except civil partnerships), be aware if one dies within 7 years of moving the cash, there could be inheritance tax to pay.
8.
Save £10,000s by overpaying your mortgage. If your mortgage rate's higher than the after-tax savings rate, it's better to overpay than save. First ensure there are no redemption penalties and you've got a cash emergency fund. Full step-by-step help in the Should I Overpay My Mortgage? guide.

The impact can be huge. Our Mortgage Overpayment Calc shows overpaying £100/mth on a £100,000 mortgage at 4.5% saves you £18,000 interest.

9.
Don't leave money in your current account. Most pay pitiful or even zero interest, so don't use it to store cash. Sweep money into a high-paying savings account at the end of the month.
10.
With a financial crisis across Europe — are your savings safe? The first £85,000 per person saved in UK-regulated institutions (all biggies except Dutch-protected ING Direct) is guaranteed by UK Govt. If you've more, consider spreading across a few providers. Full help in Are My Savings Safe? guide.

If you're asking about Santander due to Spain's troubles, it's fully covered by the £85k guarantee. See my recent Is Santander UK Safe? blog for a briefing.

That's the way to do it. If this site's ever saved you cash, please forward this email to friends & suggest they get it themselves via moneysavingexpert.com/tips

 

| | |
| --- | --- |
| The Ones Not To Miss | Wed 13 Jun 2012 |
New tool. Take the Downshift Challenge
Can you save £1,000/year on supermarket shop? | New tool calculates downshift savings
Who says 'Finest' is finest? The supermarket flogging it. Don't believe brand hypnosis, you could cut costs by £1,000s...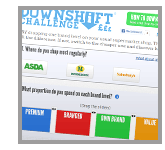 Take the Downshift Challenge. The challenge is to TRY dropping one brand level on everything you buy. Then see if you can tell the difference. If not, switch to the cheaper one. To inspire you, try our fun new Downshift Challenge Tool. Tell it where you shop, how much you spend and the proportion of each brand you buy (premium, manufacturers', own brand or basic) and it'll crunch the numbers. Many can save £1,000s.

Taste with your mouth, not your eyes. Don't let brand snobbery make you think more expensive is always better. [In TV blind tests I've done, most can only tell the difference on half the stuff, and many prefer some lower brands. Personally, I love basic Jaffa cakes but wouldn't wipe my bum with basic loo roll - ML.]
30+ tips to cut supermarket costs. For how to compare your trolley online, maximising gains from Tesco and Asda's price check policies, timing trips to bag the best yellow sticker reductions & more, see 30 Ways To Cut Supermarket Costs. Plus download instant click 'n' print Supermarket Coupons.
Warning. You NEED car insurance, even if not driving
Got a car? You can be fined if cover lapses | Don't auto-renew for ease, save £100s instead
You've always needed cover to drive. Yet for a year now, the Continuous Insurance Enforcement rules mean if your car, van, motorbike or motorhome's uninsured, you're breaking the law whether you drive it or not. It's easy to forget and risk a fine.
Even lapses for hospital or holidays can get you in trouble. The rules are designed to clamp down on uninsured drivers. Anyone who has a vehicle and no insurance can be fined £1,000. After that, after a warning letter, they can clamp, seize or DESTROY it. Only those with a valid Statutory Off-Road Notification (Sorn) who keep their motor off-road (garage or driveway, not roadside or grass verge) don't need cover.
Check NOW when your renewal's due, don't auto-renew for ease. This law's a boon for insurers. They love it when you let cover just roll on, as they can seriously jack up the price with no competition. Check your renewal date now, and diarise SIX WEEKS beforehand to give yourself time to ensure you've the cheapest and best deal.
How to slash costs. In a nutshell, combine comparison services in this order to find your cheapest quote: Gocompare*, MoneySupermarket*, Tesco Compare, then add the ones they miss: Direct Line* and Aviva*. To really slash costs, see the bespoke info and help to find the cheapest insurance for:

Typical Driver | Young Drivers | Driver With Points | Past Claims | 2+ car Homes | Van Insurance | Bike Insurance
Sky TV £100 M&S voucher & £100 cashback deal
Existing customers can get £100 M&S for upgrading to HD | Not eligible? HAGGLE
Subscription TV ain't cheap. After all, even £20/mth is £240 a year. But with no football to draw in the crowds, Sky has some sizzling deals on at the moment. Get the full lowdown in our Digital TV Cost Cutting guide. Here's a snippet...
New to Sky £100 M&S vouch & £100 cashback. Sky's* currently giving £100 M&S vouchers 45 days after you sign up to any new TV package (plus free set-up & box). Better still, sign up via a cashback site to get £100 cashback on HD packages or £50 for normal Sky+. Full how-to & warnings in Sky cashback deals.
Existing customer? £100 M&S plus £25 cashback. Upgrade* to Sky+ HD (£10.25/mth more) to get £100 M&S vouchers from Sky and £25 from a cashback site, so it covers a year's cost. Full how-to & warnings in Sky HD Upgrade.
"I said we'd move to Virgin & got half price for 6mths." A 5-min call to haggle could save you £100s. Here's one of many recent successes: "Got half price for 6 months, then later half price for another 6 months after that! All because I suggested we were moving to Virgin." Of course, if you're with Virgin or BT, it works the other way too. See Digital TV Haggling. Report successes/failures or tweet them to @martinslewis.
New cheapest loans — from 5.9% APR
If you need to borrow, rates dropping | 7.6% APR for £5k to £7,500 or 5.9% APR for more

Rates for bigger loans are dropping. Only borrow if needed, keep it to a minimum, budget to ensure affordability and repay ASAP. Full help in Cheap Loans, here are the new best buys. All require credit checks (see Loan or Card APR examples).
Get a quote without hitting your credit file. These are 'representative APRs' so only 51% of accepted applicants get those rates; others can pay more. Worse, you must apply to find out, which marks your credit file. Yet for £7.5k+ loans, Nationwide's* 6.8% rep APR (6.3% for FlexAccount customers) gives a quote without formal application.
Don't use loans to pay off credit cards. A balance transfer credit card deal's usually cheaper. New Barclaycard* Platinum customers can shift debt to it at 22mths 0% with a 2.9% fee. Repay in full or shift again, or it jumps to 17.9% representative APR. Full help in Best Balance Transfers.
For more options, including peer-to-peer borrowing, and how to borrow for under £5,000, see the Cheap Loans guide.
Warning: Avoid tax credit overpayment hell
Don't ignore your review form | If anything's changed... TELL 'EM, TELL 'EM, TELL 'EM
Over 7m tax credit review forms are being sent out. Most should have arrived. Ignore yours and payments can STOP, or you could be forced to repay cash already spent. Full info in Tax Credit Help, here's a summary:
How to review. If you ONLY get a renewal form (brown envelope), just check the info's correct. If so, do nothing. If wrong, or to report past or future changes, call 0845 300 3900 or post back. If you get a declaration form (white envelope) check and return by 31 July.

Don't delay, do ASAP. The deadline is 31 July, but don't leave it till then. If you've issues, the official hotline for help gets mega-busy. Sort sooner to make your life easier.
Avoid overpayment hell. Being overpaid sounds a dream. But it's a nightmare, as you must pay back the cash, even if already spent. It often happens because people don't tell the tax credit hotline when their circumstances change (eg, move in/out with partner, income, kids, childcare costs). So if anything changes, or has changed, TELL 'EM ASAP. Unsure? Call anyway. Unfair overpayment claw-back? See our Tax Credit Overpayments guide to fight it.
Are you missing out on tax credits? Use our 5-Min Benefits/Tax Credits Checkup tool to check.
the moneysaving community
Donate old books to charity
With summer around the corner (hopefully) Oxfam has launched a drive asking people to donate more books to cover increased demand for holiday reading. Of course, you can flog books for cash (then possibly donate to charity) but if you won't get around to it, give to your nearest Oxfam or other charity shop. Suggest a campaign: This space is for MSE to support other charities', community groups' and campaigners' work. Send your Campaign of the Week suggestion.



Thursday 14 June: Lorraine, ITV1, between 8.30 & 9.30am. Real Deals.

Radio 5, 12-1pm. Consumer Panel.

Friday 15 June: Jeremy Vine, Radio 2, 1-2pm. Subject tbc.

Monday 18 June: This Morning, ITV1.

Tue 19-Thu 21 June: Daybreak, ITV1, Costa del Cash special. Keep costs down abroad.

Team blog this week: Why won't banks give me a savings account?

UK's Best Currency Rates
£100 will buy you:
Best
Worst
€
123.81
111.16
$
154.66
138.73
TL
275.00
240.54
Rates correct at 4pm Tues
Find all top currency rates
Compare travel cash

This week's poll: How do you rate your telecoms provider's service?

If your provider is not listed, check the full list and vote!

Q: I want to change bank. Will it hit my credit rating? Stef, via Twitter.

Martin's answer: In fact, there's no such thing as a credit rating. Each lender scores you differently based on its own wish-list of what makes a profitable customer.

Changing bank can impact it, though generally it's not a worry. The first minor issue is the application for a new bank will go on your credit file, and if you make lots of applications in a short time, that can be detrimental.

Plus, if you've had the bank account a long time, closing it can wipe out a strong history. Having said that, unless you're imminently about to apply for a mortgage or major loan, the impact is likely to be negligible and going for the Best Bank Account is right.

For more information, see the Boost Your Credit Score guide.

Please suggest a Question of the Week (we can't reply to individual emails).
How to pack 10 days of clothes in a carry-on case
That's it for this week, but before we go, if you're looking to beat budget airline fees, a US air stewardess shows how to cleverly pack to maximise hand luggage: packing secrets.
We hope you save some money,
Martin & the MSE team
Important. Please read how MoneySavingExpert.com works
We think it's important you understand the strengths and limitations of this email and the site. We're a journalistic website, and aim to provide the best MoneySaving guides, tips, tools and techniques - but can't guarantee to be perfect, so do note you use the information at your own risk and we can't accept liability if things go wrong.

What you need to know

This info does not constitute financial advice, always do your own research on top to ensure it's right for your specific circumstances - and remember we focus on rates not service.


We don't as a general policy investigate the solvency of companies mentioned, how likely they are to go bust, but there is a risk any company can struggle and it's rarely made public until it's too late (see the section 75 guide for protection tips).


We often link to other websites, but we can't be responsible for their content.


Always remember anyone can post on the MSE forums, so it can be very different from our opinion.


Please read the Full Terms & Conditions, Privacy Policy and how this site is financed. Martin Lewis, MSE, Money Saving Expert, MoneySavingExpert and Moneysavingexpert.com are registered trademarks belonging to Martin S Lewis.
More about MoneySaving Expert and Martin Lewis
What is MoneySavingExpert.com?

Founded in February 2003, it's now the UK's biggest consumer help website with over 6 million people getting this email and nearly 10m using the site. Its focus is simple: how to save cash and fight for financial justice on anything and everything. The site has over 30 full time staff about half of whom are editorial researching, analysing and writing to continually find ways to save money. More info: See About MSE
Who is Martin Lewis?
Martin set up and runs MSE, he's an ultra-focused money saving journalist and consumer campaigner. He has regular slots on Daybreak, Lorraine, Radio 2 Vine, BBC1 Watchdog, Radio 5 Consumer panel and presents ITV Tonight. He is a columnist for amongst others the Sunday Post as well as an author. More info: See Martin Lewis' biog
What do the links with a * mean?
Any links with a * by them are affiliated, which means get a product via this link and a contribution may be made to MoneySavingExpert.com, which helps it stay free to use. You shouldn't notice any difference; the links don't impact the product at all and the editorial line (the things we write) isn't changed due to it. If it isn't possible to get an affiliate link for the best product, it's still included in the same way. More info: See how this site is financed.
As we believe transparency is important, we're including the following 'un-affiliated' web-addresses for content too:

Unaffiliated web-addresses for links in this email

halifax.co.uk, santander-products.co.uk, interactive.firstdirect.com, bmsavings.co.uk, cahoot.com, postoffice.co.uk, gocompare.com, moneysupermarket.com, directline.com, aviva.co.uk, sky.com, barclaycard.co.uk, natwest.com, rbs.co.uk, admiral.com, sainsburysbank.co.uk, tescobank.com, nationwide.co.uk, cbonline.co.uk, energyhelpline.com, uswitch.com, confused.com, homephonechoices.co.uk, productsandservices.bt.com.

Financial Services Authority (FSA) Note
Referring people to insurers or insurance intermediaries can in some circumstances require FSA authorisation. For this reason, Martin Lewis of Shepherd's Studios, Charecroft Way, Shepherd's Bush, London W14 0EH is authorised and regulated by the Financial Services Authority.
To change your E-mail or stop receiving the weekly tips (unsubscribe): Go to: www.moneysavingexpert.com/tips