| | | | | |
| --- | --- | --- | --- | --- |
| Martin's Quick Briefing | | Follow Martin: | | |

This week's news that a huge 58% of English universities will charge the max £9,000 fees for some courses from 2012 has scared many (those already at uni stay on current fees). Yet as the full Students 2012 - the facts guide explains, the actual cost to YOU is more important than the fees. Here's a summary ...

You repay the same each month on a £6,000 or £9,000 course. Graduates' repayments are based ONLY on how much they earn, not their borrowing. For 2012 starters, it's 9% of everything over £21,000 annually (currently £15,000, so 2012 starters will pay less a month than today's graduates).
Many won't repay £6,000/year fees in full - so higher fees won't cost them more. The flip side of lower repayments, coupled with bigger initial borrowing and higher interest, is it takes much longer to repay. Yet after 30 years the debt wipes and many even on £30,000 starting salaries (and rising after) won't even have cleared the combined, full time student, £6,000 tuition fee AND up to £5,500 living loans by then, so there's no additional cost of doing a £9,000 course (see the what'll I repay? chart).
You'll only repay more if you earn a substantial salary. It's important students aren't overly put off picking a course due to the headline fee. If the favoured course is more expensive than others, they'll only repay more if they earn a substantial salary after graduating.


Please do tell any worried students or parents to have a read of the Updated Guide: Student Finance 2012. We've added even more in, based on your questions and some announcements, including NHS bursaries for medical students, Scottish unis, early repayment penalties and more. Related: 2010/11 Student MoneySaving, Repay My Student Loan?

Please help us spread the word

Please forward this email to friends and suggest they
get it themselves via moneysavingexpert.com/tips

| | |
| --- | --- |
| THE ONES NOT TO MISS | 13 July 2011 |
British Gas up to 25% price hike. FIX NOW OR STICK
Urgent! Rumour the cheapest fix is likely to be pulled soon | EVERYONE check now
British Gas announced on Friday it'll hike prices an average 18% for gas and 16% for electricity on 18 August, hammering 9 million customers with a £190 avg rise. Dual fuel customers in some areas face worse rises of up to 25% (see British Gas hike news).
A typical home's avg cost
per year
Scottish Power standard (after rise)
£1,390
British Gas standard (after rise)
£1,286
Average standard (today)
£1,150
Cheapest fix (today)
£1,000
Cheapest online deal (today)
£940
estimated costs, varies by region
EVERYONE check now, even if you're not with BG. This isn't just about BG or Scottish Power which has also announced rises. Energy companies are like sheep, so it's likely the others will follow soon. Check you're on the right tariff now.
Fix NOW if you can't afford rises. A fix guarantees your rate won't rise for a set period, eg, two years. Millions on standard tariffs can typically save £150+ a year with the cheapest fixes, even before price hikes - and get added insurance against price rises. While online 'variable' deals are still cheaper now, just an 8% hike in prices, far less than predicted, would see them more expensive than fixes. Full 'fixing FAQ' in the Cheap Gas & Elec guide.
Rumour! Cheapest fix likely to be pulled. We've heard one of the current cheap fix tariffs may be pulled any day. So if you're going to fix, speed is crucial (as this isn't about just fixing, but fixing cheaply).
Speedily find your cheapest fix (and get cashback/wine). Plug your details into a comparison site and click the 'show only fixed tariffs' tab. Top Comparison: If it can switch you, Energyhelpline* pays £15 cashback per switch whether on gas, electricity or both. Dual Fuel: MoneySupermarket* pays £30 cash, Uswitch* a crate of wine, SimplySwitch* £40 cash (cashback only via these links not direct).

If not fixing - STICK for now. If you don't want to or can't fix (eg, on pre-pay meter or super cheap variable tariff, so fixing's too costly) hold fire and wait until all the big suppliers have hiked prices to compare. Otherwise you could just be jumping from the frying pan into the fire by moving to a provider who then hikes prices even more.
Full tips, help and more cashback in the Updated Guide: Cheap Gas & Elec Related: Energy Efficiency Grants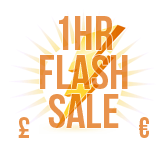 Travelex 1-HOUR currency flash sales
Urgent! Euros, dollars, Turkish lira & others included - perfect for airport pick-up
Summer holidays are nearly here, and giant currency bureau Travelex has tipped us off it's going to boost ONLINE rates in three flash sales this week. If you need currency, this could be a boon.
Travelex 1-hr flash sales. You can order for delivery or airport pick up (useful as buy-at-airport rates are dire). We don't know what the exact rates will be, but in its similar sale last year Travelex hit the best-buys.



All barring $ or €: Wed 11am (inc Turkish lira, Croatian kuna) US dollars: Thur 11am euros: Fri 11am



Our TravelMoneyMax.com holiday money comparison will update with the promo rates during the sale time. Note, ALL bureaux de change are weakly regulated so you've little protection if they fail. Best practice is always minimise the time between paying and receiving the currency (more warnings in the tool).

Beat this using specialist credit cards correctly. A few credit cards give PERFECT exchange rates when you spend on them anywhere worldwide, consistently undercutting bureaux de change. These are Halifax Clarity, Post Office*, Saga Platinum* (over 50s) and Santander Zero (in-branch). Yet you'll need to pass a credit check and should ALWAYS repay in full to minimise interest or pay a respective 12.9%, 16.9%, 11.9% or 18.9% representative APR. Full card-by-card comparison in Cheap Travel Money guide (Official APR Examples).

Rate boost on top prepaid card. Prepaid cards don't require a credit score; you load cash, then spend what's there. FairFX* usually costs £10, but is free via this MoneySup link. It's our usual top pick as it only charges for cash withdrawals, but until 19 July is boosting the exchange rate by around 0.5% on its euro and US dollar cards for £200+ top ups (will show up as the "summer sale" rate) and adds an extra £5 for £500+ top ups. It's important to note if the bank (in this case Newcastle BS) the prepaid card is backed by goes bust, you've no protection.
Full info on all these cards in the Guide: Cheap Travel Money Related: £15/year Travel Insurance
ALL NEW 5% cashback credit card - earn £100s
Best new cashback card for years | Pays 5% for three months and it's a Mastercard
For years Amex Platinum's stood as cashback card King; finally a pretender's gunning for its throne. Cashback cards pay you every time you spend, hoping that'll be more than offset by their interest charges. Yet always set up a direct debit to repay IN FULL each month, so there's no interest and you're quids in. All cards require you to pass credit checks.
New! 5% cashback for 3mths. The Capital One* World Mastercard gives new cardholders 5% intro cashback for 3mths (max £100 within that time); a boon for big, planned purchases, eg, new furniture. After that, it pays decent tiered rates (0.5% up to £6k spending a year, 1% on £6k-£10k, 1.25% on £10k+). Fail to fully repay and it's 19.9% representative APR. Who can get one? You need a strong credit history, crucially must be a homeowner & earn £20,000+.
Amex's 5% + £15 bonus, but fewer retailers take it. Amex Platinum* also gives new cardholders, incl those who cancelled it a while ago, a 5% 3mth promo deal (max £100 at 5%). But its tiers after are slightly better (1.25% on all spending over £7,500). Also, apply by 18 July via the link above for an extra £15 bonus. Yet not everyone accepts Amex. Who can get one? You need a decent credit history and £30,000+ household income. Fail to fully repay & it's 19.9% rep APR.
Long term 1.5% petrol AND supermarket. If you drive, this is a cracker: MBNA Amex* pays 1.5% cashback on petrol & supermarket spending, 0.75% on everything else (repay in full or it's 18.9% rep APR). Who can get one? You need a decent credit history but there's no set minimum income.

Full help, how much you can earn and best-buy rundown in the Updated Guide: Cashback Credit Cards Related: Credit Card Freebies, Airline Credit Cards
Young person car insurance now avg £2,000+
Don't give up. Reduce your risk, speedily compare prices & try GPS trackers
New research shows new drivers' insurance costs now avg over £2,000/yr even for a small hatchback. You can't stop the trend but our Young Drivers' Car Insurance guide shows how to check you're not paying more than needed. Here's a summary ...
Step 1: DOs and DON'Ts. DON'T put someone else as primary driver if it's your car - that's illegal. DO try adding a responsible older person as a second driver to see if it reduces costs, even if they'll rarely drive. DON'T modify your car (barring security) as it can boost the cost. For many more, see the guide.
Step 2: Combine comparison sites. Whether you're a young driver or not, always first combine comparison site results, as each searches different providers. As a minimum, combine MoneySupermarket* AND GoCompare*, then add Aviva* and Direct Line* as they're big ones missed.
Step 3: GPS tracking policies. Now check specialist young person's policies, where you usually get a black box that monitors your driving. Pay per mile: Coverbox*. Pay how you drive: Co-op. Pay less daytimes: i-kube. Then there's Swinton's broker panel and Young Marmalade* (car & insurance together). Full info in the guide.

After that, see if you can get hidden cashback. FULL step-by-step info in the New Guide: Car Insurance for Young Drivers Please Feedback: Did you save? Related Guides: Cheap Car Insurance, Bike
Stamp Duty Calculator - how much will you pay?
Updated tool finds how much you'll owe when buying a home (incl new 5% rate)
Buy a house or flat and you're likely to owe stamp duty (called that as the document used to require a stamp to make the transaction legal). It's one of the biggest lump-sum taxes and, this tax year, some of the thresholds have changed ...
What'll the new house cost? Buy a property for more than £125,000 and you will likely have to pay a percentage of its price to the taxman. The easy way to find out how much is to use our Stamp Duty Calculator which now includes the new rates.
First time buyers may pay less till March 2012. The first time buyers stamp duty waiver means they won't pay the tax for purchases under £250,000. Actually, first time 'owner' is more accurate as the discount only applies if you've never owned property (even inherited) anywhere worldwide. If buying jointly, BOTH must be first timers.
Stamp duty - the UK's most ridiculous tax. It's not the fact there's a tax on property, but how it works that's silly. With every other tax, you only pay higher rates on amounts above a threshold. Here, you pay it on the whole amount. So buy a property for £250,000 and you pay 1% (£2,500) but buy one for £250,001 you pay 3% on the WHOLE amount (£7,500). See Martin's blog: The UK's worst tax
New Tool: Stamp Duty Calculator Related: Free House Valuations, Free Printed Remortgage Guide, Mortgage Guide
Big & Easy Ways To Save
Quick links or click the titles for full pros, cons, alternatives & more savings
See all official APR examples
Great 'MoneySaving city guides, part 1: Paris' Hunt
Summer's upon us and people are off on their hols, so we're starting a collection of MoneySaving guides to different cities. This week it's Paris, so if you've ever been, share your love-capital on the cheap tips. Add your ideas/read other people's: Great 'MoneySaving city guides, part 1: Paris' Hunt Past Great Hunts: View all
Help! How do I make student finance interesting to 16,000 kids at pop concert? Suggestions via Martin's Money rocks blog.
Financial education grants from the MSE Charity
Applications are open again for grants from the MSE Charity. There are two types: Individuals: MSE Charity gives up to £500 grants for financial education courses (specifically basic financial literacy or the OU's personal finance course). Apply by 31 August. Groups/charities: Up to £5,000 is available for projects helping with money management, consumer empowerment or debt avoidance; apply by 30 September. How to apply: Complete the quick application form on The MSE Charity Related: The MSE Charity Fund, How this Site is Financed
Nationwide customer? Vote in its AGM and 20p goes to charity. It's important to vote anyway, eg, to approve/reject directors' pay. It also means donations to MacMillan Cancer, Alzheimer's Society or Shelter. See Forum Note: Nationwide AGM
Real Life MONEY MORAL DILEMMA:
Should I share the council tax payment?
This week's MoneySaver who wants advice asks ...
Last year another student and I moved in with a non-student. As students, we were exempt from council tax and the employed girl got a 25% single person discount. I reluctantly agreed to split the bill three ways, although I couldn't afford it. When I finished my course, we lost my student discount and I was unemployed so instead I claimed council tax benefit. It finally arrived just as I started a full-time job. My employed housemate now thinks I should share the benefit with the student as her costs went up, but I regard the cash as mine. Enter the Money Moral Maze: Should I share the council tax payment? Previous MMDs: View All Suggest: A Money Moral Dilemma

Question Of The Week

MoneySaving Polls

Q. I was thinking of making my partner a joint signatory on my bank account, giving her access to my account with a debit card. However, she has a very bad credit history after her divorce and I have an excellent credit rating. Will she drag down my rating? Steve

MSE Alana's A. Yes, you and your partner's credit histories will be linked if you get a joint account. Current accounts and mortgages both cause links between joint holders' credit reference files (though joint savings and credit cards don't), so if your partner's rating is bad it's worth keeping your finances separate and concentrate on getting her file back up to scratch.

Get her to check her rating with a free 30 day trial and see what issues she has on there (see the Credit Rating guide for full details). If her rating is bad because of her previous partners' finances, she can write to the credit reference agencies to get herself disassociated from them.

This week's poll:

How far would you go to avoid tax?

Last week's poll result:

Single or married - do you have a joint bank account?

Marriage seems the impetus to get a joint account - only 18% of betrothed couples don't have one, with over half sharing an account for everything.

However, just 14% co-habiting couples have made the leap to joining accounts for everything - 44% do it for bills, but keep everything else separate..

Single-folk are even less likely to join up, with only 9% having any type of joint account with family or flatmates.

Suggest a question of the week (big general issues not personal q's pls)
See Full Results
How many teen dramas can you name in 60 secs?
That's it for this week, but before you go, try jotting down as many teen dramas as you can think of in this 60 second game to find out just how sad you really are.
We hope you save some money,
Martin & the MSE team

Important. Please read how MoneySavingExpert.com works
We think it's important you understand the strengths and limitations of this email and the site. We're a journalistic website, and aim to provide the best MoneySaving guides, tips, tools and techniques - but can't guarantee to be perfect, so do note you use the information at your own risk and we can't accept liability if things go wrong.

What you need to know

This info does not constitute financial advice, always do your own research on top to ensure it's right for your specific circumstances - and remember we focus on rates not service.


We don't as a general policy investigate the solvency of companies mentioned, how likely they are to go bust, but there is a risk any company can struggle and it's rarely made public until it's too late (see the section 75 guide for protection tips).


We often link to other websites, but we can't be responsible for their content.


Always remember anyone can post on the MSE forums, so it can be very different from our opinion.


Please read the Full Terms & Conditions, Privacy Policy and how this site is financed. Martin Lewis, MSE, Money Saving Expert, MoneySavingExpert and Moneysavingexpert.com are registered trademarks belonging to Martin S Lewis.
More about MoneySaving Expert and Martin Lewis
What is MoneySavingExpert.com?

Founded in February 2003, it's now the UK's biggest consumer help website with over 6 million people getting this email and nearly 10m using the site. Its focus is simple: how to save cash and fight for financial justice on anything and everything. The site has over 30 full time staff about half of whom are editorial researching, analysing and writing to continually find ways to save money. More info: See About MSE
Who is Martin Lewis?
Martin set up and runs MSE, he's an ultra-focused money saving journalist and consumer campaigner. He has regular slots on Daybreak, Lorraine, Radio 2 Vine, BBC1 Watchdog, Radio 5 Consumer panel and presents ITV Tonight. He is a columnist for amongst others the News of The World, the Sunday Post and The Telegraph, as well as an author. More info: See Martin Lewis' biog
What do the links with a * mean?
Any links with a * by them are affiliated, which means get a product via this link and a contribution may be made to MoneySavingExpert.com, which helps it stay free to use. You shouldn't notice any difference; the links don't impact the product at all and the editorial line (the things we write) isn't changed due to it. If it isn't possible to get an affiliate link for the best product, it's still included in the same way. More info: See how this site is financed.
As we believe transparency is important, we're including the following 'un-affiliated' web-addresses for content too:

Unaffiliated web-addresses for links in this email

energyhelpline.com, moneysupermarket.com, uswitch.com, simplyswitch.com, postoffice.co.uk, saga.co.uk, mbna.co.uk, capitalone.co.uk, americanexpress.com, mbna.co.uk, gocompare.com, aviva.co.uk, directline.com, coverbox.co.uk, youngmarmalade.co.uk, barclaycard.co.uk, uk.virginmoney.com, natwest.com, santander-products.co.uk, nationwide.co.uk, firstdirect.com, halifax.co.uk, rbs.co.uk, money.marksandspencer.com, plus.net, comparethemarket.com, confused.com .

Financial Services Authority (FSA) Note
Referring people to insurers or insurance intermediaries can in some circumstances require FSA authorisation. For this reason, Martin Lewis of Shepherd's Studios, Charecroft Way, Shepherd's Bush, London W14 0EH is authorised and regulated by the Financial Services Authority.
To change your E-mail or stop receiving the weekly tips (unsubscribe): Go to: www.moneysavingexpert.com/tips