Martin's Weekly Briefing: For more tips, alerts & puns, follow Martin on Twitter

British Gas £300/yr saving (new & existing custs)

- We've negotiated cheaper than the cheapest gas & elec
- Prices have been rising - locking in now protects you
- Choose from 1 yr or 2 yr fix or green



Now's the moment to sort your energy bills, so the cheap price's in place before winter hits - especially as prices have been rising. So today we launch our 5th MSE collective switch - available until 3 Oct. That's where a trusted intermediary (eg, a council or us) gets energy firms to bid to provide special tariffs, and with the weight of 11m email recipients & 2.2m Cheap Energy Club members, ours are a doozy.

Last time we did it, 135,000 switched & we drowned in successes - the biggies include...

Emma: "I switched from Scottish Power to your British Gas collective tariff and saved £1,488/year. It was really easy. Thanks so much."

Stephen: "You saved me £800 a year without switching, with British Gas [ie, he moved from British Gas to our British Gas special deal]. Thank you."

Even if you switched to a cheap fix before, remember once it ends your price could jump by up to 50% as you're moved onto a standard tariff.

•
Are you eligible for Big Switch 5? Ofgem rules now mean we need to pre-register people for collective switches. You need to have been on the distribution list for this email or registered for Cheap Energy Club before 8pm on 12 Sep.

How can I check I can get it? You can check you're registered or speed straight over to the Cheap Energy Club comparison, and if you can get the collective, it'll be in your results.

What if I'm not eligible? You can still save big (possibly just not quite as much) - many can still slash £100s/yr off bills. We've seen some of the cheapest deals disappear in recent months though, so act quick and use our Top Picks Comparison to see what you can get.
•
The Cheapest deal (dual fuel). Special British Gas tariff - EVEN IF YOU'RE WITH BRITISH GAS YOU CAN DO IT TOO. It's not often the UK's largest supplier competes on price, but for the 2nd time, British Gas has won our cheapest dual-fuel, direct-debit (so no prepay) tariff auction.

The MSE British Gas Collective Fix Oct 2017 tariff locks in the rate for a year and saves someone with typical use on a Big 6 standard tariff £300/yr. To get it, you must do a comparison via our link - you can't get it from BG direct.

And it's not just for switchers to British Gas, EXISTING British Gas (and Sainsbury's Energy) customers are eligible too, which for most is a no-brainer, as it's far cheaper. Plus BG won't charge you exit penalties, even if you're already locked in. The key facts:

- You also get £30 dual-fuel cashback from Cheap Energy Club.
- As it's a fix, the rate (not cost, that depends on use) is fixed for 1yr.
- It's available for dual-fuel only (ie, gas & elec together) incl Eco 7.
- You must pay by monthly direct debit.
- Leave early and there's a £40 exit fee.
- If you move home you can take it with you.
- The Warm Home Discount is available with this provider.



How it compares for someone with typical usage
Avg price on Ofgem typical dual-fuel direct-debit use (varies by region)

Typical cost: Current avg Big 6 standard tariff: £1,063/yr
Typical cost: Current British Gas standard tariff: £1,044/yr
MSE Special: BG fix: £755/yr + £30 cashback, £40 exit fee
Next cheapest open-market 1yr fix: Eon £760/yr - £30 cashback, £30/fuel exit fee

Get YOUR EXACT PRICE & saving via a full market comparison



Ps. This is actually a touch cheaper than at first launch on Tuesday night as Eon then launched the above tariff and BG undercut it. Anyone who signed up to this BG collective before the change will get the lower rate.




- Good for you if:

1) You want one of the cheapest deals. 2) You're with BG or Sainsbury's & don't want to change firm. 3) You're happy to switch again in 12mths (if not, see the two-year fix below).



- Not for you if:

1) You only want electricity.

- How's customer service? British Gas scored 38% 'great' and 31% 'poor' in our May 2016 poll. Yet as part of our collective we've arranged for it to provide boosted customer service resources for our switch, and anecdotal feedback on that (we've not polled) is very positive.
•

Cheapest TWO-WINTER fix (dual fuel / gas-only / elec-only). SSE - lock in longer to beat possible price hikes. Today's cheapest fix is about 5% higher than in May, indicating upward pressure. So I wanted us to also provide a longer fix, which means you're protected against price hikes for two winters. And it's a good lazy option, as you've longer till you need switch again.

The 2yr-fix auction winner is the SSE MSE Collective 2-Year Fixed 2016. Someone with typical use on a Big 6 standard tariff will save £220/yr, so that's £440 over 2 years (at current prices). That's a strong deal over the period. It's capped at 150,000 switches but we're unlikely to hit that, so the same 3-week time limit applies as others. The key facts:


- You get £30 dual-fuel (£15 single fuel) Cheap Energy Club cashback.
- It's available for dual fuel, gas-only & elec-only, incl Economy 7.
- Pay monthly direct debit or pricier quarterly cash/cheque/direct debit.
- Leave early and there's a £30 per fuel exit fee (£60 dual fuel).
- Existing SSE customers can get it without paying an exit fee.
- You can't take it with you if you move home.
- The Warm Home Discount is available with this provider.

How it compares for someone with typical usage
Avg price on Ofgem typical dual-fuel direct-debit use (varies by region)

Typical cost: Current avg Big 6 standard tariff: £1,063/yr
MSE Special: SSE 2yr fix: £838/yr + £30 cashback, £30/fuel exit fee
Next cheapest 2yr fix: Places for People: £842/yr - no cashback

Get YOUR EXACT PRICE & saving via a full market comparison




- Good for you if:

1) You don't like to switch & often forget - with this you won't need to switch again until 2018. 2) You're worried about future price hikes & prefer long-term certainty.



- Not for you if:

1) You just want the cheapest. 2) You want to switch again without being charged. 3) You're likely to move in the next 2yrs.

- How's customer service? In our May 2016 poll, SSE scored 53% 'great' and 19% 'poor'. Plus as part of our collective we've arranged for it to provide boosted customer service resources for our switch.
•

Cheapest GREEN tariff. Bulb renewable tariff - and it pays exit fees for you. If you'll pay a touch more for an environmentally friendly provider, don't worry - you can still save massively over standard tariffs. The winner of our green auction, Bulb Green Electricity + Gas MSE Switch Oct 2017, generates 100% of its elec and (a rare) 10% of gas from renewable sources.

The rate is fixed until 4 Oct 2017 and on typical use saves you £230/yr over a Big 6 standard tariff, and £60/yr over the next best 100% renewable fix. Plus, if you pay exit fees with your current supplier, Bulb is currently offering to refund these (up to £120) as credit on your account. Key facts...

- You get £30 dual-fuel (£15 single-fuel) Cheap Energy Club cashback.
- As it's a fix, the rate (not cost, that depends on use) is fixed for 1yr.
- Everyone who switches gets £10 credit on their Bulb account.
- It's available for dual fuel, gas-only & elec-only, incl Economy 7.
- You must pay by monthly direct debit.
- Bulb charges a higher direct debit during your first winter, so you build up credit.
- There are no exit fees. Move home and take the tariff with you.
- The Warm Home Discount is NOT available with this provider.





- Good for you if:

1) You will pay a little more for green. 2) You're happy to switch again in a year. 3) You want your exit fees paid.



- Not for you if:

1) You just want the cheapest price. 2) You're with an independent gas transporter (IGT), as Bulb then charges an extra £8.33/mth (£100/yr). 3) You currently get the Warm Home Discount.

- How's customer service? Bulb is a small, new supplier, so we've limited feedback on its service, but what we have is good. We have also visited it, checked it can handle the web traffic and it has set up boosted customer service for our switch. Hopefully all good.
•
Cheapest PREPAID tariff - sadly no winner. We tried for a key or card tariff, but no supplier's bid beat the market's best buys, so we wouldn't put our name to it. But use our Cheap Energy Club Comparison to find your cheapest - many can save £150/yr. However, even on them some will still be paying £220/yr more than the cheapest direct-debit deal. See Can I switch to a standard meter?

The MSE Big Switch Event 5 FAQs
For more detailed answers, see the full MSE collective FAQs




Q. I'm elec-only - what can I do? Our 2-winter and green tariffs both allow elec-only. Though if you just want the very cheapest deal, our Cheap Energy Club comparison will find your cheapest from the open market; many can save £100s.

Q. Will the collective tariffs always win? Mostly, not always. It depends where you live and usage, which is why we show you a full comparison.

Q. My fix ends soon (incl MSE's Big Switch Event 3), can I do this? Yes, within 49 days of the point your fix ends, your supplier CAN'T charge exit fees.

Q. How does Cheap Energy Club work? When you join, 3 things happen:

1) We show your exact price, saving & compare to ALL market tariffs.
2) You get £30 dual-fuel cashback (£15 single-fuel). Any time we can switch you, you get this - it's sent roughly 60-90 days later.
3) We monitor that it stays cheap. You set a 'trigger saving', eg, £150/yr, then we alert you if you can save this by switching again.

Q. What do I need to switch? A bill - preferably annual - is good, and use kilowatt hours (kWh) rather than cost, if you can. If not, estimate your usage and while the answer won't be perfect, it's usually far better than doing nowt.

Q. Does MSE make money from this? Yes. Like all energy comparison sites, we're paid £60ish/dual-fuel switch & give you £30 as cashback. The rest helps cover our costs and hopefully makes us some profit.

Q. I'm locked into a fix - should I switch? You may as well do a comparison and see if you'll save, factoring in exit fees and the length the fix is protecting you from price hikes.

Q. Who's responsible for these tariffs - MSE or the energy firm? The energy firm is, and you pay it. But we take our bit seriously and ask all providers to set up special help teams. If something goes wrong, and it won't help, let us know and we'll try to help.

Q. Are prices likely to get cheaper or rise? While standard prices are stable now, in the last six months the prices of the cheapest fixes have increased. Of course, this is a global market so anything can happen, but currently the mood music is of prices rising.

More quick FAQs:

Q. I'm in credit - will I get it back if I switch? Yes. See Reclaim credit.
Q. I'm in debt - can I switch? Yes, usually - see Switching in debt help.
Q. Can I switch if I'm renting? Yes. See our renters' switching info.
Q. Can I see the standing charge and kWh costs? They vary by region, so we display YOUR exact cost in the Cheap Energy Club comparison result.
Q. Can I switch if I've solar & a feed-in tariff (FIT)? Yes. Solar & FIT info
Q. I'm on a smart meter. Can I switch? Yes, but you may lose functionality unless you switch from another BG tariff to the BG collective tariff.
Q. Do I keep my Warm Home Discount? It varies - see Warm Home info.
Q. Can I get paper bills? Yes (not Bulb) but for c. £15/yr. See paper bills.
Q. Can I switch if with an independent gas transporter? Yes, see IGT help.
Q. Is paying by direct debit cheapest? Yes, but do regular meter readings.
Q. Can they put my price up on a cheap fix? The rate's fixed, but use more (or if it's estimated you will) & the direct debit can rise. See Fight Unfair Direct Debits.
Q. I live in Northern Ireland - why can't I get it? The NI market is separate. We've an NI energy-saving tool coming soon; we'll launch it in this email.
Saved cash? Shout it from the rooftops.
If this email's ever helped you, please forward it to friends and suggest they get it via moneysavingexpert.com/tips.
Get your free Experian Credit Score PLUS your unique Affordability Score, Credit Hit Rate and tips to boost them
In the last few days we hope you received our special email about the revolutionary new MSE Credit Club (sent that way to spread the send-out and keep the service fast). It's gone brilliantly well, with over 100,000 joining, and finding out what lenders really think of them. However, of course, as it's a new concept, some of you had questions to ask - so here are some answers...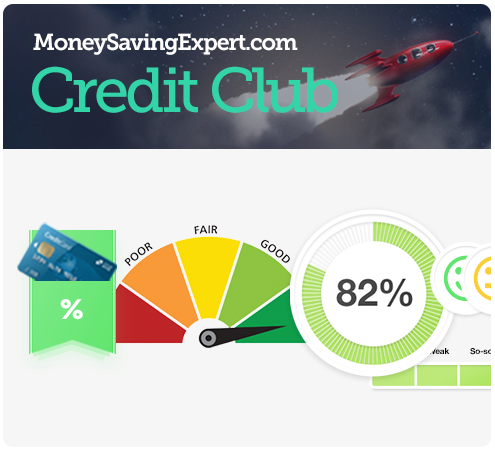 Q. What is Credit Club? In case you missed it... A credit score alone isn't enough to borrow, as there are other factors at play (it's why many with perfect scores still get rejected). The new Credit Club shows you...
1. Free Experian Credit Score - how lenders rate your past credit behaviour.
2. MSE Affordability Score - how lenders assess if you can afford a product.
3. Your Credit Hit Rate - how likely you actually are to be accepted when you apply.
4. Credit Card & Loan Eligibility Calcs - what your odds are of getting specific top deals.
5. How to improve your credit profile - we show where your profile's strong and weak, & how to improve it.
Q. How do the Credit and Affordability Scores differ? The Experian Credit Score shows how lenders perceive your creditworthiness. However, income isn't part of that, but is another key factor deciding acceptance. After all, even with the best credit history, if you can't afford it, you'll be rejected. Our MSE Affordability Score mimics lenders' income assessments for credit cards, loans and (coming soon) mortgages.
Q. Where can I see my full credit report details? We show you good and bad factors, and have agreed with Experian that we'll soon give you your full credit report for free too. For now though, use standard routes to check your credit file.
Q. The info you have on me is wrong. Our data comes from two sources: 1) What you tell us 2) Your Experian Credit Report. If you think something's wrong, for safety check for errors in what you've told us and also scan your credit report (which you should do regularly anyway) as many lenders and other firms (eg gas & elec, mobile phone providers) use this info to assess you. If that's not it let us know.
Q. I failed the verification - what's the problem? To use Credit Club you need to pass Experian's security questions - and a small but significant number will fail, as it's strict; after all, it keeps crucial sensitive information on you. We're working with it to improve this. If this has happened to you, read the verification help info.
Q. How do I get answers to more questions? There are lots more in the Credit Club FAQs, including missing addresses, dashboard not loading, no verification email & how to correct mistakes you made when entering info.
New queue-dodging weapon - beat crowds at gyms, restaurants, Ikea, etc. See MSE Jenny's legit queue-skipping blog.
£1 National Express Sep one-way tix (12k avail). MSE Blagged. £1 fee. 250+ routes in Eng, Scot, Wales. £1 coach
Hot Apple news 1: New iPhone 7 interest-free deal - far cheaper than a contract. Full info: Interest-free iPhone 7.
Hot Apple news 2: Get iPad Pro £120 cheaper than at Apple. So now £610, ltd stock. Full info: iPad Pro.
PS: New Apple products aren't MoneySaving - but if you'll buy 'em anyway, we want to show you the cheapest way.
FREE visits to 1,850+ hidden gems in Ldn, Scot & Wales. Visit properties that normally charge or aren't open to all in Ldn (750 places) this weekend, eg, the Gherkin. Or some Sep dates in Scot (800+) & Wales (300+). Hidden gems
HMRC ends Concentrix tax credits contract. Find out what it means for those shafted. Concentrix axed (phew)
A new top balance-transfer card means you can save £100s or even £1,000s in credit card interest & get £20 too
A balance transfer means you get a new card that pays off your existing credit & store cards, so you owe it instead, but at 0%. This means your repayments clear the debt rather than just interest, so you're debt-free quicker. Barclaycard, which has a number of best-buys, will for the next few weeks give £20 'cashback' (it credits your account) if you transfer £500+.

Yet will you be accepted? Our Balance Transfer Eligibility Calc shows which cards you've best odds of getting. Simon emailed: "Owed £2,555 paying £90/mth interest. Used your calc, got 37mths 0%. Saved a fortune." That's c. £3,300 saved over 37mths. Plus for a number of cards the calc can 'pre-approve', meaning you've a 100% chance (as long as you pass the ID check).
Tip 1: Go for the lowest fee in the time you're sure you can repay. Most 0% cards charge a fee to transfer your balance, eg, 4% is £40 per £1,000 shifted. So calculate how long you'll take to clear the debt, add a bit for safety, then pick the lowest fee within that time. Factor the Barclaycard cashback in as a fee reduction. Unsure? Play safe and go long, even with a bigger fee.

Tip 2: Some are 'up to' 0%s, so you may get a shorter deal. That's why we include the best non 'up-to' options. If the eligibility calc suggests you've good odds of getting these, unlike the 'up-tos', you know what you'll get.

Balance Transfer Golden Rules. Full help, get cashback & ALL best buys: Balance Transfers (APR Examples).
a) Never miss the min-monthly repayment, or you could lose the 0% deal and it'll cost far more.
b) Clear the card or balance-transfer again before the 0% ends, or the rate rockets to the higher APR.
c) Don't spend/withdraw cash on these. It usually isn't at the cheap rate and cash withdrawals hit your credit file.
d) You must usually do the balance transfer within 60/90 days to get 0%.
Tell your friends about us
They can get this email free every week
This isn't about celebrating early, but preparing, with a host of things to do now to save you on the big day
Every January people tell us they're skint because of Christmas. Yet it's not an unexpected expenditure; it happens on 25 December every year. And while we don't like tinsel and Jingle Bells before Dec any more than you do, many festive savers only work if you do 'em early. So as this Friday it's 100 days to go, our 48 Saves of Christmas guide has full help, which includes...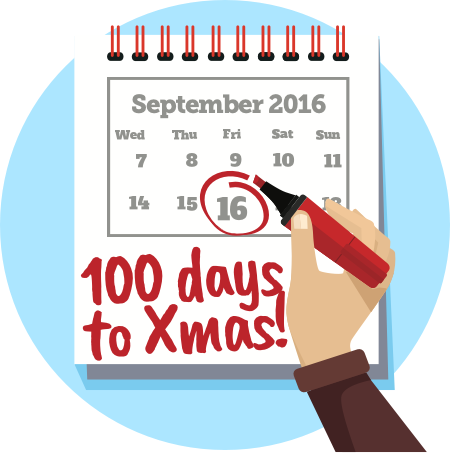 1. Ban unnecessary presents. Agree now with friends/family not to buy gifts - save them for kids and spouses. It may seem tight, but actually the joy of giving can be selfish. For why, see Martin's Ban Unnecessary Xmas Gifts blog. As Julia tweeted: "@MartinSLewis, finally took your advice and told family I can't afford Xmas presents. What a weight off my mind. Thank you."

2. Book train tickets 12wks in advance. That's when most cheap advance tix launch, gaining max availability of low price tickets for your Xmas travels. For far more help, see 20 Train Ticket Tricks.

3. 5% cashback on Xmas shopping. The Amex Platinum Everyday (eligibility calc / apply*) credit card pays 5% cashback on your first 3mths' spending (max £100). Get it now & this coincides with the high spend Xmas period. Just ensure you repay IN FULL each month to avoid 22.9% rep APR. (And you need to spend £3,000 in a year to get any cashback.) Full help in Cashback Cards.

4. Set up a Christmas cupboard. From now on, if you spot a hot bargain (often via this email) that fits as a necessary present on your list, bag it, wrap it, and pop it in the Xmas cupboard.

5. Split the cost by four and save that monthly. A typical family Xmas costs £800 - a huge amount from one month's salary. If you haven't started saving, there's still time. Eg, put £200 aside from Sep, Oct & Nov income to spread the overall cost.

6. Buy your stocking fillers from China? Rock-bottom prices are possible on sites such as AliExpress, eg, 70p iPhone 6 cases & £1.90 stripy T-shirts. But order early and avoid toys/electricals - see how to buy safely from China.

7. Time for a personal stock clearance. Walk around your home. If there's anything you haven't used - toys, clothes, mobiles - consider selling it to raise money. It's a lot better than borrowing. Find out how to flog it for max cash on eBay & Facebook.

8. Don't borrow for Christmas - but if you'll do it anyway, ensure it's at 0%. The longest 0% spending card is Sainsbury's (eligibility calc / apply*) or Post Office (eligibility calc / apply*) - both 27mths - yet though you've time before they jump to 18.9% rep APR, aim to clear before next Xmas or you just perpetuate the misery. Full help, safety warnings & free eligibility calc in Top 0% Cards (APR Examples).

9. Can you demoHOHOtivate extra cash? From small cutbacks come big savings. See our DemoHOHOtivator tool.

10. Boost funds by 4% with supermarket stamps. You can trick supermarket savings schemes to boost your budget.
CAMPAIGN OF THE WEEK
Have museums got it down to an art? The Government's reviewing the purpose of museums and galleries in England. It wants your views on how they could improve (change to free entry at national museums' permanent collections isn't on the cards) and what you think the purpose is of national museums, such as the British Museum. Take the Govt's short survey to tell it what you think.
MARTIN'S APPEARANCES (WED 14 SEP ONWARD)
Thu 15 Sep - Good Morning Britain, ITV, Deals of the Week, 7.40am. View previous
Thu 15 Sep - The Martin Lewis Roadshow, Bristol's Cabot Circus Shopping Centre (outside House of Fraser), 11.30am-5.30pm
Fri 16 Sep - This Morning, ITV, Martin's Quick Deals, from 10.30am. View previous
Mon 19 Sep - This Morning, ITV, from 10.30am
Mon 19 Sep - BBC Radio 5 Live, Lunch Money Martin, noon. Subscribe to podcast
TEAM APPEARANCES
Wed 14 Sep - Share Radio, 11.20am
Thu 15 Sep - BBC Radio Manchester, 4.50pm
Tue 20 Sep - BBC Radio Cambridgeshire, 2.20pm
QUESTION OF THE WEEK
Q: On my commute the trains were too busy to get on, so I had to wait, and I ended up catching a later train which arrived 30 minutes late. Am I entitled to claim compensation? Steve, via email.
MSE Megan's A: This is a tricky one. The key thing you need to do is argue that you were delayed on your rail journey because of the train company's service.
Now, technically under the National Rail Conditions of Carriage - which set out the bare minimum that train firms have to offer regarding delays etc - you don't have a legal right to compensation if the trains were running on time and you just couldn't get on.
But in practice you usually will be able to claim, as most firms offer compensation above and beyond the legal minimum. Submit a claim as normal, but add a note on the form explaining that you weren't able to board and so that's why you were delayed by more than the minimum delay threshold (often 30 minutes, but it varies by firm).
When it comes to check your claim, the train company may see from its data that trains were passing through the station at the time and running to schedule. However, the firms we spoke to said they look at each claim individually to see if there were problems, so if you explain the circumstances it should be OK, and we've heard of these types of claims being made successfully. For more on your rights and firm-by-firm policies, see our Train Delays guide.
Please suggest a question of the week (we can't reply to individual emails).
WHEN BANKS GET A LITTLE TOO PERSONAL...
That's it for this week, but before we go, check out this thread from the forum: Are security questions getting a bit too intimate? We know 'memorable security questions' from banks, pension providers and others have to be personal, but when does personal become downright intrusive? Examples we've heard include: "What was the name of the first boy or girl you kissed?" and even "Where is your great-grandmother buried?" Click through to see a few more and share any that have shocked you...
We hope you save some money,
Martin & the MSE team
We think it's important you understand the strengths and limitations of this email and the site. We're a journalistic website, and aim to provide the best MoneySaving guides, tips, tools and techniques - but can't promise to be perfect, so do note you use the information at your own risk and we can't accept liability if things go wrong.
What you need to know
This info does not constitute financial advice, always do your own research on top to ensure it's right for your specific circumstances - and remember we focus on rates not service.
We don't as a general policy investigate the solvency of companies mentioned, how likely they are to go bust, but there is a risk any company can struggle and it's rarely made public until it's too late (see the Section 75 guide for protection tips).
We often link to other websites, but can't be responsible for their content.
Always remember anyone can post on the MSE forums, so it can be very different from our opinion.
Please read the Full Terms & Conditions, Privacy Policy, How This Site is Financed and Editorial Code. Martin Lewis is a registered trade mark belonging to Martin S Lewis.
More about MoneySavingExpert and Martin Lewis
What is MoneySavingExpert.com?
Founded in February 2003, it's now the UK's biggest consumer help website with more than 10 million people getting this email and about 13 million using the site every month. In September 2012 it became part of the MoneySupermarket Group PLC. Its focus is simple: saving cash and fighting for financial justice on anything and everything. The site has over 80 full time staff, more than a third of whom are editorial - researching, analysing and writing to continually find ways to save money. More info: See About MSE.
Who is Martin Lewis?
Martin set up and runs MSE, and still writes this email each week (unless it says so). He's an ultra-focused money-saving journalist and consumer campaigner with his own ITV prime-time show The Martin Lewis Money Show and weekly slots on Radio 5 Live, This Morning and Good Morning Britain, among others. He's a columnist for publications including the Telegraph, Sunday Mirror and Woman magazine. More info: See Martin Lewis' biography.
What do the links with an * mean?
Any links with an * by them are affiliated, which means get a product via this link and a contribution may be made to MoneySavingExpert.com, which helps it stay free to use. You shouldn't notice any difference; the links don't impact the products at all and the editorial line (the things we write) isn't changed due to them. If it isn't possible to get an affiliate link for the best product, it's still included in the same way. More info: See How This Site is Financed.
As we believe transparency is important, we're including the following 'un-affiliated' web-addresses for content too:
Unaffiliated web-addresses for links in this email
halifax.co.uk, tescobank.com, barclaycard.co.uk, uk.virginmoney.com, confused.com, gocompare.com, moneysupermarket.com, directline.com, aviva.co.uk, bank.marksandspencer.com, ikano.co.uk, firstdirect.com, nationwide.co.uk, americanexpress.com, sainsburysbank.co.uk, postoffice.co.uk
Financial Conduct Authority (FCA) Note
Where we feature insurance products, referring people to insurers or insurance intermediaries can in some circumstances constitute an FCA regulated activity. For this reason, pages with links which take you to the sites of insurers or insurance intermediaries are hosted by MoneySavingExpert.com Limited on behalf of MoneySupermarket.com Group PLC.

It's also worth knowing that MoneySupermarket.com Financial Group Limited is authorised and regulated by the Financial Conduct Authority (FRN: 303190). The registered office address of both MoneySupermarket.com Group PLC and MoneySupermarket.com Financial Group Limited (registered in England No. 3157344) is MoneySupermarket House, St. David's Park, Ewloe, Chester, CH5 3UZ. Telephone 01244 665700. MoneySavingExpert.com Limited is an appointed representative of MoneySupermarket.com Financial Group Limited.
To change your email or stop receiving the weekly tips (unsubscribe): Go to: www.moneysavingexpert.com/tips.