†
Incl NEW deals: Sky b'band & line £11/mth, BT fibre & line £16/mth




We're seeking to blow apart the complex and confusing broadband, phone and TV market with our brand-new Broadband Unbundled tool. Here are the five big things you need to know about it:

- It compares 13 providers' standard deals + our Blagged deals + others' exclusives. We don't just cover mainstream offers from the likes of BT, Sky and Virgin, we try to blag cheaper deals too. Plus if another comparison site has a cracking exclusive, we'll try to put it in the tool to give you a wider choice.

While we hope we've more deals than other comparisons, we don't yet have every provider and we're working on adding more.

- It's personal. Many deals are only available in particular areas, so we ask for your postcode to show what you can get. You can also play with the filters to find the exact type of deal you want.

Note: if you select broadband-only, it'll almost certainly be more expensive than getting broadband AND phone and your choice of providers is severely restricted (Virgin is the only provider offering broadband-only in our tool.).

- It gives a true comparison. For years, providers have tried to bamboozle you with hard-to-compare deals such as "18mth contract with 18mths' discounted broadband, 9mths' discounted line" or "pay full-price but get £150 cashback". Our tool adds it all up and spreads costs over the contract to show the equivalent monthly price to help you compare.


- It finds if 'unbundling' is cheaper. It checks if using two or even three providers rather than one is best. So you may find your cheapest deal is one firm for line and broadband, another for telly - ie, unbundling.

- It's in 'beta'. It's working well, but it's new, so if you don't like it, don't understand any of it, or if there's anything that doesn't work, let us know via feedback@moneysavingexpert.com and we'll look to make it even better (we've our own wish list already).

Hot deals only available for a week or so

The best way to get cheap broadband, line and TV deals is via short-lived promos - and when available they'll be in our Broadband Unbundled tool. But we thought we'd highlight some current scorchers...

1.
New. Sky b'band & line £11.17/mth. MSE Blagged. Anyone who's not had Sky b'band, line or TV in the last year can apply via this Sky link* by Fri 25 Aug for a 1yr deal offering up-to-17Mb speed broadband with unlimited downloads. Here are the key points:

- It's available to 90% of the UK. It depends on your postcode - you're told when applying (or use Broadband Unbundled which only shows deals available in your postcode).
- Half-price line rental. Usually £18.99/mth, here it's £9.50/mth for the year. No calls included - see Sky call costs (a touch more than BT).
- 'Free' broadband for a year. After, it's £10/mth.
- You pay £19.95 set-up. There's also a £5 card verification fee, refunded on your first bill and a £20 fee if you've no line or are switching from cable.
- Could Sky hike prices? Sadly, telecoms firms often do, but you may be able to leave penalty-free if it raises line rental prices. It tells us the broadband will be 'free' for the whole year's contract.

Cost analysis: It's a stonker as, assuming you don't need a new line, you pay £133.95 for the year, equivalent to £11.17/mth before calls. This is a straighforward deal but if you jump through a few hoops the EE deal below can beat it.
†
2.
Ends Mon. EE b'band & line '£10.06/mth' - ONLY if you pay £299 line rental upfront. New EE broadband customers - those who don't currently have broadband or line with it - have until Mon 21 Aug to apply via this EE link* for an 18mth deal offering up-to-17Mb speed broadband with unlimited downloads. Here are the key points:

- It's available to 99% of the UK. It depends on your postcode - you're told when applying (or use Broadband Unbundled which only shows deals available in your postcode).
- Choose to pay line rent upfront if you can afford to. It's cheapest to pay £299 upfront for the 18mths (you must opt for this at sign-up) or it's the usual £18.50/mth. Either way, you get inclusive weekend landline calls - see full EE call costs.
- 'Free' broadband for 18mths. After, it's £10/mth.
- Get a £125 prepaid Mastercard but annoyingly you

MUST claim it

. You'll be sent an email within 30 days of paying your second bill with instructions on how to claim. You must claim within 60 days of receiving it - you'll then receive your card within 30 days. As it's a Mastercard it's almost as good as cash.
- You pay £7 router deliv. There's also a £30 fee if you've no line or are switching from cable.
- Could EE hike prices? Sadly, telecoms firms often do, but you may be able to leave penalty-free if it does.

Cost analysis: This could be cheaper than Sky above if you stick to EE's T&Cs. If you don't need a new line, and pay line rental upfront, it's £306 over 18mths before calls. If you claim the Mastercard (as good as cash where it's accepted) and spend it, the net cost is £181, equiv to £10.06/mth. Pay line rental monthly and it's equiv to £11.95/mth.
†
†
3.

New.

BT fibre b'band & line '£16.33/mth'. New BT broadband customers can apply via this BT link* from today (Wed) till Thu 24 Aug to get up-to-52Mb speed fibre (3x normal) with unlimited downloads on a 1yr contract. Fibre is best for heavy downloading, streaming, gaming or multiple users. Here are the key points:

- It's available to 83% of the UK. It depends on your postcode - you're told when applying (or use Broadband Unbundled which only shows deals available in your postcode).
- You pay normal BT line rental, currently £18.99/mth. Weekend calls to UK landlines included - for others, see BT call costs.
- Discounted fibre, £9/mth for the year. A huge discount on the standard £28.50/mth.
- £9.99 set-up, usually £59.99. Again, a big discount on standard costs.
- Get £150 on a prepaid Mastercard that

you MUST claim.

Annoyingly, as BT won't remind you, diarise to use this Mastercard claim link within 3mths of activation (takes up to 45 days after).
- Could BT hike prices? Sadly it can, but you may be able to leave penalty-free if that happens.

Cost analysis: It's cheaper than lots of standard speed deals, even though you get MUCH faster fibre. You pay £345.87 over the year before calls. But claim and use the Mastercard (as good as cash where it's accepted) and it's a net £195.87 cost, equiv to £16.33/mth.
4.
Want a hot TV channels package deal? Like broadband, the top offers are often short-lived. We'd love to have shown you a stonker in the same mould as the broadband deals above, but there's nothing currently jumping out as being 'wow', yet you can combine standard TV deals with the packages above via Broadband Unbundled.

While not spectacular, one option is Now TV, Sky's streaming service. Until Sun 20 Aug, we've blagged an Entertainment Pass* for new Now TV customers for £4.20/mth for 2, 4 or 6mths. You get 11 channels, incl Sky Atlantic, Sky 1 and Comedy Central to see Game of Thrones, Billions etc. It's £7.99/mth after your discount ends, so cancel if you don't want to keep it.




Lots more tips in our Cheap Broadband guide. Plus check how to test your broadband speed, and how to check if you can get bigger cashback on hot deals if you're a member of a top cashback site (though compare like-with-like as prices and contract lengths can vary).
†
Saved cash? Shout it from the rooftops.
If this email's ever helped you, please forward it to friends and suggest they get it via moneysavingexpert.com/tips.
†
†
Revealed. How your bank fares in the customer service battle - if yours is pants, why not get PAID to UPGRADE?
Banks get a hard time, yet surprisingly the best of 'em from our twice yearly banking poll outshine almost all other giants on service - in particular, smashing most energy and broadband firms. So if you're settling for a bog-standard current account, as switching's easy, why not upgrade and bag free cash?
No.1 service by a mile - First Direct (and big switch bonus too). It's won EVERY bank customer service poll we've done since 2010, and it's taken the gong again in our latest survey, which closed last week. First Direct* gives £100 to switchers and a possible £250 0% overdraft. Plus you get access to its linked 5% fixed regular savings account, in which you can put up to £300 a month. The account's free if you pay in £1,000/mth+; if not, it's £10/mth.
BANK SERVICE POLL RESULTS - AUG 2017



†
BANK (1)
KEY PERKS OF ITS TOP ACCOUNT
MSE SERVICE RATING (2)
1. First Direct
Free £100 + £250 0% o'draft + 5% reg saver
90% great, 3% poor
2. Nationwide
Get 5% on max £2.5k & 0% o'draft for 1yr + 5% reg saver
74% great, 6% poor
3. Co-op (incl Smile)
Free £125 + up to £5.50/mth
68% great, 8% poor
4. Santander
Get 1.5% on max £20k + 5% reg saver + bills cashback (£5/mth fee)
63% great, 7% poor
5. TSB
Get 3% on max £1.5k + max £10/mth cashback
64% great, 9% poor
6. M&S Bank
Free £125 M&S vch + £5/mth + 5% reg saver
63% great, 12% poor (3)
7. Halifax
Free £75 + £3/mth
50% great, 11% poor
8. Lloyds
2% interest on up to £5k
50% great, 13% poor
9. NatWest
2% cashback on bills (£2/mth fee)
47% great, 14% poor
10. HSBC
5% reg saver
46% great, 17% poor
11. Barclays
£4/mth bonus
43% great, 15% poor
12. RBS
2% cashback on bills (£2/mth fee)
37% great, 21% poor

(1) Links go to full info if we rate the account mentioned as a top pick. (2) % of bank's customers who rated it 'great' or 'poor'. Percentages won't hit 100% as some rated banks 'OK'. See full results. (3) 76 votes - we normally only include if banks receive 100+ votes but general feedback's good.
For full info on how switching works and all the best buys, see our Best Bank Accounts guide.
†
Warning. Beware LIAR Facebook & other ads implying Martin/MSE recommends 'em. Whether it's Martinís pic on PPI firm, boiler incentive or scam binary trading ads; or energy door knockers using our name, all are leeching off our hard-earned trust. Sadly, Facebookís response is pitiful. Avoid. Watch Martinís RANT.
18p women's belts, 86p iPhone cases - should you buy online from China? Rock-bottom prices possible on sites such as AliExpress + how to buy safely. 12 Buying From China Tips
Want less junk mail? EVERYONE is about to get a letter that can help. How to do a quick marketing opt-out.
New. Shift debt to 33mths 0%, low 0.58% fee and get £20 cashback. Apply by Fri 8 Sep and Lloyds (eligibility calc / apply*) lets accepted new cardholders shift debt in the first 90 days for a one-off 0.58% fee (min £3). Transfer £100+ and it gives £20 cashback - shift up to £3,400 and the cashback effectively cancels out the fee. Always pay at least the minimum each month and clear the card before the 0% runs out or you pay 18.9% rep APR. More options, incl longer 0%s with higher fees, in Balance Transfers (APR Examples).
Kurt Geiger shoes from £8 via 20% off outlet code. MSE Blagged. £5 delivery, ends Sun. Kurt Geiger outlet
40 London MoneySaving tips. We've boosted our popular guide with more tips for summer. Incl free Parliament tours, £5 Shakespeare theatre tickets, £20/night hotels and £3 Heathrow transfers. London calling
†
†
We've crowed about these top tips this summer, but with millions still due to head abroad, here's a reminder
In the summertime when the weather is fine, with many taking to the skies, we (naturally) have MoneySaving on our minds. So whether you're heading off in the next couple of weeks or in the cheaper Sep time, check out our 50+ overseas travel tips to go out and see what you can find, incl...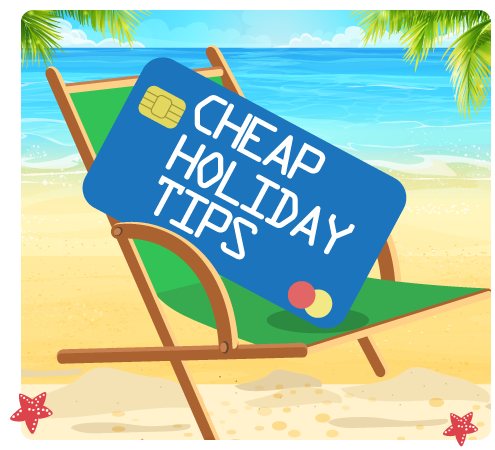 - Cheap foreign cash. AVOID hideous airport rates and speedily compare with our TravelMoneyMax tool.
- Near-perfect rates this summer & beyond. It's via a top overseas credit card & our top pick is Halifax Clarity (eligibility calc / apply*) which has no overseas spending fees and gives newbies £20 cashback if they buy something abroad by Sat 30 Sep. Pay it off IN FULL each month to minimise the 18.9% rep APR, though note it can take 1-2 weeks to arrive. Full info in Top Overseas Credit Cards (APR Examples).
- Cheapest travel insurance. Get it ASAP, from £5/week. See Cheap Travel Insurance.
- Show your boarding pass at airport shops? Watch or read Martin's boarding pass tips.
- Airport lounges from £15. They can be cheaper than airport food and drinks. See Cheap Airport Lounges.
- Check your EHIC is valid - millions aren't. It gives free or cheap access to state-run Euro hospitals. EHIC help
- Slash airport parking costs. It pays to book early, but even if you leave it late, don't just turn up. Cheap Airport Parking
- Free water at airports. Beat rip-off prices with our airport water tip.

†
†
Tell your friends about us
They can get this email free every week
†
†
†
†
†
†
†
†
†
MARTIN'S APPEARANCES (WED 16 AUG ONWARD)
Tue 22 Aug - Countdown, Channel 4, 2.10pm
MSE TEAM APPEARANCES (SUBJECTS TBC)
Fri 18 Aug - BBC South West stations, breakfast
Tue 22 Aug - BBC Radio Cambridgeshire, 2.20pm
†
QUESTION OF THE WEEK
Q: We changed our car and phoned Saga to transfer our insurance and were charged £25 as an admin fee. Is this standard practice? Beryl, via email.

MSE Tony's A: This is common and can happen when you change your name, car, address, job and more, though they vary by insurer. We've seen fees up to £34.
Regulator, the Financial Conduct Authority, says the fees need to be "reasonable" to reflect the work carried out - and we'd argue £25 is NOT reasonable.
The admin fee is in addition to a possible rise (or fall) in premium, say, if the new car is classed as higher risk.
The good news is we've heard of people haggling these fees down, sometimes to zero, by threatening to leave. See admin fee haggling.
While you can try this, don't just threaten to leave, actually check if ditching your policy for a new one can save you (but factor in roughly £50 cancellation fees). Full info in our Cheap Car Insurance guide.
Please suggest a question of the week (we can't reply to individual emails).
†
'Wasted money on a chainsaw. Been too scared to use it after watching Texas Chainsaw massacre.'
That's it for this week, but before we go... what has been your single biggest waste of money? Our forumites say flashy phones, late library books, a chainsaw and even... getting married. They're discussing how they've squandered their hard-earned, so let us know your biggest waste of money in our Facebook post: 'MoneyWastingExpert'.
We hope you save some money,
The MSE team
†
We think it's important you understand the strengths and limitations of this email and the site. We're a journalistic website, and aim to provide the best MoneySaving guides, tips, tools and techniques - but can't promise to be perfect, so do note you use the information at your own risk and we can't accept liability if things go wrong.
What you need to know
This info does not constitute financial advice, always do your own research on top to ensure it's right for your specific circumstances - and remember we focus on rates not service.
We don't as a general policy investigate the solvency of companies mentioned, how likely they are to go bust, but there is a risk any company can struggle and it's rarely made public until it's too late (see the Section 75 guide for protection tips).
We often link to other websites, but can't be responsible for their content.
Always remember anyone can post on the MSE forums, so it can be very different from our opinion.
Please read the Full Terms & Conditions, Privacy Policy, How This Site is Financed and Editorial Code. Martin Lewis is a registered trade mark belonging to Martin S Lewis.
More about MoneySavingExpert and Martin Lewis
What is MoneySavingExpert.com?
Founded in February 2003, it's now the UK's biggest consumer help website with more than 12 million people getting this email and about 13 million using the site every month. In September 2012 it became part of the MoneySupermarket Group PLC. Its focus is simple: saving cash and fighting for financial justice on anything and everything. The site has over 80 full time staff, more than a third of whom are editorial - researching, analysing and writing to continually find ways to save money. More info: See About MSE.
Who is Martin Lewis?
Martin set up and is chairman of MSE. He's an ultra-focused money-saving journalist and consumer campaigner with his own ITV prime-time show The Martin Lewis Money Show and weekly slots on Radio 5 Live, This Morning and Good Morning Britain, among others. He's a columnist for publications including the Telegraph, Sunday Mirror and Woman magazine. More info: See Martin Lewis' biography.
What do the links with an * mean?
Any links with an * by them are affiliated, which means get a product via this link and a contribution may be made to MoneySavingExpert.com, which helps it stay free to use. You shouldn't notice any difference; the links don't impact the products at all and the editorial line (the things we write) isn't changed due to them. If it isn't possible to get an affiliate link for the best product, it's still included in the same way. More info: See How This Site is Financed.
As we believe transparency is important, we're including the following 'un-affiliated' web-addresses for content too:
Unaffiliated web-addresses for links in this email
sky.com, productsandservices.bt.com, broadbandchoices.co.uk, firstdirect.com, lloydsbank.com, halifax.co.uk, uk.virginmoney.com, confused.com, comparethemarket.com, gocompare.com, moneysupermarket.com, directline.com, aviva.co.uk, tsb.co.uk, bank.marksandspencer.com
Financial Conduct Authority (FCA) Note
MoneySupermarket.com Financial Group Limited is authorised and regulated by the Financial Conduct Authority (FRN: 303190). The registered office address of both MoneySupermarket.com Group PLC and MoneySupermarket.com Financial Group Limited (registered in England No. 3157344) is MoneySupermarket House, St. David's Park, Ewloe, Chester, CH5 3UZ. MoneySavingExpert.com Limited is an appointed representative of MoneySupermarket.com Financial Group Limited.
To change your email or stop receiving the weekly tips (unsubscribe): Go to: www.moneysavingexpert.com/tips.