Car hire tricks, airport parking, city MoneySavers & more




Let's be blunt - it's more expensive to go abroad now. Brexit uncertainty means the pound hit a 32yr low against the dollar this week. Against the euro, it's as bad as the lows of summer 2013.

A weak pound not only hits holiday spending but hotels, car hire and more, so ensuring you get your holiday right this year is crucial. And as January is the biggest month to book, here are our top tips for keeping costs down whenever you go away...

1.
Make a New Year's resolution to always get near-perfect rates everywhere, and with extra protection. Most cards add a 3%-ish exchange fee, so spending £100 of euros costs you £103, plus they may add other charges.

Specialist cards don't add that fee, so you get the same near-perfect rate the banks get on the day the payment's processed. If you're going away, pocket one, only for use abroad, then repay IN FULL each month to minimise interest. Crucially if you find it best to book your flight or hotel on a foreign website, use this and you'll also get near-perfect exchange rates (but factor in any card payment fees).

Our top two picks are the Creation Everyday card (apply*), which has the best rates overall (12.9% rep APR on spending and cash withdrawal), and Halifax Clarity (eligibility calc / apply*), which is a smidgeon more on cash but has better long-term feedback from users (18.9% rep APR on spending and cash).

For one of the cheapest ways to withdraw cash abroad, the Barclaycard Platinum Visa (eligibility calc / apply*) comes top. It has no exchange fees till 31 Aug 2018 and unusually it doesn't charge a cash withdrawal fee or interest on overseas (not UK) withdrawals if you pay your bill IN FULL (14.9% rep APR on spending). For a full list, incl cards for poor credit scorers, see Overseas Cards (APR Examples).

Extra protection: With credit cards (not debit, prepay or cash), you get Section 75 protection on all spends over £100, incl abroad, so if there are problems with what you bought, the card firm must sort it.
2.
Slash airport parking costs from £200 to £44. Early booking tends to win. Use our discounted links to comparison sites...



APH 20% off* (London, Manc, Birm, Edin) | Holiday Extras 10%-30%* | SkyParkSecure up to 30%* | FHR 12%-30%* | Airparks 12%-25%*


Eg, MSE user Robert emailed: "Booked using MSE link & got 8 nights' parking at Aberdeen for £44." On-the-day pricing for this can cost £200+. See Cheap Airport Parking for more.
3.
Ram down the cost of hotels, eg, £1,600 stay for £700. Check as many comparison sites - Trivago*, TravelSup* and TripAdvisor* - as you've time for. They show a range of hotels and who sells them cheapest in your destination. If you know the one you want, just find it in the results. Then call the hotel to see if it'll beat the price.

Our resident travel bargain-hunter MSE Nick got five nights in a plush Zanzibar hotel for £715 instead of the £1,620 it cost to book direct. To further hack down costs, read Cheap Hotels.

Also, if Expedia's cheapest, sign up for its loyalty scheme and get money off future bookings - see Expedia loyalty analysis. You can also get serious cashback on hotels sometimes - we've seen up to 13%. Check after you've done comparisons elsewhere so you're sure it's a good deal. MSE Sally got £100 cashback after booking five nights in New York on an already low price. See full Cashback help.
4.
Rooms with free cancellation allow you to save if the price drops later. If it's no more expensive than a non-refundable room (or there's little in it), try this trick. Keep checking prices after booking and if they drop - whether because of sales, low demand or the pound strengthens - just cancel and re-book, though watch out for fees if cancelling VERY late. Full how to get free cancellation tips. Alison tweeted: "Saved £200 when price dropped two days pre-travel."
5.
Book car hire ASAP and you could get it for under £11/day. If hiring abroad, generally early booking is cheaper. What can be £11/day months ahead can easily double just before, or when there.

a) Find the cheapest via comparisons: Skyscanner*, TravelSup*, Carrentals* & Kayak*.
b) Check stealth fuel charges. Some make you pay for a full tank & return it empty - adding £80ish if you don't drive far. Skyscanner*, TravelSup* & Carrentals* let you filter by fuel policy. Stealth Charges
c) Get cheap excess insurance before. When you pick up a car they often try to fear-sell up to £25/day excess cover on top. Yet you can buy it for just £2/day before you go - see Cheap Excess Insurance.
6.
Find best holiday money rates from 30 bureaux in seconds (NEVER buy at the airport). Tell our TravelMoneyMax comparison how many euros, dollars, rand etc you want and it compares 30 bureaux, including fees, to find your winner. Or use the TMM iPhone app or TMM Android app, which does the same and has added functions such as storing your plastic, so when you're away it shows your cheapest way to pay. To show the impact on a €1,000 mixed spend...

- Top specialist credit card repaid in full (see point 1): £887
- Cash, via TMM's cheapest bureau (must pick up in London): £890
- Change at airport (not pre-ordered): £1,007

Want to know whether to buy holiday cash now or later? See point 9.
7.
Speedily find the cheapest flights. It's all about using the right tool for the job. In general, use as many of the comparison sites Kayak*, Skyscanner* & Momondo* as you've time for. They'll find the cheapest flight when you want to go but don't always search all budget airlines, so check if one you know doesn't appear. These are just the tip of the iceberg - see our 28 Cheap Flight tricks.
8.
Package holidays can still be a winner - and try to haggle. Package hols are where you usually get flights, hotels and transfers in one. They can be cheapest, especially for 7, 10 or 14 days away in a traditional tourist spot. Note, all-inclusives lower the risk of currency fluctuations as you can pay now and spend very little (or nothing) when there - just double-check what 'all-inclusive' includes.

To benchmark the best prices, try TravelSup* & Ice Lolly*, as well as traditional tour operators. When you've found a package, haggle to see if anyone else sells it cheaper. Agents won't like it and are often up in arms so, if one spent a lot of time with you, always give it the chance to match it.

If you want choice and flexibility, book ASAP, while there are discounts on at Thomas Cook, First Choice, Thomson etc. If you've more freedom with dates and facilities/locations, the 'lates' market - within eight weeks of travel - can mean serious bargains. Full help and tips in our Cheap Package Holidays guide.
9.
Should you buy holiday cash now or later? Let's be honest - we don't know. And with the pound more volatile than Donald Trump's tweets, no one knows where it'll be in future (though some will guess correctly). So we can't tell you when to buy.

One way to hedge is to buy half now and half later. Then if the pound worsens you've still some of your cash at the better rate. The best way to buy half now? See point 6. How do you get the cheapest cash later? Get a specialist card, because spending on the card while you're there gives you the near-perfect rate - see point 1.

Plus if you're going away within the next month there's a trick to buy cash now but cancel if rates rise, and re-buy at the better rate. Full info in Currency Buyback Trick.
10.
Travel insurance - holiday booked? Arrange cover NOW. If you don't have it once you've booked - even if you're not travelling until later this year - and you or a family member gets ill or needs to cancel, you've no protection.

Cheapest annual policies (under-65s): Go away 2+ times in a year and annual policies usually win. A year's cover in Europe for a 32-yr-old costs from £9; for a family worldwide, from £42. The cheapest no-frills cover is usually Holidaysafe Lite*, but also check Coverwise* and Leisure Guard Lite*.

Full help in Cheap Annual Travel Insurance. Also see cheap one-off & over-65s' insurance + cover if you've a medical condition.
11.
Booked Easyjet? Use its refund trick. If your Easyjet price drops after you've booked (excluding sales), our Easyjet refund trick shows how to get the difference back as a voucher. Jo emailed: "We got an £803 voucher... all thanks to you."
12.
Large family/group? Check if posh apartments or villas smash hotels, eg, £450 not £1,560. We found a 3-bed villa in Crete with pool for £450 for a week in mid-August, compared with £1,560 in a similar-quality hotel nearby. Our Cheap Holiday Rentals guide shows you how to do it. Or just want a room in someone's home? Read our renting rooms info for more help and safety warnings.
13.
Eat cheap, see attractions on the cheap and get around cheap with our new MoneySaving city guides. We've done the work on the best deals once you're there.

- Costa del Sol incl Marbs, Malaga and Torre del Mar - see 43 Cheap Costa del Sol Tips.
- Rome incl beat Colosseum queues and all-you-can-eat buffets for the price of a drink - see 21 Rome Tips.
- Amsterdam incl free concerts and halve the price of hen dos - see 27 Amsterdam Tips.
- New York incl sail past Lady Liberty for free and cheap Broadway tickets - see the popular 34 New York Tips.
- And Paris incl cheap Disneyland tickets and £58 returns - see 29 Paris Tips.
 
 
14.
Get ATOL protection even if you DIY. Package holidays have long been protected under the official ATOL scheme, so if something goes wrong you get your money back, a new holiday or help coming home.

But since 2012, if you book a flight plus separate hotel or car hire from the same online travel agent firm within 24 hours, you also get ATOL protection - see how to create your own protected hol. So check against booking separately.

Also note online travel agents Expedia*, Opodo* & Lastminute.com* often discount flights & hotels booked together.

It's always safest to book by credit card, as you often get Section 75 protection so the card firm is jointly liable if something goes wrong, though there are some exclusions.

The Martin Lewis Money Show

Mon 23 Jan, 8pm, ITV - Holiday-money masterclass and how to stop spam. If you're still confused about what to do with holiday money, I'll take you through it step by step, so you get the max buck for your bang. Plus how to stop spam calls, texts, junk mail and more. If you can't watch at least set the timer on the VHS...

Slash the cost of all your debts - ELIGIBILITY CALCS BACK ONLINE. If you missed this week's, watch it online on how to slash the cost of all debts. And as always we managed to crash loads of websites, especially those with eligibility calculators. The MSE Balance Transfer Eligibility Calc is fully up and running, so don't give up - check now if you can get a cheaper deal.

 
Spread the (MoneySaving) love.
If this email's ever helped you, please forward it to friends and suggest they get it via moneysavingexpert.com/tips.
The credit card price war now means they'll pay you to spend on their cards, and these are best buy deals too
An easy way to make a bit of free cash. Some top 0% cards are now offering to pay you for using them. So grab a card, do your normal spending on it (it's not an excuse to spend more) for a month or two and pay it off in full and you're quids in. Or if you need to borrow, as done right they're totally interest free, and very nearly the best buys, it's a double winner...
New. Free £35 on up to 28mths' 0%. New AA (eligibility calc / apply*) cardholders who spend £500+ within the first 60 days get a free £35; and it also offers up to 28mths 0% on new spending.

This is only one month shorter than Sainsbury's (eligibility calc / apply*) market longest 0% on spending at 29mths and there if you spend £250+ at Sainsbury's within 40 days you get 5,000 Nectar points (worth at least £25 at Sains). There's also Barclaycard (eligibility calc / apply*) where spending £500+ within 60 days of account opening gets you £20 on an up to 25mth 0% card. All the cards mentioned are 18.9% rep APR after the 0%.

Will applying affect my credit score? Every credit application leaves a footprint on your file, but that's wiped after a year and has only a trivial effect (unless you make many applications close together). So it's no issue unless you're due to make a key application soon (eg, mortgage). Yet don't just apply first check how likely you are to be accepted for all top cards via our free 0% quick eligibility calc or do a Full Credit Club Eligibility check which also gives your free Credit & Affordability Scores.

Are these 0% deals any good? Yes, these are all near the top of the 0% spending best buy table anyway, but as always with new borrowing, ensure it's planned, needed and you've budgeted to clear it within the 0% time. Don't just borrow willy nilly. If you just want the free cash, then set up a direct debit to repay the card in full each month.

0% Spending Card Golden Rules. Full help, get more cashback & ALL best buys in 0% Spending Cards (APR Examples). In brief:

a) Never miss or be late paying at least the monthly min, or you can lose the 0%, and always stay within the limit.
b) Plan to clear the card before the 0% ends (or do a balance transfer) or the rate jumps to the rep APR.
c) These are usually ONLY cheap for spending, not balance transfers or cash withdrawals - so avoid.
Rates continue to tumble, especially for larger loans, but only borrow if you NEED to
The cheapest way to borrow for smaller sums is at 0%, so use one of the cards above, provided the seller takes credit cards and you can repay in time. Yet as getting a £3,000+ limit can require a big income, loans are more suitable for larger borrowing, which enforces structured repayment discipline. And as we always say, only borrow if it's affordable, budgeted for and needed. Low rates - which have got even lower since Xmas - are not an excuse to overspend.
Free daily lottery - now boosted to £400. Free money sounds too good to be true, but it's legit. Irene won: "I got £650, great surprise for minimum effort and no cost." See Free Postcode Lottery.
10 kids' books for £10, incl We're Going On A Bear Hunt & Peppa Pig. £3 deliv. Choose from 180+ books.
SUCCESS OF THE WEEK: (Send us yours on this or any topic)
"I trained as a paramedic in 2007 on a two-year course but was mis-taxed. Following your NHS workers' tax reclaim help, I recently received £18,700 back. Well worth the wait."
30%+ off trick for unltd, no-ads music streaming, equiv £6.58/mth. Spotify & Apple normally a tenner a month. Amazon Music Trick
Urban Outfitters extra 20% off FLASH code, eg, £82 women's Nike trainers for £20. MSE Blagged. Works on existing up to 75% off sale. Limited stock, till Thu. Del £3.99. Urban Outfitters
Tell your friends about us
They can get this email free every week
10 ways to boost your income. Learn to flog it, rent it, click it, earn it and watch it...
MoneySavers are banding together in the Save £2,017 in 2017 forum club, with a host of ways to make cash. So with that as inspiration, we've revamped our 67 Ways To Boost Your Income guide to help you make it a fiscally fantastic year. Here are a few of the picks...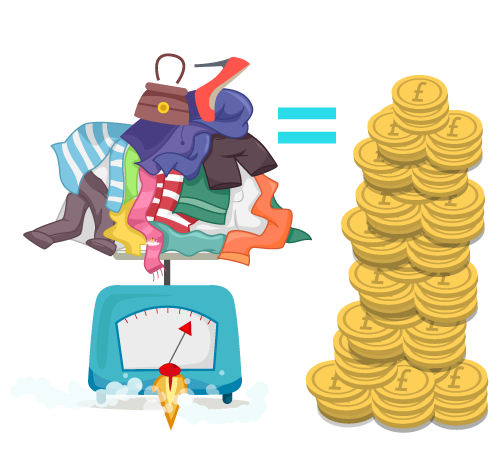 1. New. Sell unwanted clothes by the kilo. If you've pricier clothes you'll get more flogging 'em on eBay, but for all else, some companies will PAY decent sums to weigh 'em and take 'em away. Forumite PoppyOscar says: "We got £64 - and they took most of the clothes."
2. Switched energy in last six years? Get £100s back. Disgustingly, many firms didn't use to automatically refund bill credit. See Reclaim Old Energy Credit.
3. Get paid to watch TV. Up to £70 for a 2-hr focus group, or 50p a survey. See Review TV.
4. Not used it in a year? Flog it. Do a personal stock clearance - flog old CDs, games & books or make £100s selling old textbooks. Also see our 40+ eBay Selling Tricks and 28 Facebook Selling Tips for pretty much anything else.
5. Recycle old printer cartridges. Get up to £2 a go. See Recycle For Cash.
6. Rent your parking space. If you've unused parking in a busy city, use rent parking space sites.
7. Rent out a room. You can now earn up to £7,500 tax-free with the Rent a Room scheme.
8. Do online surveys. Swagbucks is popular with forumites and we've blagged a deal for you to get a bonus £10 of M&S/Amazon vouchers once you've accrued £5.
9. Rent out storage space. Specialist rent storage sites help you profit from unused attic, garage or spare room space.
10. Get paid to review music. Put in a couple of hours a night and you could get up to £30/mth.
THIS WEEK'S POLL
Parcel delivery firms: which are the best and worst? The festive season is behind us, the big red man in a suit has hung up his boots for another year, yet the parcel delivery firms which help are still zipping around the UK. Sadly horror stories abound - ranging from no-shows to "they threw the goods over the fence"or "they lied that we weren't in".
So it's time for our annual poll to sort the good guys from the cowboys...
Click here to vote for the best and worst
Older MoneySavers more likely to want a cap on salaries. For last week's poll we wanted to know what you thought of a salary cap. Those under 25 were most likely to think it wrong or that it wouldn't work, with just 26% wanting a limit. Meanwhile 34% of those aged 65+ would impose a cap. Full breakdown in the salary cap poll results.
MARTIN'S APPEARANCES (WED 18 JAN ONWARD)
Thu 19 Jan - Good Morning Britain, ITV, Deals of the Week, 7.40am. View previous
Fri 20 Jan - This Morning, ITV, Martin's Quick Deals, from 10.30am. View previous
Mon 23 Jan - This Morning, ITV, from 10.30am
Mon 23 Jan - BBC Radio 5 Live, Lunch Money Martin, noon. Subscribe to podcast
Mon 23 Jan - The Martin Lewis Money Show, ITV, 8pm
MSE TEAM APPEARANCES (SUBJECTS TBC)
Wed 18 Jan - Share Radio, 11.20am
Wed 18 Jan - BBC Radio Cumbria, 'Money Talks', from 6pm
Thu 19 Jan - BBC Radio Tees, 10.35am
Fri 20 Jan - BBC South West stations, breakfast
Tue 24 Jan - BBC Radio Cambridgeshire, 2.20pm
QUESTION OF THE WEEK
Q: I started to claim for a delayed flight from nearly six years ago, but the airline kept stalling and now says time's run out, as it's gone over six years. Is there anything I can do? Alambra, by email.

MSE Megan's A: On the face of it, the airline's behaviour may have scuppered your claim. Under EU law, you can claim for flights dating back to 2005, but the courts only allow claims going back six years (five years in Scotland), so it's highly likely airlines will hide behind this.
What's more, the Civil Aviation Authority (CAA) and alternative dispute resolution services, which can both adjudicate between airlines and passengers, could give you even less time to claim.
However, if there has been any foul play to deliberately stall you, we suggest a vociferous complaint to the CAA or relevant ADR to see if it will accept it - you never know what they will do.
It may not help you, but our message to everyone else is to get your claim in ASAP to be safe. For full info on what to do and who can claim, see our Flight Delays guide.
(PS: Last week's answer was amended after the email was sent out. For the latest version see here.)
Please suggest a question of the week (we can't reply to individual emails).
Paying a tax bill... with a wheelbarrow of coins
That's it for this week, but before we go... a US chap just paid his big tax bill using five wheelbarrows of 300,000 coins. The automated counting machines reportedly couldn't cope with the volume at first and it took staff several hours to count the final amount. Our Facebook followers are discussing ways to spend their own coin collections. Check it out and have your say.
We hope you save some money,
The MSE team
We think it's important you understand the strengths and limitations of this email and the site. We're a journalistic website, and aim to provide the best MoneySaving guides, tips, tools and techniques - but can't promise to be perfect, so do note you use the information at your own risk and we can't accept liability if things go wrong.
What you need to know
This info does not constitute financial advice, always do your own research on top to ensure it's right for your specific circumstances - and remember we focus on rates not service.
We don't as a general policy investigate the solvency of companies mentioned, how likely they are to go bust, but there is a risk any company can struggle and it's rarely made public until it's too late (see the Section 75 guide for protection tips).
We often link to other websites, but can't be responsible for their content.
Always remember anyone can post on the MSE forums, so it can be very different from our opinion.
Please read the Full Terms & Conditions, Privacy Policy, How This Site is Financed and Editorial Code. Martin Lewis is a registered trade mark belonging to Martin S Lewis.
More about MoneySavingExpert and Martin Lewis
What is MoneySavingExpert.com?
Founded in February 2003, it's now the UK's biggest consumer help website with more than 10 million people getting this email and about 13 million using the site every month. In September 2012 it became part of the MoneySupermarket Group PLC. Its focus is simple: saving cash and fighting for financial justice on anything and everything. The site has over 80 full time staff, more than a third of whom are editorial - researching, analysing and writing to continually find ways to save money. More info: See About MSE.
Who is Martin Lewis?
Martin set up and is chairman of MSE. He's an ultra-focused money-saving journalist and consumer campaigner with his own ITV prime-time show The Martin Lewis Money Show and weekly slots on Radio 5 Live, This Morning and Good Morning Britain, among others. He's a columnist for publications including the Telegraph, Sunday Mirror and Woman magazine. More info: See Martin Lewis' biography.
What do the links with an * mean?
Any links with an * by them are affiliated, which means get a product via this link and a contribution may be made to MoneySavingExpert.com, which helps it stay free to use. You shouldn't notice any difference; the links don't impact the products at all and the editorial line (the things we write) isn't changed due to them. If it isn't possible to get an affiliate link for the best product, it's still included in the same way. More info: See How This Site is Financed.
As we believe transparency is important, we're including the following 'un-affiliated' web-addresses for content too:
Unaffiliated web-addresses for links in this email
kayak.co.uk, skyscanner.net, momondo.co.uk, travelsupermarket.com, flightsdirect.com, creation.co.uk, halifax.co.uk, barclaycard.co.uk, carrentals.co.uk¸ trivago.co.uk, uk.hotels.com, tripadvisor.co.uk, partners.aph.com, holidayextras.co.uk, skyparksecure.com, bookfhr.com, airparks.co.uk, holidaysafe.co.uk, coverwise.co.uk, leisureguardlitetravelinsurance.com, expedia.co.uk¸ promos.opodo.co.uk. lastminute.com, theaa.com, sainsburysbank.co.uk, barclaycard.co.uk, bank.marksandspencer.com, tsb.co.uk, paybyfinance.co.uk, zopa.com, ikano.co.uk, apply.mbna.co.uk, confused.com, gocompare.com, moneysupermarket.com, aviva.co.uk, firstdirect.com, santander.co.uk
Financial Conduct Authority (FCA) Note
MoneySupermarket.com Financial Group Limited is authorised and regulated by the Financial Conduct Authority (FRN: 303190). The registered office address of both MoneySupermarket.com Group PLC and MoneySupermarket.com Financial Group Limited (registered in England No. 3157344) is MoneySupermarket House, St. David's Park, Ewloe, Chester, CH5 3UZ. MoneySavingExpert.com Limited is an appointed representative of MoneySupermarket.com Financial Group Limited.
To change your email or stop receiving the weekly tips (unsubscribe): Go to: www.moneysavingexpert.com/tips.