Incl Amzn deliv trick, free roaming, iPhone 7 saver, free credit score





We love a nifty MoneySaving trick, which is why every week in this email we feature loopholes and quirky tips. Once in a while we throw them together, so you've a stash of juicy savers - and now's that time. Enjoy...

1.

New.

Eat for free - would you dare? A food sharing app links you with others nearby who've surplus grub to give away so it's not wasted, like Freecycle does for unwanted furniture and other items.
 
 
2.
'Amazon free delivery trick' tool. This finds the cheapest product to take you over the free delivery threshold. See Free Amazon Delivery Tool. Lois tweeted: "Amazon order £19.98 + £3.99 deliv. Added 25p key = free deliv. Thanks, @MoneySavingExp."
 
 
3.
Free Experian Credit Score & more. Find out if lenders think you're a credit dream or disaster, & which products you're most likely to get, with the new MSE Credit Club. Mark tweeted: "Love MSE Credit Club - would never have bothered before. Pleased with learnings - thanks."
 
 
4.
iPhone 7 interest-free deal - far cheaper than contracts. Full info in interest-free iPhone 7. EXTRA TIP: How to beat iOS10 annoyances, eg, unlock iPhone/iPad without pressing the home button.

 
 
5.

New.

Free roaming trick now extended to 42 destinations. See Free roaming trick.
 
 
6.
Abandon online shopping to bag a code. See How to get abandoned basket discounts, incl 26 chains we hear do it. It worked for Charlie: "Browsed ASOS wedding dresses, then left. The next day I had a surprise email offering 20%, so I got £37 off my dress."
 
 
7.
Legally buy stolen goods on the cheap. Even the police are in on it. Recent sales include a kid's BMX for £1. We explain all in Cheap Stolen Goods.
 
 
8.
500 'free' Clubcard points and go wallet-free at Tesco. Via new way to pay in parts of UK. See Tesco boost.
 
 
9.
Are you due £432 marriage tax allowance? Don't be one of the 3m+ couples missing out on an easy tax break. Rob emailed: "Got £210 from the taxman as wife transferred marriage allowance to me. Registered online & got rebate in 4 days." See How to claim the marriage tax allowance.
 
 
10.
Want cheap drugs? Save big on meds. Don't pay for the name, eg, Nurofen can cost 8x more. See how to spot cheaper versions.
 
 
11.
eBay SELLING trick: 130 keywords to boost your sale prices. Eg, 'authentic' beats 'genuine'. See ALL keywords.
 
 
12.
eBay BUYING trick: exploit eBay speiling mistaykes to uncover mega-bargains. Typos & erors on eBay are common & mean fewer peeple find those items, so there's less of a bidding war. Use a mistake-spotter, as @buttababes did: "Thanks, got a nearly new NutriBullet for £40. It was spelt Nutrabullet - would be £75 normally."
 
 
13.

Warning.

Beware using PayPal to pay on a credit or debit card. You'll lose valuable protection. Find out why in PayPal Warning.
 
 
14.
Check if hackers have stolen your info. Find out if your passwords, address, numbers or DOB have been nicked by doing a hack check.
 
 
15.
Get free music going back 17yrs. Bought CDs/vinyl from Amazon since 1999? Our Amazon Music Reclaim guide shows how to get 'em as free downloads. You might be surprised, as Richard tweeted: "Thanks, logged into Amazon and found 97 albums (2,030 songs)."
 
 
16.
Queue-dodging weapon to beat crowds at the gym, restaurants, Ikea, etc. See queue dodge trick.
 
 
17.
How to mute self-service check outs. Never hear 'unexpected item in bagging area' again, using MSE Jordon's demo.
 
 
18.
Slash £100s off your Sky bill. In our most recent poll, 88% who tried to haggle with it succeeded. See How to haggle with Sky, and can you beat Jonathan's win? "Thanks for the Sky tips. Hike to £80/mth after promo, called and after a bit of banter, down to £42." If you're a Sky newbie, there's a scorching hot broadband deal from £64/yr below.
 
 
19.
Grab a free coffee every day. It's the freebie you've bean (sorry) waiting for. Free coffee
20.
Can you reclaim £100s if you wear/wore a uniform to work? Find out if you're due a uniform tax rebate.
21.
Turn your smartphone into a free sat-nav for 180+ countries. Convert it into a free sat-nav.
22.
Free £48/yr for Barclays customers. We'd actually suggest you switch, as Barclays has a low customer service ranking and its accounts aren't market-leading - see Best Bank Accounts for a free £200 and more deals. If you're determined to stick with it, at least bag a free £48 from Barclays.

A personal message from Martin - this email is a first...

A new era starts today at MoneySavingExpert. Last week's email was the last Martin's Money Tips. Today, it's MSE's Money Tips, as after 13 years writing this email week in and week out, I've handed over day-to-day responsibility to Jason Mills, MSE's talented new Editor in Chief.

This doesn't mean this is the last you'll see of me here. I'll still be overseeing it, but less hands-on. And I plan to write some parts of it, when I've big things to say, as I have below on energy.

In truth, I hope you won't notice the change. Jason has joined managing editor Guy Anker and the rest of the now very experienced editorial staff, who've been putting the email together for a long time. I still find it hard to believe the email I started sending to friends of friends all that time ago (see history of the site) goes to 11m people in the UK, with a big team producing it.

As for me, my new role as MSE's Exec Chair is about ideas, strategy, ethics and maintaining journalistic & analytical quality. My hope is this will free me up to come up with more ways to save money, more campaigning, more policy work, more TV, more time for my mental health & money charity, and allow me to see Mrs and Mini MSE a bit too.

Want to ask me a question? I'm doing a Facebook Live 3pm Thu. To mark this occasion, I'm exposing myself (ooh er, missus) to questions, whether on MoneySaving or about the site, via a live stream for half an hour on my Facebook page. Or, of course, I'm on Twitter at @MartinSLewis.



Saved cash? Shout it from the rooftops.
If this email's ever helped you, please forward it to friends and suggest they get it via moneysavingexpert.com/tips.
"GET UP OFF YOUR BACKSIDE and take 5 minutes to sort this or you're allowing yourself to be shafted"

I've been nagging for the last 13yrs, yet grrrr, as most of you are still on big six energy firms' standard tariffs, you're hideously overpaying. Even if you've changed tariff before, if it was over a year ago, in most cases you're being ripped off. Well, enough is enough. It may be my first week not writing the full email (it's Martin if you hadn't guessed), but as our Big Energy Switch 5 is on, I'm writing this to say get up off your bum and make the easiest big saving possible.
British Gas (BG) customers - this is so easy for you. With our Big Switches firms bid to provide special cheaper MSE tariffs. Our main winner's the MSE British Gas dual fuel fix (not for elec-only/gas-only), & existing BG direct debit customers can get it too without paying exit fees, typically saving £290 a year WITHOUT MOVING FIRM, so nowt changes but the price. A no-brainer. Why wouldn't you? After all, if I said I'd pay you £290 for 5mins' work, you'd bite my arm off.

You can't get it direct from BG, and the rules state you must be an 'MSE member' and use this link (it also does a full comparison). To be an 'MSE member' you must either have been part of the Cheap Energy Club, or have signed up to the MSE weekly email, before 8pm on 12 Sep (if so, use that email during registration).

Just speed straight over to the Cheap Energy Club comparison, and if you can get the collective, it'll be in your results. The savings can be huge, as Melissa tweeted: "@MartinSLewis just switched BG deals, saving £658. First-time switch, easily done - do it people." Even if you can't get this deal, there are many other tariffs that will still save many £100s.

Hot 2-year fix from SSE & green deal from Bulb. We've two other winners - a corking 2yr SSE fix & a green tariff. For full info, see our Big Switch 5 winners page, then do a comparison from there to see your savings.

Are these certain to be cheapest? No. While we only put our name to collectives if they beat the market's cheapest, that's based on average prices. It varies by region, use and circumstance, so some will find others undercut it in the comparison results. If so, and they save you cash and you like their proposition, go for it.

I'm on Feb's MSE Brit Gas collective - can I switch? Many are asking this. If you're on it, you can switch to this - the comparison shows you if it's cheaper (it won't be for some). See Already on BG collective help?

Quick need-to-knows. For full help, see our main detailed MSE collective switch FAQs.

1. No downtime when switching. It's the same gas, same elec, same safety. Only service & price may change.
2. To get the lowest price, pay by monthly direct debit. Just ensure you give regular meter readings.
3. If you're in credit and switch firm, you should get the excess back. If not, see Get credit back.
4. We're paid £60ish/dual fuel switch & you get £30 of it as cashback. The rest covers our costs/profit.
5. All these tariffs are fixes. So the RATE (not the cost, that depends on use) is locked in with no hikes.
6. What about customer service? We've arranged boosted customer service for all these tariffs.
Argos 3for2 on 3,000+ toys - stock up for Xmas. A biggie MoneySavers wait for. Ends Tues. Argos toys event
La Redoute 40% off EVERYTHING code: £39 Levi's, £29 Converse. Ltd stock, ends Mon. La Redoute code
New. Loan price war. 3.2% for £7.5-£15k. If you've planned, budgeted borrowing, there's more choice among the best buys. From 10am today (Wed) TSB* is slashing rates for £7.5k-£15k loans to 3.2% rep APR, matching the cheapest-ever from Ikano* & Sainsbury's* (though Sains is 1-3yrs only & needs a Nectar card). What's YOUR cheapest? All providers credit-check you, so use our free Loans Eligibility Calc before you apply to find which you've the best chance of getting (won't work for Ikano). Full help & more best buys, incl for smaller loans, in Cheap Loans (APR Examples).
Habitat FLASH 25% off virtually everything. From Wed-Thu, in stores & online. Habitat
'I got £2,700 back after NHS mis-taxing - thanks MSE.' We've seen dozens of successes from NHS workers who overpaid tax or NI since we revealed the reclaim in July. Full help and how to do it in our NHS tax reclaim guide.
Next 50% sale rumour this weekend. No official confirmation, but likely online and in-store from Sat. Next
Slash £100s off standard costs with one of the cheapest deals we've seen all year
If you've a standard broadband package with most big players, eg, BT, Sky, TalkTalk, Virgin, you're probably paying £300-£470/yr incl line rental. As we always say, the trick is to grab hot, short-lived promos (or haggle based on them).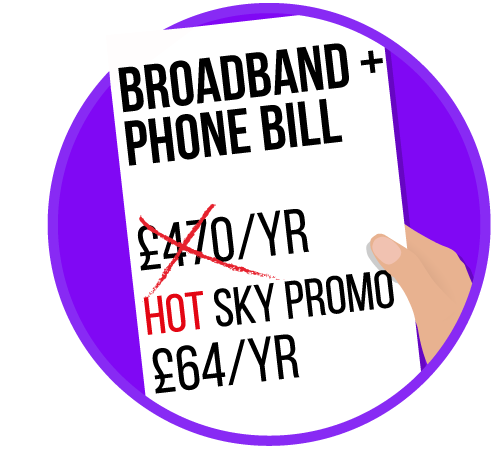 New. Sky broadband & line rental code. MSE Blagged. Apply via this Sky link*, and you get a code for a 1-year contract. Pay by direct debit and you get half-price phone line rental, 'free' broadband, plus £50 bill credit. Sadly anyone who's got or had Sky phone, TV, b'band in the last 12mths can't do this. Ends 11.59pm on Thu 29 Sep. Here's how it works…

1. Half-price line. Currently £17.40/mth so you pay £8.70/mth - if it goes up, you pay half the new standard price. 
2. Unlimited up-to-17Mb broadband 'free'. Available to 90% of UK, you'll be told if you're covered when applying. After the year's contract, it rises to £10/mth.
3. We've blagged you £50 bill credit. Added once your account's set up, then this will pay for your first few months' costs - so you won't shell out for a while, unless you make lots of calls.
4. You pay a £5 card verification fee but get it back. Refunded once your account's active. 
5. 'Free' compulsory router. But there's an unavoidable £9.95 p&p added to your first bill. 

- No calls included. Costs are a bit more than BT to landlines, less to mobiles (Sky call costs).
- No line/switching from cable? £20 new line fee (can apply to a few others too - see why).

Analysis - how good is it? You pay £114.35 for a year (before calls) for line, broadband & router. Factor in the £50 bill credit & that's £64.35 for 1yr, equivalent to £5.36/mth - a fraction of what most people pay for line rental alone. Though of course after the year's contract, prices rise.

What if I want faster broadband? Via the same code and Sky link* you can also opt for up-to-38Mb speed fast fibre broadband (available to 83% of population) for an extra £10 month. 

Already with Sky? The deals aren't available to Sky customers, but it is easy to haggle with. Alternatively, see our Cheap Broadband & Line guide for more deals. 
iPad Pro £145 cheaper than Apple. iPads ain't cheap, but combine Tesco Direct £25 off code with existing discount to get one for £585. Code also gets cheapest-ever PS4 & more. Ends Sun, ltd stock. Tesco £5-£25 off
FREE Boots & Vision Express eye tests (norm £15-£25). See our free eye tests round-up.
New. Longest-EVER 0% spending credit card, or get £25 M&S vch on a few months less. Accepted Tesco Bank cardholders can now get up to a record 28mths at 0%, plus Clubcard points - the previous longest was 27mths. But for just 3mths less, you can get M&S Bank's 25mths 0% spending card, which gives a £25 voucher just for spending a penny. Will I get one? Don't just apply, instead check your chances first via our free eligibility calc for the top cards (it works for M&S, sadly not for Tesco). Always pay at least the monthly minimum, and clear the debt before the 0% ends, or the rates jump to 18.9% rep APR. Full info and options: Top 0% Spending (APR Examples).
Are you a Concentrix victim? If so, here's help. Many have had benefits wrongly stopped, incl a single parent claimant who insists she was falsely accused of cohabiting, and 67 calls later it's still ongoing. Thankfully, HMRC has given Concentrix the boot. Concentrix help.
£18 hanging baskets and plants bundle (norm £36). MSE Blagged. Incl two pansy hanging baskets and a selection of six jumbo plug plants (eg, chrysanthemums, geraniums & lavender). 1,500 avail
Free tickets galore, incl £18 Wedding Show in Ldn. Plus The Wedding Fair (Manc), The Indulgence Show (Ldn), A Place in the Sun Live (Birm & Glasg), The Homebuilding & Renovating Show (various). Free tickets
Tell your friends about us
They can get this email free every week
THIS WEEK'S POLL
Should the 1p coin be scrapped? Bank of England governor Mark Carney has said the humble 1p piece should be scrapped one day because its value is decreasing. Are they an annoyance that you never use, or would it be an unwelcome end of an era?
A half-baked decision? Last week's poll asked if the BBC should have fought harder to keep Bake Off, which is heading to Channel 4. 15,725 voted - 42% of you thought it should stay on the Beeb, while 54% are happy with the move. 4% don't mind where it's shown, as long as the double-entendres stay put. See the full Bake Off poll results.
MARTIN'S APPEARANCES (WED 21 SEP ONWARD)
Thu 22 Sept - Good Morning Britain, ITV, Deals of the Week, 7.40am. View previous
Fri 23 Sept - This Morning, ITV, Martin's Quick Deals, from 10.30am. View previous
Mon 26 Sept - This Morning, ITV, from 10.30am
Mon 26 Sept - BBC Radio 5 Live, Lunch Money Martin, noon. Subscribe to podcast
TEAM APPEARANCES
Wed 21 Sept - Share Radio, 11.20am.
Thu 22 Sept - BBC Radio Manchester, 4.50pm
Tue 27 Sept - BBC Radio Cambridgeshire, 2.20pm
QUESTION OF THE WEEK
Q: I'm selling my house so I'll temporarily have a large bank balance. With the Financial Services Compensation Scheme only protecting me up to a max £75,000 per bank, should I split my funds to ensure they're protected? Martin, via email.
MSE Sam's A: Ordinarily that'd be the right move with large sums. However, in this case you may not need to spread the cash because savings up to £1m are protected for six months to cover big life events, such as selling your home.
The extra cover usually applies from the date the money is transferred into the account, but you need to prove where the funds came from. For full info, and other circumstances where you'd get the £1m protection, see Savings Safety.
Please suggest a question of the week (we can't reply to individual emails).
"There's a V14 GRA car parked where I work" - can you beat this registration plate spot?
That's it for this week, but before we go, check out this thread from the forum: Funny car reg plates. These plates can make you chuckle when you're in a jam, and our forumites are competing to share the most hilarious plate they've ever seen. Can you beat them? (And if you haven't got the number plate above, you clearly don't have a suggestive mind.)
We hope you save some money,
The MSE team
We think it's important you understand the strengths and limitations of this email and the site. We're a journalistic website, and aim to provide the best MoneySaving guides, tips, tools and techniques - but can't promise to be perfect, so do note you use the information at your own risk and we can't accept liability if things go wrong.
What you need to know
This info does not constitute financial advice, always do your own research on top to ensure it's right for your specific circumstances - and remember we focus on rates not service.
We don't as a general policy investigate the solvency of companies mentioned, how likely they are to go bust, but there is a risk any company can struggle and it's rarely made public until it's too late (see the Section 75 guide for protection tips).
We often link to other websites, but can't be responsible for their content.
Always remember anyone can post on the MSE forums, so it can be very different from our opinion.
Please read the Full Terms & Conditions, Privacy Policy, How This Site is Financed and Editorial Code. Martin Lewis is a registered trade mark belonging to Martin S Lewis.
More about MoneySavingExpert and Martin Lewis
What is MoneySavingExpert.com?
Founded in February 2003, it's now the UK's biggest consumer help website with more than 10 million people getting this email and about 13 million using the site every month. In September 2012 it became part of the MoneySupermarket Group PLC. Its focus is simple: saving cash and fighting for financial justice on anything and everything. The site has over 80 full time staff, more than a third of whom are editorial - researching, analysing and writing to continually find ways to save money. More info: See About MSE.
Who is Martin Lewis?
Martin set up and runs MSE. He's an ultra-focused money-saving journalist and consumer campaigner with his own ITV prime-time show The Martin Lewis Money Show and weekly slots on Radio 5 Live, This Morning and Good Morning Britain, among others. He's a columnist for publications including the Telegraph, Sunday Mirror and Woman magazine. More info: See Martin Lewis' biography.
What do the links with an * mean?
Any links with an * by them are affiliated, which means get a product via this link and a contribution may be made to MoneySavingExpert.com, which helps it stay free to use. You shouldn't notice any difference; the links don't impact the products at all and the editorial line (the things we write) isn't changed due to them. If it isn't possible to get an affiliate link for the best product, it's still included in the same way. More info: See How This Site is Financed.
As we believe transparency is important, we're including the following 'un-affiliated' web-addresses for content too:
Unaffiliated web-addresses for links in this email
tsb.co.uk, ikano.co.uk, halifax.co.uk, sainsburysbank.co.uk, sky.com, postoffice.co.uk, bank.marksandspencer.com, firstdirect.com, nationwide.co.uk, confused.com, gocompare.com, moneysupermarket.com, directline.com, aviva.co.uk
Financial Conduct Authority (FCA) Note
Where we feature insurance products, referring people to insurers or insurance intermediaries can in some circumstances constitute an FCA regulated activity. For this reason, pages with links which take you to the sites of insurers or insurance intermediaries are hosted by MoneySavingExpert.com Limited on behalf of MoneySupermarket.com Group PLC.

It's also worth knowing that MoneySupermarket.com Financial Group Limited is authorised and regulated by the Financial Conduct Authority (FRN: 303190). The registered office address of both MoneySupermarket.com Group PLC and MoneySupermarket.com Financial Group Limited (registered in England No. 3157344) is MoneySupermarket House, St. David's Park, Ewloe, Chester, CH5 3UZ. Telephone 01244 665700. MoneySavingExpert.com Limited is an appointed representative of MoneySupermarket.com Financial Group Limited.
To change your email or stop receiving the weekly tips (unsubscribe): Go to: www.moneysavingexpert.com/tips.