If you haven't switched to the best bank for you yet, with two hot deals ending from First Direct & HSBC, go quick




Banks have been waging a price war all year - and one of the best things they do is give you free money. It's a great way to boost your income, or help clear debt, plus fortunately many of the ones that pay you also offer top customer service and other benefits. Yet deals are ending fast, so you need to seize the moment.

Switching's easy, takes just seven working days, and they close your old account and shift direct debits and standing orders for you, plus forward any payments that get missed. 76% of you say it's hassle-free. But with some of these deals you don't even need to switch. For any new account you need to pass a credit check, but they tend not to be too harsh.

Top free cash SWITCHING accounts
These all give cash freebies when you use their switching services, plus either linked regular savings accounts or ongoing rewards.

- Ends Mon. Free £125, £250 0% overdraft & no.1 for service. First Direct* has won every customer service poll we've done, with 90% rating it 'great'. Plus newbies switching via the link above by 11.59pm on Monday get £125 free (otherwise it's £100). You also get a £250 0% overdraft, and access to a 5% linked regular savings account.

Who can get it? Pay in £1,000/mth (that just means put your salary in, equiv to £12,900/yr) or meet other selected criteria, otherwise there's a £10/mth fee, which isn't worth paying.

- Ends Wed 29 Mar. Free £200 (£150 upfront, £50 in a year). New HSBC Advance* account holders get £150 for switching, and another £50 if still with it after 12 months. It also gives access to a 5% linked regular saver. Customer service is only 43% 'great' though.
Important: you'll need to say you want to switch when applying online, and HSBC will call you within two working days to arrange the switch.

Who can get it? There's a £1,750/mth min pay in (equiv to £26,100 salary), plus you need to switch 2+ direct debits/standing orders within 30 days, and register for online or mobile banking within 60 days.

- Free £110 WITHOUT min pay-in, plus up to £5.50/mth. Co-op Bank gives a free £110 with no minimum pay-in. And you can get up to £5.50/mth on spending, meaning a max of £176 in the first year, and £66/yr after.

Who can get it? You must shift 4+ active direct debits for the £110. For the £5.50/mth you need to sign up for its Everyday Rewards scheme and jump through a few hoops.

Top free cash WITHOUT SWITCHING account.
If you're willing to play, this is a good 2nd (or 3rd or 4th) account to make some free cash.

- Free up to £150 & 3% interest. While the deals above require you to switch, new customers to the TSB Classic Plus* don't need to. It pays £5/mth cashback as long as you've 2+ monthly direct debits paying out, plus, a further £5/mth when you make 20 debit card payments per calendar month. So the trick is to see this as a 2nd bank account, used for instance for spending to help you budget. The deal lasts until June 2018, netting up to £150 in all. Plus, you also get 3% AER variable interest on £1,500.

Who can get it? You need to pay in £500/mth, (which you can withdraw again if you want) go paperless and register for internet banking.

Top 'free cash' accounts for paying bills
Paying bills is a wrench but for a small fee some banks give cashback. These aren't always best as your main account, yet we know many - especially couples - have separate bills accounts, so why not make a profit?

- Earn 3% on ALL main bills - top cashback rate. The NatWest Reward* account has a £3/mth fee but gives 3% cashback on council tax, gas & elec, water, mobile, landline, TV and broadband bills paid by direct debit. You must spend £100/mth on bills to break even with the fee; a more typical £300/mth nets £72/yr after fees.

- 1% to 3% cashback with lower fee. The Santander 123 Lite account has a £1/mth fee yet pays 3% on phone, broadband, mobile and TV bills; 2% on gas & elec; and 1% on water, council tax and Santander mortgages (max £10/mth on mortgages). You must pay them by direct debit, pay in a min £500/mth and log in to online banking at least every 3mths. But if you've a large-ish Santander mortgage it may beat NatWest above.

- 1% to 3% cashback, plus 1.5% interest on up to £20,000, yet higher fee. The main Santander 123* account pays the same cashback with the same conditions as the 123 Lite above, plus 1.5% AER variable interest, but for a £5/mth fee. It could win if you've big savings (though compare with putting them in a top savings account).

Other top accounts to consider
Free cash is great, but if you're a saver, overdrawn or make use of benefits such as insurance, then there are others which may work.

- Top accounts for savers: As well as the fixed regular savers above, you can get decent interest on up to £20k, or £60k for couples. See Top Savings Accounts for full info.
- Top accounts if you're overdrawn: Some accounts offer a 0% overdraft. Our Cut Overdraft Costs guide has details plus 10 clever ways to save.
- Top accounts if you need insurance: For a fee some bank accounts will offer insurance (eg, £600 worth for £120) and other perks - see our Packaged Bank Accounts guide.
- The accounts if you can't get an account: You need to pass a credit check for those above. Yet basic bank accounts don't do such stringent checks (though most do a credit check for ID), as they just provide a no-frills, no-overdraft service. See Basic Bank Accounts for full info.

PS: The clocks go forward an hour at 1am on Sunday. We all lose an hour's sleep (grrr) but it means lighter evenings (hurrah).
Saved cash? Shout it from the rooftops.
If this email's ever helped you, please forward it to friends and suggest they get it via moneysavingexpert.com/tips.
If you need to borrow, a credit card used properly is the cheapest way, and now two offer the longest-EVER 0%


Debt is like fire. Used well, it's a powerful tool; used badly, you get burnt. If you've a planned, budgeted-for purchase (eg, sofa, car insurance) a 0% credit card is THE cheapest way to borrow, but NEVER do it to fill gaps in your income. So get a long 0% card, buy what you need on it then put it away and pay it off before the 0% ends, and you've borrowed at ZERO cost...
Tip 1: Fix payments to clear within the 0% time. Divide the amount owed by the number of 0% months & repay by direct debit or standing order so it's cleared in that time or quicker. So, spend £3k & over 30mths and it's £100/mth to clear, interest-free.

Tip 2: Before borrowing, do a FREE check of your Credit Report, Credit Score and Hit Rate. We link to our quick eligibility calculator above but managing your creditworthiness is an ongoing task. Our FREE Credit Club - which includes an eligibility calc - gives you far more, incl your free Experian Credit Report, Credit Score, Affordability Score and Hit Rate. It's all fully explained within the club.

Tip 3: Some cards are 'up to' so you may get a shorter deal even if accepted. That's why we include the best non-'up to' options - where you'll get the full deal if accepted.

0% Spending Card Golden Rules. Full help & ALL best buys in 0% Spending Cards (APR Examples).
a) Never miss or be late paying at least the monthly min, or you can lose the 0% (and always stay within the limit).
b) Clear the card before the 0% ends (or do a balance transfer) or the rate jumps to the rep APR.
c) These cards are usually ONLY cheap for spending, not balance transfers or cash withdrawals - so avoid.
Don't be an April Fool. Official price changes are coming but you can steal a March (geddit?) on the hikes
We're about to enter one of the key times in the financial calendar when public service price changes happen ahead of the new tax year starting on 6 April. But act now and you can cut the cost of many...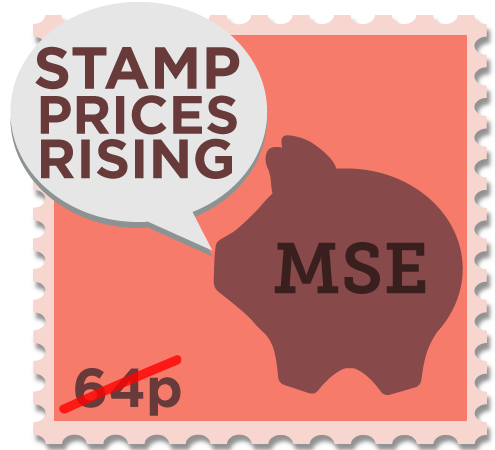 - STAMPS. Beat the 27 March price rise. 1st and 2nd class costs are going up, but you can beat stamp rises.
- TAX CODE. It's your responsibility to check the change to yours on 6 April (or you could owe £1,000s). Your code - eg, 1150L - tells employers how much tax to take from you. They're sent in Feb & Mar, yet millions are wrong each year, leading to nasty bill surprises later. Check as soon as you have yours via our Tax Code Calculator.
- WATER BILLS. Rising by up to 4% in Eng & Wales on 1 April - can you save? Check if, like Rachael, you can cut costs by switching to a water meter: "I swapped & cut my bill from £955/yr to £242/yr." Water meter calc
- PRESCRIPTIONS (ENG). Charges UP to £8.60 on 1 April but you can cut costs. If you pay for more than one item a month, check if you can get a season ticket to save - plus avoid the price rise. Full info in our Cheap Medicines guide.
- DENTAL COSTS. Go quick to avoid paying hiked fees from 1 April. Basic check-up charges in Eng rise to £20.60 and in Wales to £14. There are no rises planned in Scotland, while the situation in Northern Ireland isn't yet clear. We drill down for the full info in NHS rises.
- COUNCIL TAX. Bills to rise on 1 April - but are you owed £1,000s? Some councils are raising rates by up to 4.99%. Yet you can cut costs if you're eligible for a discount while many have been overpaying for years and are due cash back, such as Elaine: "Just received £5,000+ council tax rebate, all down to your tips." See Check & challenge your council tax band.
Tell your friends about us
They can get this email free every week
With 5 major airlines rapped for 'wrongly denying' compensation, we show you how to take 'em all on
UK regulator the Civil Aviation Authority recently slammed American Airlines, Emirates, Etihad, Singapore Airlines and Turkish Airlines for refusing compensation to delayed passengers who missed connecting flights - so don't be put off by a first refusal. We're inundated with flight delay claim successes, and you can get up to £520 per person. As Andrea emailed: "Thanks for your easy link, it took 5 mins to fill in and we got £1,200 for the delay for 4 of us." Our Flight Delays Guide & Free Claim Tool has all you need - here are the basics for take-off...
Flight delay compensation key points...
- You can claim for delays back to 2011.
- You must've arrived 3hrs+ late (see how to check past delay lengths).
- Any flights from EU airports count, or to an EU airport but only if it's an EU airline.
- Compensation's fixed, based on delay & journey length. What am I owed?
- It must be the airline's fault - eg, strikes aren't covered. What counts?
- Airlines may offer vouchers, but you're entitled to cash so go back to 'em.
- Is it fair to airlines? Not always, eg, a delay on a £20 flight can mean £100s in compensation. See Martin's Legal vs moral concerns.

Free online reclaim tool. Our Free Flight Delay Reclaim Tool (in collaboration with complaints site Resolver) uses our template letters to auto-draft your complaint, send it, keep track of it & escalate to the relevant regulator or ombudsman-style scheme if it rejects you. Feedback's good, eg, Susan emailed: "I used Resolver - easy and got £542 back for my friend and me." And you keep ALL the compensation. See our Resolver guide for how we work with it.
MARTIN'S APPEARANCES (WED 22 MAR ONWARD)
Thu 23 Mar - Good Morning Britain, ITV, Deals of the Week, 7.40am. View previous
Fri 24 Mar - This Morning, ITV, Martin's Quick Deals, from 10.30am. View previous
Fri 24 Mar - Ideal Home Show, 11am
Sun 26 Mar - Ideal Home Show, 1.30pm
Mon 27 Mar - This Morning, ITV, from 10.30am
Mon 27 Mar - BBC Radio 5 Live, Lunch Money Martin, noon. Subscribe to podcast
Tue 28 Mar - The Martin Lewis Money Show Live, 8pm. View previous
MSE TEAM APPEARANCES (SUBJECTS TBC)
Wed 22 Mar - Share Radio, 12.20pm
Wed 22 Mar - BBC Radio Cumbria, 'Money Talks', from 6pm
Thu 23 Mar - BBC Radio Tees, 10.35am
Fri 24 Mar - BBC South West stations, breakfast
Tue 28 Mar - BBC Radio Cambridgeshire, 2.20pm
QUESTION OF THE WEEK
Q: I've booked flights direct with an airline costing £1,000 on my credit card. Since I paid for it I cancelled the card and haven't been on the holiday yet. Do I still have Section 75 protection (eg, if the airline goes bust)? Robyn, via Martin's roadshow.

MSE Sam Mc's A: Ordinarily, if you pay for something costing between £100 and £30,000 on a credit card, the card company's equally liable under this protection if something goes wrong. However, your circumstances are unusual, so we put the question to the Financial Ombudsman Service arbitration body.
It told us that assuming you meet all other criteria you should be covered, as the fact you've cancelled the card doesn't matter. The original payment method is what's key, ie, you paid on a credit card. See Section 75 for more information on how the protection works.
Please suggest a question of the week (we can't reply to individual emails).
'How posh are you?'
That's it for this week, but before we go, do you know how to use a bidet (or what one is)? Do you call your parents 'mummy' and 'daddy'? Do you own a Land Rover? All of these things may determine whether you're regarded as 'posh' or not. Our forumites have been discussing an online survey that attempts to find out. Take the test and let us know whether you're rated 'posh' or 'salt of the earth' in the forum thread 'How posh are you?'
We hope you save some money,
The MSE team
We think it's important you understand the strengths and limitations of this email and the site. We're a journalistic website, and aim to provide the best MoneySaving guides, tips, tools and techniques - but can't promise to be perfect, so do note you use the information at your own risk and we can't accept liability if things go wrong.
What you need to know
This info does not constitute financial advice, always do your own research on top to ensure it's right for your specific circumstances - and remember we focus on rates not service.
We don't as a general policy investigate the solvency of companies mentioned, how likely they are to go bust, but there is a risk any company can struggle and it's rarely made public until it's too late (see the Section 75 guide for protection tips).
We often link to other websites, but can't be responsible for their content.
Always remember anyone can post on the MSE forums, so it can be very different from our opinion.
Please read the Full Terms & Conditions, Privacy Policy, How This Site is Financed and Editorial Code. Martin Lewis is a registered trade mark belonging to Martin S Lewis.
More about MoneySavingExpert and Martin Lewis
What is MoneySavingExpert.com?
Founded in February 2003, it's now the UK's biggest consumer help website with more than 10 million people getting this email and about 13 million using the site every month. In September 2012 it became part of the MoneySupermarket Group PLC. Its focus is simple: saving cash and fighting for financial justice on anything and everything. The site has over 80 full time staff, more than a third of whom are editorial - researching, analysing and writing to continually find ways to save money. More info: See About MSE.
Who is Martin Lewis?
Martin set up and is chairman of MSE. He's an ultra-focused money-saving journalist and consumer campaigner with his own ITV prime-time show The Martin Lewis Money Show and weekly slots on Radio 5 Live, This Morning and Good Morning Britain, among others. He's a columnist for publications including the Telegraph, Sunday Mirror and Woman magazine. More info: See Martin Lewis' biography.
What do the links with an * mean?
Any links with an * by them are affiliated, which means get a product via this link and a contribution may be made to MoneySavingExpert.com, which helps it stay free to use. You shouldn't notice any difference; the links don't impact the products at all and the editorial line (the things we write) isn't changed due to them. If it isn't possible to get an affiliate link for the best product, it's still included in the same way. More info: See How This Site is Financed.
As we believe transparency is important, we're including the following 'un-affiliated' web-addresses for content too:
Unaffiliated web-addresses for links in this email
firstdirect.com, hsbc.co.uk, tsb.co.uk, santander.co.uk, nationwide.co.uk, personal.natwest.com, greenflag.com, theaa.com, halifax.co.uk, sainsburysbank.co.uk, apply.mbna.co.uk, welcometo.aquacard.co.uk, idmobile.co.uk, confused.com, gocompare.com, moneysupermarket.com, directline.com, aviva.co.uk, bank.marksandspencer.com
Financial Conduct Authority (FCA) Note
MoneySupermarket.com Financial Group Limited is authorised and regulated by the Financial Conduct Authority (FRN: 303190). The registered office address of both MoneySupermarket.com Group PLC and MoneySupermarket.com Financial Group Limited (registered in England No. 3157344) is MoneySupermarket House, St. David's Park, Ewloe, Chester, CH5 3UZ. MoneySavingExpert.com Limited is an appointed representative of MoneySupermarket.com Financial Group Limited.
To change your email or stop receiving the weekly tips (unsubscribe): Go to: www.moneysavingexpert.com/tips.